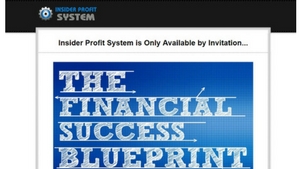 Insider Profit System is a platform founded by Jeff Davis that claims you can earn $1250 a day as soon as you join.
There are numerous negative reviews about this platform online, and I am glad you came to my site to hear what I will say.
After reading my review, you will get all the necessary information regarding the legitimacy of this platform and will guide you in making a smart decision.
Summary
Name: Insider Profit System
Website: insiderprofitsystem.com
Founder: Jeff Davies
Price: Free to join
Star Rating: 0.5/5
Table of Contents
Click or scroll down.
What is Insider Profit System?
The website is founded by Jeff Davis and claims to give earning of $1250 a day as soon as you register. So, it is about a 3 step training program Jeff Davis says he puts together to help aspirants earn a stable income online.
You don't have to worry as even if you have no experience you can do it without any problems, as per Jeff claims. But is it true? Or is this just one of those websites that instead of earning, you will end up spending more and more dollars.
How Does Insider Profit System Work?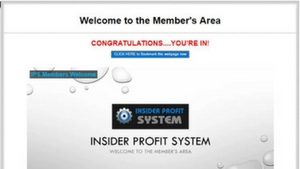 Let us discuss how this website works. First off, this website is not different from affiliate marketing and actually, this is what the 3 step training is all about.
Jeff basically will train you how to work on the process, but the biggest question here is, will it help or is the training enough to bring you thousands of dollars on your bank account every day?
Before I rant and discuss inconsistencies, Let us know first what affiliate marketing is. To others who do not know, affiliate marketing, on the whole, is promoting products and services of others.
After successful sale from products or services they offer, they will get commissions from it. For instance, you can sign up as one of the affiliates of 3rd party entities, let us say Amazon.
So, what they will do is promote the products available on their website, and then the commission will be given once someone clicks on the created link and purchase any of the products they sell as an affiliate.
The commission is highly dependent on factors such as the products or services you were able to sell successfully and the 3rd party company and entity you are connected to.
So, you have to make sure that you make it clear on the commission terms and conditions. I just want to make it clear, and you can do well with affiliate marketing especially if you are using the right techniques and methods in doing so, added to that is luck, patience and time, lots of it.
So, going back to the 3 step training as per Jeff he created. It will help you go through the process as an affiliate marketer, unfortunately for me, I do not see the training as helpful since it will only teach you basic information which you can see on the internet without any fees.
There is no much information on the 3 step training that will help you be successful with this type of business. Again, affiliate marketing will give you a stable income, it is very profitable and very good, BUT you need to make sure that you get the right training, from the right source.
The Red Flags and Inconsistencies
Now, let us discuss the inconsistencies and few of the things you need to be wary of this system before you get into it.
Disguised as affiliate marketing
What Jeff has used is a method that is known for its legitimacy, which is affiliate marketing. As I have discussed above, the training he shared is so basic that it will not help you get successful with affiliate marketing, hence the only reason why he made up this system is just to earn from you, nothing else.
The program will not teach you real affiliate marketing but just to build an email list of your potential customers.
This is not a free program
So now, you might be wondering, how would someone get an income out of nothing? See, you know that the system is "free", yet is that the case?
What he was saying is free is not, as he will ask you to register for different kinds of stuff that, for so you will know, he is affiliated with.
This being the case, he will end up getting commissions from your registrations. One of which he will ask you to join is the GetResponse.
The GetResponse will cost you a monthly fee, then after he would ask you to sign up for more accounts, like ClickBank.
There is a free subscription for GetResponse, but as expected he will discourage you to sign up for free. He will tell you that the free subscription will not help you enough and it won't be useful at all.
This is for me does not make sense at all, this is just his trick of making you pay for something and letting him get the benefits.
Basic training to prime you to  sign up his affiliate programs
After you sign up, as he promises, money will come its way, but unfortunately, no money is coming its way. Okay, let us get more into details of your subscription to his 3 step training.
After Jeff successfully encourages you, or should I say forces you, to join various stuff, you will be provided access to his 3 step training, and all the other truth is bound to come out.
So, the thing that he was claiming is easy, and even a newbie can do is not the case. It is hard, especially that what you will do is exactly what he did to you.
You will encourage people to join the same systems you joined, and from there, you will get commissions. I do not support such stuff since for me, and this is not affiliate marketing but rather a pyramid scheme. The fact that you are selling training that is so basic is almost the same as selling nothing.
Another is that paid advertising is never recommended for a newbie since it takes a lot of trial and error and a huge amount of money. There is no training to get free organic traffic, so you have to pay for traffic. It will be the biggest cost you will encounter.
Summary Overview
Summary
Name: Insider Profit System
Website: insiderprofitsystem.com
Founder: Jeff Davies
Price: Free to join
Star Rating: 0.5/5
The Compensation Structure
The only compensation you can have here is when you sell the same products that Jeff is promoting. These are not high ticket items, so the claim 0f earning $1250 per day is far from reality.
The Price
Jeff claims that this is a free program. Do not be fooled because when you join, you will have to sign up for all the tools he is promoting and thus have to spend some money.
Is Insider Profit System a Scam?
It is a scam since there is only a basic 3 step training that you will get and it is not centered on how you can make money online but it is just designed so you will sign up to those programs he is affiliated with so he will get commissions.
It takes so much luck for you to get that amount using this program. Instead of what Jeff promises you of making thousands of dollars every day, it will be the other way around, Jeff will make the most out of you.
Conclusion
You can be an affiliate to all products that Jeff is promoting, on your own. You do not have to sign up through his affiliate links.
The way he is presenting affiliate marketing is very deceitful by promising huge earnings and for not being transparent about using paid traffic.
Recommendation
Affiliate marketing is all about helping people. They come to your site with problems, and if you offer a solution, they will trust you and follow your recommendations.
It is not about claiming that your customers will earn huge money in a short time. This is plain deceit. You have to be transparent about the cost to your customers.
I am doing affiliate marketing full-time and I build and run this website from the ground up all by myself. I was a complete newbie when I started, but I have the proper training and support of a community of over 1.2 million online entrepreneurs.
It is free to join, and you will learn all the ways to monetize a website, not just affiliate marketing. You do not even need a credit card to sign up.
Click here to learn more about the business.
At a Glance
Summary
Name: Insider Profit System
Website: insiderprofitsystem.com
Founder: Jeff Davies
Price: Free to join
Star Rating: 0.5/5