The AZ Code or Amazon Code is a platform owned by Andrew Peterson that claims you can make up to $40000 per month through Amazon.
Numerous review websites have published negative reviews about this platform, and I am glad that you came to my site to hear what I am about to say.
After reading my review, you will have all the information you need to make a smart decision.
The AZ Code Review
Summary
Name: The AZ Code
Website: theazcode.com
Owner: Andrew Peterson
Price: $37 and discounted to $27
Star Rating: 0.5/5
Table of Contents
Click or scroll down.
What is The AZ Code?
The platform is a shortened term for Amazon Code, and it claimed that it is the best way to earn quickly through Amazon.
We know that Amazon is one of the largest online shopping portals wherein you can choose the products that you want to buy through the Internet.
The website promises to help you earn commission through Amazon even if you have no job experience at all.
To make this claim believable, the creators of the website presented testimonial videos that will surely entice a lot of individuals to join the platform.
How Does 
The AZ Code 
Work?
To understand the program better, studying its mechanism is a perfect idea before thinking about how to join it.
The value of the program is $37, and this amount is going to increase due to their upselling skills. If you try to purchase the system, you'll be shocked out of disbelief because you'll get something that you haven't expected in the first place.
After paying $37, you will be given an eBook about how to become a merchant at Amazon. In other words, you will not focus on affiliate marketing but to become a merchant that is an entirely different thing.
Obviously, you will feel like you've been tricked into paying something that you don't need these days.
The formula promised by the owners of the platform is affiliate marketing, which is something that I understood before trying out the system.
Affiliate marketing is promoting the products found on online shopping websites and earning a commission every time there's an item sold through your efforts.
To be an affiliate at Amazon, you have to sign up through their website and find products to promote on your website.
In other words, you will be selling the products of other people and earn a percentage of the income per item. There is no need to have an inventory of your products and deal with all the responsibilities as a business owner.
In this case, your job is to refer the products of merchants to other people and earn a commission based on the products that you sold.
This business model is one of the popular ways to earn money online, and many people worked hard to be successful in this online money-making technique.
However, what you will be paying is a guide on how to become a merchant in Amazon rather than an affiliate marketer.
Simply put, I'll learn how to have physical products from suppliers and sell them through Amazon instead of just endorsing the products to other people.
In that case, it is my responsibility to handle all the work relating to selling products such as inventory, customer service, advertisement and more.
The Red Flags and Inconsistencies
If you are seeking for a work-from-home job that you can manage easily, you'll obviously don't want to become a merchant.
It's just the same on my part; I didn't even imagine becoming a merchant and selling my products on Amazon. Based on the marketing videos of the program, I will learn affiliate marketing techniques so that I can earn huge amount of money in commission.
Simply put, the program is confusing, and it will obviously become a hurdle for those who haven't tried working online.
Why did the creator of the platform promote affiliate marketing at the presentation of the marketing videos when the product is all about being a merchant?
The messages shared on the sales page are doubtful and questionable because it was presented in such a way to those potential members are not good at affiliate marketing.
So if you're not good at affiliate marketing since you haven't earned through it, they'll come in to rescue you by offering the system that they created.
However, you'll end up receiving only a guide on how to choose your products, how to prepare its packaging, develop a brand and other related things.
It's obvious that this is not affiliate marketing but setting up your own business. Will you take this product and spend $37 to learn how to become a merchant?
Obviously, you will think twice about continuing the process of being part of the platform since you thought you'd become a skilled Amazon affiliate.
Aside from that, the platform is also misleading. The sales page and videos declared that you could earn up to $40K per month if you join the website.
Even if you're a seasoned entrepreneur, earning this amount of money without enough skills isn't possible. No wonder it is not believable that you'll earn a lot of cash through the platform even if you have no experience whatsoever.
In addition to that, the guide doesn't include training materials that will help you sell a lot of products through your website.
In other words, you will find it hard to gain traffic to your website so that potential buyers will discover your products.
After all, there's no guarantee that your products will be sold as quickly as possible if you utilize Amazon as an online shopping portal for your products.
All the testimonials are fake as all the persons giving testimomials are hired from Fiverr. If they fake the testimonials, then there is nothing to talk about the legitimacy of this website, plain and simple.
Summary Overview
The AZ Code Review
Summary
Name: The AZ Code
Website: theazcode.com
Owner: Andrew Peterson
Price: $37 and discounted to $27
Star Rating: 0.5/5
The Compensation Structure
I am surprised when Andrew claimed you could make up to  $40k per month through Amazon. I am an Amazon associate myself, and it is not that easy to make a lot of money through Amazon.
The Price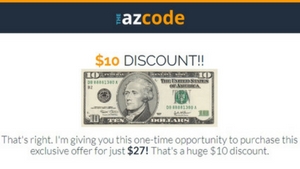 Andrew even goes as far as offering a $10 discount to make the offer more tempting.
Is 
The AZ Code 
a Scam?
The product is a scam because you will not get something of value after paying the amount of $27 to take advantage of the website.
The manner of offering the product is misleading so it's right to give a warning to beginners that the creators of this platform have been deceiving people.
To reiterate, becoming an Amazon affiliate is different than a merchant or business owner so you should be careful before paying money to have access of their products.
Lastly, you will notice in their videos that each one is played by actors who are offering cheap services to creators of work-from-home programs so that many people will sign up as new members of the platform.
Conclusion
Selling a product as another product is very misleading and a big red flag to consider when deciding whether to avoid the platform or not.
The absurd earnings claim is the other red flag that requires more scrutiny as it is not that easy to make that kind of money through affiliate marketing.
Recommendation
If you want to do proper affiliate marketing, you should have proper training. Not just in one ebook.  You also need a community to guide you or share new information as well as upcoming information.
Amazon is not the sole affiliate program out there. There are thousands of them, and some are better than Amazon. It is also not a good idea to be an affiliate of only one platform.
The training I used is the best online, and I am now doing affiliate marketing full-time using the system. I built and ran this website by implementing the skills I learned from the community.
You can host up to 25 domain name websites for free with free SSL, and the keyword research tool comes free as well with your membership.
If you are interested, you can join for free, and you will have two free websites as well. It is good, so you can test the waters out and see if it is for you. The community of over 1.3 million online entrepreneurs will be there to welcome you.
Click here to learn more about the business.
At a Glance
The AZ Code Review
Summary
Name: The AZ Code
Website: theazcode.com
Owner: Andrew Peterson
Price: $37 and discounted to $27
Star Rating: 0.5/5