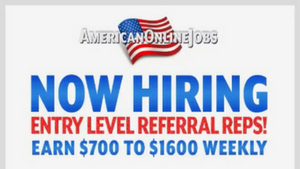 American Online Jobs is a website which claims you can make up to $1600 per week from performing online jobs that are offered on their platform for free.
There are so many negative reviews online about this website which we will call AOJ for short. I am glad you came to my website with a pressing question about its legitimacy.
After reading my AOJ review, you will have the answers to your questions and hopefully will guide you from making a bad decision on your online endeavor.
American Online Jobs Review
Summary
Name: American Online Jobs
Website: americanonlinejobs.com
Owner: Unknown
Price: Free?
Star Rating: 0.5/5
Table of Contents
Click or scroll down.
What is American Online Jobs?
The presentation is designed for you to believe that it is an online job platform as it will ask you prequalifying questions. The problem is that, for you to proceed to the second step of the supposed application process, you will actually sign up for a survey site. It is misleading but let's proceed for more details.
How Does American Online Jobs Work?
They will then redirect you to another platform so you can set up your own AOJ page which will have your referrals links on them. It will then be configured so that you will start making money if you bring people to sign up as you did.
AOJ claims you can make up to $1600 per week through your page, but that is an impossible goal to reach using this system. They will also refer you Online Flex Job which is another scam website which I have reviewed.
Now, things are getting clearer, first, they will offer you to join a survey site to make it look like there is actually a job offered here. The reality is that recruiting is the name of the game here. That process is their main business.
The Red Flags and Inconsistencies
The claim of making up to $1600 per week is just to lure you in to join.
AOJ is just a funnel to different online jobs
This platform does not offer any online job at all, but it will just funnel you to different platforms to make commissions.
You have to pay traffic to your page
For you to make money through your affiliate links, you must have traffic to your site. AOJ will not give you training on how to get free traffic, but they will coach you to pay for traffic instead. Paid traffic is very costly.
Summary Overview
American Online Jobs Review
Summary
Name: American Online Jobs
Website: americanonlinejobs.com
Owner: Unknown
Price: Free?
Star Rating: 0.5/5
The Compensation Structure
Do not believe the $1600 weekly earnings claim as there is no basis for that absurd offer. There is no significant job available on this platform except recruiting more members.
The Price
They claim it is free, but it is not because you will spend money on paid traffic once you promote your page. If you have no idea yet, it will be expensive and will easily run up to hundreds of dollars a month.
Is American Online Jobs a Scam?
It is an outright scam as they are luring you to join and encourage others to join through your referral links. They do not provide any value such as training which you can use in other online ventures.
Conclusion
There are a lot of platforms that I have reviewed that operates the same way as this website. Legit Flex Job and NorthAmeriCorp are some to name a few. You should avoid these sites as they are all scams.
Recommendation
Ii is time you start learning the skills required to build an online business. It is done through a proper website using free organic traffic from the search engines like Google.
I have built and run this website using the skills I learned from a community of over 1.3 million online entrepreneurs willing to help each other.
The training offered in this community is top notch, and you will get the support you need to be successful in your online business. You can join for free, and you will have two free websites as well.
Click here to learn more about this community.
At a Glance
American Online Jobs Review
Summary
Name: American Online Jobs
Website: americanonlinejobs.com
Owner: Unknown
Price: Free?
Star Rating: 0.5/5