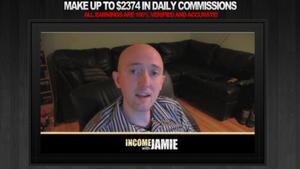 Wealth in a Box is a platform by Jamie Lewis which claims you can make money using his system.
There are some reviews of this on this website, but I am glad that you landed on my page to gather more information about this platform that we will just call WIAB for short.
After reading my review, you will get the necessary information that hopefully will guide you in making an educated decision.
Wealth in a Box Review
Summary
Name: Wealth in a Box
Website: wealthinabox.com
Owner: Jamie Lewis
Price: $39 plus other costs
Star Rating: 2/5
Table of Contents
Click or scroll down.
What is Wealth in a Box?
Jamie, the founder of WIAB, claims you can make up to $2374 daily commissions doing affiliate marketing.
According to him cases there is done for you, and the majority of websites created for you is worth thousands of dollars.
How Does Wealth in a Box Work?
As per the founder's claim, this platform will work as "done for you" system that will run on autopilot and will help you earn money almost instantly.
You can use his 10 million dollar system that will give you done for you templates so that you will become your boss in under a month.
The training is composed of 10 training modules about making money online through affiliate marketing, flipping websites or starting your online business.
The Product
The ten training modules are composed of:
Module One: The introduction module that covers how you can make one million dollars in just seven days. It will teach you how to build a website.
Module Two: It goes over how to purchase domains and how to sell it for for a profit. It will also teach you how you can start your blog.
Module Three: It will teach you traffic generation as well as getting backlinks.
Module Four: it will teach you how to sell your websites for tons of cash as per Jamie's claim.
Module Five: a case study where he walks through one of the students for the whole process of starting out an online business.
Module Six: It will teach you how to build your email list.
Module Seven: It will teach you how to use Google AdWords and other  PPC platforms.
Module Eight: It will teach you how to make a follow-up email sequence and how to market with Facebook and Twitter.
Module Nine: This is the Q&A portion with Jamie.
Module Ten: you will have their 42 done for your niche websites that Jamie claims cost a huge of amount of money.
It looks logical this program is called WIAB because you are getting a box of 10 DVDs with each one containing one module.
Summary Overview
Wealth in a Box Review
Summary
Name: Wealth in a Box
Website: wealthinabox.com
Owner: Jamie Lewis
Price: $39 plus other costs
Star Rating: 2/5
The Compensation Structure
The founder of this website is claiming you can make $2374 per day using the system. That is a bold claim which is very hard to fulfill when you are just starting an online business.
The Price
The price to join it is $39 one-time payment. Be prepared to spend more money on paid traffic like Google AdWords and other PPC platforms.
Pros and Cons?
Pros
The system has decent training.
Cons
The 42 websites you will receive are just landing pages that will never rank in the search engines like Google.
It is not possible to earn money using the system in a short time.
Relying on paid traffic which would cost a lot of money.
Conclusion
I do not label Wealth in a box a scam, but I will not recommend it at all. Most of the claims on this site are pure hype and BS.
To become successful online you need more training than just 10 DVD's with only ten modules total. You will need more training and more updates and new strategies for every new development in online business.
Online business is ever evolving, and you need constant updates to be competitive in your business. You also need a community of like-minded individuals to support you.
Recommendation
I recommend that you start your online business skills by learning the necessary skills through proper training and support. Do not rely on done for your systems as you will not learn the process of building a real online business.
I made this website using the skills I learned from a community of over 1.3 million online entrepreneurs. This community taught me how to build a website, how to generate organic traffic and monetize my website.
You can join for free without credit cards and you will get two free websites.
Click here to learn more about this community.
At a Glance 
Wealth in a Box Review
Summary
Name: Wealth in a Box
Website: wealthinabox.com
Owner: Jamie Lewis
Price: $39 plus other costs
Star Rating: 2/5