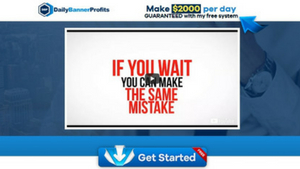 Daily Banner Profits is a platform run by Dave Johnson claims you can have a guaranteed income of $2000 per day using their system of flipping ads online.
Negative reviews abound for this website but I am glad that you came to my website to hear what I have to reveal regarding this website.
After reading my review, you will have the necessary information that you will need in whatever decision regarding this platform we are reviewing.
Daily Banner Profits
Summary
Name: Daily Banner Profits
Website: adflipping.com
Owner: Dave Johnson
Price: Free to join but you will be funneled to a broker
Star Rating: 0.5/5
Table of Contents
Click or scroll down.
What is Daily Banner Profits?
With just a simple investment of a couple hundred dollars, this website promises to return your money in multiples. For just an initial investment of $250, a person can apparently make upwards of $2000 for each day of work on this platform.
This amount being promised here makes that $250 signing on fee look relatively small. Apparently, all of this money will be made from the world of online advertising.
The people behind this platform cite Google and Facebook and the millions of dollars that they bring in from advertisers as a prime reason as to why this is a highly lucrative gig.
How Does 
Daily Banner Profits 
Work?
This site claims to work on the basis of flipping or trading advertisements. So far, there is no such thing. While there seem to be a lot of this ad flipping or buying services popping up online, they are most probably backed by the same people.
They seem quite similar because they are just re-branding of one another. However, the site is designed to make it look like you are buying or bidding on advertisements against other people, and that this is what is potentially going to bring in the money for you.
They even put in the names of respectable brands on these ads to make these even more believable. For instance, this platform features advertisements for corporations and various shows and offshoots.
They also have a part of the site dedicated to selling cryptocurrency, which has seen its demand skyrocket in the past few months.
Another thing they feature to make their site seem more believable is Google Trends. For those that are unfamiliar with this concept, Google Trends allows people to see the most popular search terms related to a certain topic.
It also allows a person to see how often a particular topic is being searched and how this popularity has increased or decreased over time. However, Google Trends has absolutely nothing to do with online advertising.
The people who are behind this site make their money by selling these fake advertisements to unsuspecting people. This is not the only way this site makes its money.
Another way is by tricking people into making the previously mentioned $250 investment into this program. Once a person places their money into this program, there is no way of getting it back.
People who sign on to this platform will receive a phone call from a person that will try their best to convince them that making this investment is what is best for them.
The reason that they are so adamant for a person to make this investment is not because it will be of actual help. This is most probably because they get a certain percentage of this money.
If this were the case, then they would probably want as many people as possible to buy in. As previously mentioned also, they use Google and Facebook as an example of how their service supposedly works.
However, this is not the case, as Google and Facebook sell advertisement spaces on their own sites, which are visited by millions of people on a daily basis.
The Red Flags and Inconsistencies
There are a lot of red flags and inconsistencies presented on this site, so it comes as no surprise that this is not to be trusted at the very least.
Here are some of them:
Probably the most obvious is the amount of money this site promises it can make a person. This site claims that it can make a person thousands of dollars every day even if that person has little to no marketing experience online, or any at all for that matter.
Very little, if no jobs at all, can make a person this much money, especially on a day to day basis.
There is no such thing as ad flipping business
For some, especially for those that do not use the Internet quite often, this sounds like it is a legitimate thing people do online to make a quick buck.
However, advertisements are an untradeable commodity. People make money from online ads, if and only if the advertisers decide to put their ads on a certain site.
This is how popular sites like YouTube, Twitter, and the previously mentioned Google and Facebook do it.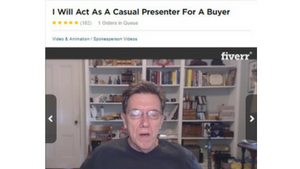 The next red flag presented on this site are the fake testimonials. From the pictures to the written statements, and even the videos, all of these are simply false.
These are probably just actors hired online for rather small amounts of money to make videos claiming to have been made rich thanks to this platform.
All from the comfort of their own home. However, some of these people may even seem familiar, as they have also appeared on the testimonial videos of other, similar work from home job platform schemes.
There is the inconsistency about this job offer only being a "limited opportunity." This is a pretty common tactic used by scam artists looking to take advantage of people looking to make some money on the Internet.
They will claim to have only a few slots left. However, even if you refresh this site multiple times, the number of slots remains the same.
In some cases, this number even increases. This still holds true even if you visit this site a number of days apart.
If this job can really help make a person $2000 every day, then these slots should have gone much quicker than that. Sadly, this is only a ploy to get more people to not think twice and sign up hastily.
No product but a sales funnel that will drive you to unregulated brokers.
This platform will just funnel you to unregulated online brokers and the ad flipping software Dave claims is actually a trading software.
Summary Overview
Daily Banner Profits
Summary
Name: Daily Banner Profits
Website: adflipping.com
Owner: Dave Johnson
Price: Free to join but you will be funneled to a broker
Star Rating: 0.5/5
The Compensation Structure
The guaranteed compensation of $2000 per day as they have been claiming is far from the truth as you will probably lose the initial investment of $250 instead of earning.
Once you put that amount in the brokers account you will never get it back.
The Price
They say it is free but you will actually invest at least $250 to get started by paying it to the broker.
Is 
Daily Banner Profits 
a Scam?
This work from home platform is nothing more than a scam. It presents people with nothing more than empty promises to try and get their hard earned money from them.
Hopefully, reading through this has taught you to look for the same red flags and inconsistencies present on this site that are also featured on the ones similar to it.
There are a lot more legitimate job opportunities online that will allow you to work from the comfort of your home. These may not make you thousands each day, but you can rest assured that you will at least get paid for your efforts.
Conclusion
There is no such business as flipping ads online. This platform will just funnel you to an unregulated broker and that is where you invest your initial investment of $250.
The ad flipping software claimed by Dave or whoever is running this website is actually a trading software that will just suck your money dry.
Recommendation
I recommend that you stay away from this website and I suggest you invest in something that is sustainable in the long run. Not on platforms that has nothing but a trading software and promises of huge earnings.
Having your own website is the best way to a successful online business. You will have freedom on whatever online business you want to pursue.
I learned everything from a community of over 1.2 million online entrepreneurs and I am doing this business full-time now.
I built and ran this website using the skills that I have acquired through the unmatched training and resources. If you are interested it is free to join without credit cards and you will also have two free websites.
Click here to learn more about this community.
At a Glance
Daily Banner Profits
Summary
Name: Daily Banner Profits
Website: adflipping.com
Owner: Dave Johnson
Price: Free to join but you will be funneled to a broker
Star Rating: 0.5/5