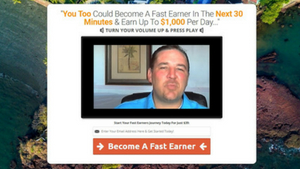 Fast Earners Club is a platform that claims you can earn $1000 per day using their automated system without having to do the usual online marketing tasks.
You have a problem deciding to join or not this site that we will just FEC for short. The numerous reviews may not have answered your questions, so you landed on my site to seek for more information.
After reading my review of FEC, you will have the necessary details you need to make a smart decision.
Fast Earners Club Review
Summary
Name: Fast Earners Club
Website: fastearners.co
Owner: Unknown
Price: $39 plus upsells
Star Rating: 0.5/5
Similar website previously reviewed: The AZ Code
Table of Contents
Click or scroll down.
What is Fast Earners Club?
This platform has a poorly designed one-page website with a video that is unconvincing and very misleading. The only convincing factor they have is the huge earnings claim in such a short time.
Having said this, I have to back up my opinion regarding FEC with detailed information. This review will provide all of that in the following topics, so please read on until the last part.
How Does Fast Earners Club Work?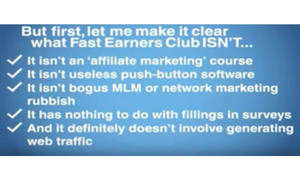 FEC claims through their website that:
It isn't an affiliate marketing course
It isn't a useless push-button system
It isn't bogus MLM or network marketing rubbish
It has to do with filling in surveys
And it definitely doesn't involve generating web traffic
Based on this, we will wonder what does it provide. When you join the program, you will be provided with 4 PDF files with the following contents:
Fast Earners eCommerce
Fast Earners eBay
Fast Earners Amazon
Fast Earners Shopify
The training looks legit, but there are red flags and inconsistencies that we will discuss on the next topic.
The Red Flags and Inconsistencies
Here we go!
FEC isn't a push button system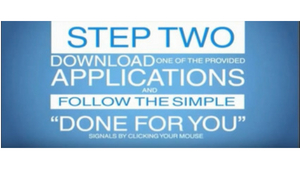 This claim is not a valid one because if we check the screenshot of the video above it certainly is a similar push-button system that will funnel you to the binary brokers.
Absurd earnings claim in no time
They are providing training on internet marketing, yet the sales video is claiming a member is earning $107.40 in the first hour she joined.
Ask any internet marketer, and they will tell you it will take a lot longer to set up e-commerce,  selling on eBay, on Amazon and even Shopify that FEC provided training . Those earnings are overhyped.
ClickBank money back guarantee.
Clickback is good in offering refunds, but their policy is dependent on the vendor's return policy which is in this case FEC.  FEC has no return policy which should be readily available to customers before making a purchase.
FEC has a one-page website with no support page, no contact page, no terms and conditions page, no return policy page and no privacy page. How can you trust your email address and on this platform?
The operators are hidden, and there is no contact page as well.
They use the training as bait with the claim that there is no problem if you try it as it is has a 60-day money back guarantee. Don't be surprised if ClickBank will refuse to make a refund as they will just follow FEC return policy which for crying out loud, FEC do not have one at all.
Summary Overview
Fast Earners Club Review
Summary
Name: Fast Earners Club
Website: fastearners.co
Owner: Unknown
Price: $39 plus upsells
Star Rating: 0.5/5
Similar website previously reviewed: The AZ Code
The Compensation Structure
Do not believe that you will earn $1000 per day on FEC as they just all claims and nothing to back that up. You will never be compensated, but your money will be taken away from you.
The Price
It will cost you $39 to join FEC but it will not stop there. There will be a lot of upsells.
Is Fast Earners Club a Scam?
This is definitely a scam as there so many red flags and inconsistencies. They are offering nothing of value. The training they offer will not make the member earn $107.40 in the first hour of joining.
That's pure hype as that business model they mentioned on the training requires a lot of time to set up. Ask any experienced internet marketer, and they will confirm what I have just mentioned.
They will just funnel you to binary brokers with the trading software that they have, and there you will lose more money.
Conclusion
Once you get the hang of it, it is actually easy to spot a scam even by just looking at the website. There are so many telltale signs that you can easily see once you got the experience.
People are blinded by the shiny objects they see, and they lose all the capability to make a prudent move.
This site operates like The AZ Code which I have also reviewed here on my blog.
Recommendation
I suggest that you stop seeking those done for you systems as they are not the proper way to do online business. You have to learn the skills required to be in this business.
Owning a website is the first step to do it properly. I have built and run this website and I this independent of any platform. I can choose whatever affiliate program I want.
I can also pursue any online business model using this website although I am very much comfortable with affiliate marketing.
I learned all the skills from a community of over 1.3 million entrepreneurs. It taught me all the skills I need to succeed in this business. I have already quit my job as an aircraft mechanic, and I am doing this business full-time now.
The best thing is you can join for free without credit cards, and you will get two free websites.
Click here to learn more about this community.
At a Glance
Fast Earners Club Review
Summary
Name: Fast Earners Club
Website: fastearners.co
Owner: Unknown
Price: $39 plus upsells
Star Rating: 0.5/5
Similar website previously reviewed: The AZ Code