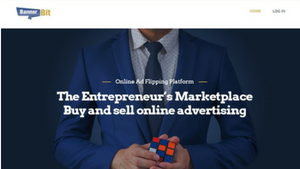 BannerBit is a platform that claims you can make huge amount by flipping ads online using their system or by getting $1000 per referral to their website.
There have been numerous reviews about this website which we will just call BB to make it short, and I appreciate that you landed on my site to hear what I have to say.
After reading my review, you will have the necessary information about BB which will guide you in your decision whether to join BB or not.
BannerBit Review
Summary
Name: BannerBit
Website: bannerbit.com
Owner: Unknown
Price: They claim it is free but you have to deposit $199 minimum
Star Rating: 0.5/5
Similar Website:
Clicks Dealer
Table of Contents
Click or scroll down.
What is BannerBit?
This work from home job platform is just one of many available today. It basically works as a place for people to buy and sell advertising online.
According to the people behind this site, thousands upon thousands of people use it on a daily basis to make money. The best part is, the work can supposedly be all done from the comfort of your own home.
This website looks fairly professionally made compared to other get rich quick schemes available online these days. However, questions still remain whether this website is legitimate and can actually make you money, or not.
How Does 
BannerBit 
Work?
A lot of people find out about this platform due to being referred to it from other sites. As promised, joining this work from home platform is free.
However, its members sooner rather than later come to realize that they will actually need to spend quite a huge sum in order to make some in return.
Only joining is free, as in order to begin buying and selling, you need to put in a monetary investment. In fact, to begin your career buying and selling ads on this platform, you need to put in $199 of your hard-earned money.
Once you put in this amount, you can supposedly begin buying ads and sell them later on. You can choose to buy the ads and make money from the revenue these generate.
You could also choose to sell these ads on to other people in order to make some quick money. This is especially effective if the sites that host these ads become increasingly popular over time.
At least; however, this is how this platform wants unsuspecting members to believe this is how they can make money with their help.
People can supposedly purchase ads from high-end brands. For instance, a person can buy an ad from Ford on this platform for a total of $130.
Now, they can either keep this ad and play the long game or flip it for a quicker payout. There are also arguably lesser brands that apparently also sell their ads on this platform.
The only problem is that the legitimacy of the ads being sold on this type of platform has yet to be proven. This is the case for both the smaller as well as the larger brands featured on the site.
While this platform actually looks professional compared to other schemes available online, something still seems quite suspicious about it.
This may be why some people fall into the traps that this platform presents. It is true that money can be made through advertising.
One can make money through affiliate marketing or link posting jobs. However, it is particularly rare for the advertisements themselves to be bid on and bought.
Questions could also be raised regarding why huge and highly recognizable brands such as Ford would want others to invest in their advertisements. Supposedly, they should just keep their ads and wait for the money to come in.
The Red Flags and Inconsistencies
All of this lead to the fact that this job offer is nothing more than a get rich quick scheme that was set up solely for the benefit of the people behind it.
Unbelievable business model
The first red flag, as mentioned previously in this review, is the type of brands trying to sell their ads here. It would have been a tad bit more believable if they only kept smaller brands in their marketplace.
However, by trying to push the envelope and placing larger brands on their platform, they have effectively killed their legitimacy.
Why would significantly larger brands allow anybody and everybody to deal with their ads? They should and would have just kept these to themselves in order to maximize the profit that they stand to be making.
This site also raises some suspicions because despite supposedly dealing with mostly North American corporations, they are not based in either the United States of America or in Canada.
The fact is, this company is operating out of Cyprus. This platform is simply rerouting their calls using an American as well as a Canadian phone number to make it as though they are based in these countries.
This is so when worse comes to worst, it will be hard for the proper authorities to prosecute them. There are also lots of red flags and inconsistencies that can be found in their promotional materials.
For instance, their introduction video features a woman who talks about the greatness of buying and selling ads online through BannerBit.
However, the concept, or better rather the scheme, of buying and selling ads online is a fake business. The person featuring in this video is also only an actor.
If this platform is legitimate, they should have one of the employees do the introduction to new members, not a paid actor from Fiverr.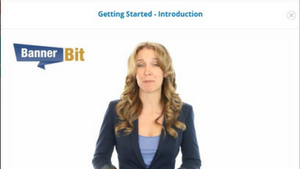 The Paid Presentation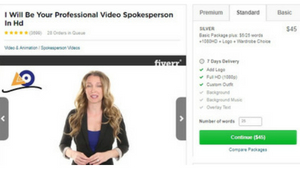 The Actress from Fiverr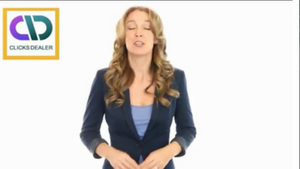 Doing it again for Another Similar Website
Similar websites do this all the time.  They look for actors on sites such as Fiverr in order to make promotional and testimonial videos to fool unsuspecting people.
Potential members would also have to put in a bunch of their confidential information just to get started on this platform.
For instance, aside from asking for your name, email address, phone number, and a password, the site will also prompt you to input your full home address, a copy of your utility statements, as well as a scanned copy of the front and back of your bank card.
The people behind this site can then use this information to get into your bank account.
This platform offers $1000 per referral which is crazy when the business they are running is on the hundreds bracket. It is clear that they are just trying to recruit members without the intention of paying.
Summary Overview
BannerBit Review
Summary
Name: BannerBit
Website: bannerbit.com
Owner: Unknown
Price: They claim it is free but you have to deposit $199 minimum
Star Rating: 0.5/5
Similar Website:
Clicks Dealer
The Compensation Structure
The program claims you will be paid $1000 per referral which is unbelievable considering that the ads they are promoting on their website are just in the hundreds bracket.
The Price
They claim it is free, but actually, you have to deposit a minimum of $199 before you can even start using the system.
Is Banner Bit a Scam?
In summation, yes. This work from home job platform is nothing more than a scam and no wonder there have been so many complaints about this site from past members, in the short span of time this platform has been around.
All of them claim to have been scammed out of their hard-earned money by this site. You would be better off working for tried and tested platforms, even if these provide a lower pay rate.
At the very least, you could be sure that you will actually get paid, unlike when you join sites like this one to make some money.
Conclusion
BB looks legitimate, but stay away as it is far from being what it is portraying. If I was not reviewing scam sites for some time, I might fall into this trap myself.
They are doing their best to deceive the innocent people to put their money on their website. Once you put it in, you will never see it again.
Recommendation
It is still possible to make money online if you do it correctly. You need some skills though. I build and run this website using the skills I learned from a community of over 1.2 million online entrepreneurs.
It is unique compared to other platforms online as the main objective is to train you to acquire the skills needed in whatever online business you want to pursue.
You are free to join any affiliate program you wish, unlike the rest where you have to promote their own agenda. There are countless training courses, training videos, and weekly webinars. Even the members themselves can add additional training if needed.
It is free to join, no credit cards required and you will have two free websites.
Click here to learn more about this community.
At a Glance
BannerBit Review
Summary
Name: BannerBit
Website: bannerbit.com
Owner: Unknown
Price: They claim it is free but you have to deposit $199 minimum
Star Rating: 0.5/5
Similar Website:
Clicks Dealer