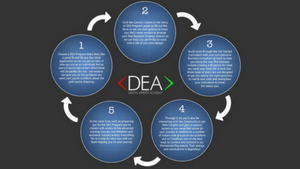 Digital Experts Academy is a platform that provides training on affiliate marketing and it has an affiliate program that claims you can make huge earnings.
There has been a lot of reviews about this platform which we will just call DEA for short but I am glad you landed on my page to hear what I have to add.
After reading my review, you will have the necessary details which will guide you whether to join DEA or not.
Digital Experts Academy Review
Summary
Name: Digital Experts Academy
Website: digitalexpertsacademy.com
Owner: Jay Kubassek and Stuart Ross
Price: From $2500 up to $20000
Star Rating: 2/5
Related Review: Six Figure Mentors
Table of Contents
Click or scroll down.
What is Digital Experts Academy?
DEA is founded by Jay Kubassek and Stuart Ross in 2012.   DEA is trying its best to suit the needs of the novice Internet marketer. It is the training part of Six Figure Mentors. You have to join SFM first before you can access this program.
Check my Six Figure Mentors Review.
Although this is legitimate training, you have to know the details, so you will know if it is for you or not.
How Does 
Digital Experts Academy 
Work?
As previously mentioned, this work from home platform claims to make its members money through affiliate marketing. Affiliate marketing is a business wherein members will post their links to products they are promoting.
These members will make money if other people click on these links and purchase the products that the affiliate is promoting.
The problem with this; however, is that the promised earnings are hard to achieve as it requires a lot of money to start with and thereby, you will also have to find potential customers who are willing to pay this ridiculous amount of money.
The other problem here is they rely on paid traffic. Most seasoned affiliate marketers will know how expensive it is to use paid traffic. So, if you factor the expensive programs offered on DEA plus the paid traffic, you have a slim chance of making a gain in this venture.
Do not get me wrong, again as I have said, you can make money through DEA. There is also quite a handful of useful training on offer here.
This training, however, is centered on promoting their products and you will learn only basic skills that you can use when you start doing other online ventures.
The other problem with this DEA is that only the top members who can afford to pay the full package, stand to make a profit.
In some instances, they may even be the only ones that stand a chance to break even with their money. The method this site makes money from these people is through the ridiculous amount of upsells being offered, and the recruitment scheme is something.
These upsell range from a few hundred bucks to amounts that reach five figures. A specific upsell on the site can cost a person up to $20,000, all for the chance to gain an advantage on this online job platform.
Only those who are willing to pay these ridiculous amounts of money can actually get ahead of their fellow members.
Before you are even given a chance to join this platform, you have to first be a member of  Six Figure Mentors.
The affiliate membership on that site is free, but prices then start to go up. From a student access of $29.95 per month, this can go up to an "elite" membership costing a whopping $2500 every single year.
The Product
The actual product they are trying to sell is a sort of a coaching program. They try to sell it like something that would be beneficial to novice and experienced online marketers alike.
However, as previously mentioned, you have to first sign up to another platform before being offered the chance to join this one.
Even if a person would want to apply to this one directly, they will still be redirected to the other one first no matter how hard they try.
Not only that, but both of these sites also have separate payment schemes, which means you will be paying more money than you would have expected.
The prices for the Six Figure Mentors program has already been mentioned in this review. Quite frankly, this platform will only be worth it if you have a huge amount of money laying around to invest in things like this.
Those prices are already mind-boggling, but the prices for this platform take it to a whole new level. Most probably, this program contains information that you can find online with a significantly lesser amount or even for free with a bit of rigorous searching.
Members also get a decent bit of support from the site's consultants.
Summary Overview
Digital Experts Academy Review
Summary
Name: Digital Experts Academy
Website: digitalexpertsacademy.com
Owner: Jay Kubassek and Stuart Ross
Price: From $2500 up to $20000
Star Rating: 2/5
Related Review: Six Figure Mentors
The Compensation Structure
The members of this work from home platform get compensated in amounts equivalent to the commissions they receive from the links that they post online.
Members who decide not to the buy upsells will make significantly smaller amounts of money compared to their paying counterparts.
Supposedly, as a person buys into more expensive programs, they get more advantages than their fellow members.
These members also stand to make more money than the rest. However, this is quite a risky investment, especially as we are getting into the thousands of dollars territory for these upsells.
The Price
There are four tiers to this program. You will have to buy into one of these once you are invited after first joining Six Figure Mentors.
The "Silver" membership costs $2500 and includes a simple e-learning program
The "Gold" membership costs $8000.
The latter includes a 12-month digital marketing coaching program as well as a three-day boot camp to supplement it.
The "Platinum" membership costs $11,000 to join.
Aside from the perks previously mentioned, this tier includes a three-day workshop as well as access to a website with social media profiles and branding training.
The "Black" membership, which costs $20,000 to join.
This includes an invite to the platform's annual retreat as well as the chance to meet with its founders.
Remember you have to pay for SFM membership first plus the paid traffic.
Pros and Cons?
Pros
The training provided is decent.
The support from the consultants is good.
Cons
The platform is centered on recruitment.
You have to join Six Figure Mentors first and pay the membership before you can join DEA.
Both of this platforms have upsells of their own and DEA is a high ticket program.
Reliance on paid traffic
Conclusion
To reiterate, this is not a scam. A person could make some money from SFM and DEA. However, if they are not willing to pay the big bucks, they may find it difficult to achieve their goals.
People who decide to buy into this program also receive useful tips and tricks on how to grow their online marketing presence.
However, it is important to note that most of this information is available from other sources as well for a more reasonable price.
Recommendation
I joined a community with over 1.3 million online entrepreneurs, and all I have to spend is the $49 a month subscription plus a $14 for the domain. There are no upsells at all.
I can host up to 25 domain name websites for free and with free SSL as well. Even the keyword research tool comes with the subscription.
The training is not only about affiliate marketing as you can venture into other online businesses as well through your website ( a real website).
You will have training on how to get organic free traffic from the Search engines like Google. You can promote any affiliate program you wish( like Amazon)  as the training is not only about promoting the platform's products.
You can also choose to be an affiliate of the community, and if you work hard and get the sales quota, you will get invited to Super Affiliate Conference in Vegas to meet the owners. You will stay in a suite and everything is paid by the owners, whereas you have to pay $20000 in DEA.
If you like, you can join for free, no credit cards required and you will get two free websites as well.
Click here to learn more about this community.
At a Glance
Digital Experts Academy Review
Summary
Name: Digital Experts Academy
Website: digitalexpertsacademy.com
Owner: Jay Kubassek and Stuart Ross
Price: From $2500 up to $20000
Star Rating: 2/5
Related Review: Six Figure Mentors