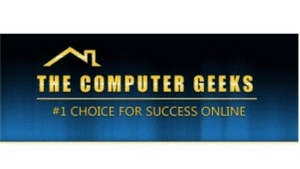 The Computer Geeks is a platform that claims you can make more than $300 per day by doing micro jobs such as posting links online.
There are numerous negative reviews about this platform with multiple websites, but I am glad that you came to my review to know what I have to say about this site.
My review will give you the necessary details that will guide you in making a smart decision regarding this site.
The Computer Geeks Review
Summary
Name: The Computer Geeks
Website: Multiple websites
Owner: Karen Williams or whoever
Price: $99
Star Rating: 0.5/5
Table of Contents
Click or scroll down.
What is The Computer Geeks?
The Computer Geeks is one of plenty of sites online that offers a work from home experience. These websites promising significantly larger salary than most traditional companies offer for a full day of work.
This platform – put up by someone who goes by the name "Karen Williams" –supposedly makes its workers up to $379 a day with just an hour of easy work.
The job this site offers consists of posting links all over the Internet, with a promise of $15 per link posted. The only downside is that these work from home offers are not real.
How Does 
The Computer Geeks 
Work?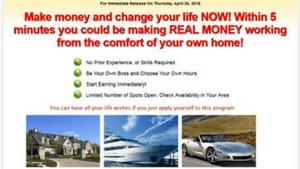 It is not a coincidence that The Computer Geeks works similar to other link posting jobs available online.
This is because it is simply a rebranding of other schemes such as Accelerated Income Program, Automated Daily Income, Extreme Home Paycheck, Secure Job Position and others sites that I have previously reviewed.
There is no way it can actually make a person the kind of money it is promising, especially on a day to day basis.
In fact, the link posting "job" they are talking about is more closely related to affiliate marketing, wherein a person earns a commission by driving traffic to a product.
However, this site will not teach anything beneficial regarding affiliate marketing, as it promotes spamming forums and social media platforms more than actual, helpful techniques.
While affiliate marketing can make a person money, the rates this site promises are just ridiculous. Simply posting links will not make a person money from affiliate marketing.
Other people will actually have to click on these links, and in a lot of cases, these people will also have to buy the product that the link redirects them to.
However, this work from home scam uses roughly the same concept to trick people into thinking they can make hundreds of dollars from just an hour of work daily.
But how does the platform itself make money? For starters, it requires a $99 fee to join and start posting links.
As we have discussed, that is not a fair trade-off in the slightest. Another way they make money is through "upgrades" and "coaching packages" that supposedly speeds up a person's progress.
They use fake statistics to trick people into believing that they are making thousands upon thousands of dollars.
They also promise more "high value" links, which supposedly make significantly more money compared to the regular links they offer, to the people who buy into these packages.
This could potentially peak some people's interest and trick them into spending a large amount of their own money to increase the rate at which they are making money from this scam.
The supposed coaching this company offers can run anywhere from $2,500 to as high as $30,000. This site also stands to make money from commissions.
They get some amount of money if people click on the links their workers have posted on their behalf, and purchase the products they redirect to.
They are making unsuspecting, hardworking people do their work for them.
The Red Flags and Inconsistencies
It is not a coincidence that The Computer Geeks not only offers basically the same promises as other link posting sites, but they also look quite similar as well.
This is because the people behind these sites rebrand their old platforms with a few visual changes here and there to avoid the authorities prosecute negative reviews or worse.
Once people start catching on to the inconsistencies that such a site presents and the money stops coming in, they simply shut it down, then rebrand and rework their website a little bit to lessen suspicion.
Perhaps one of the most glaring inconsistencies on this site is their claims of having only a few positions left. However, even if the page is refreshed over and over again, the same amount of positions is still being offered.
These positions are there even if the page is revisited days, or even weeks, apart. Sometimes, the amount of positions on offer even increases every time the page is refreshed.
If this type of work were legitimate and did make the amount of money it promises, a lot more people would be fighting over these positions.
Everyone would be doing it instead of tiring themselves at a job they do not like. Another red flag that this site has is their claims of being featured on various reputable news outlets.
At times they even piece together videos of news reports on legitimate work from home job platforms and try to pass it one as their own.
A quick search would reveal that they have not been featured on any of the media outlets they claim to have been on.
There is not a single article from these respected news sources to back up that this site is legitimate. The red flags and inconsistencies do not end there.
Unsurprisingly, the woman behind the site – "Karen Williams" – is not even a real person. That name is just an alias that changes from site to site, from Raena Lynn to Kelly Simmons.
Scam sites use this technique to make others believe that even a simple person – in most cases, a stay at home mother or an employee who quit their low-paying 9-to-5 job – can make a fortune working for them.
Summary Overview
The Computer Geeks Review
Summary
Name: The Computer Geeks
Website: Multiple websites
Owner: Karen Williams or whoever
Price: $99
Star Rating: 0.5/5
The Compensation Structure
They claim you can make $15 per link that you will post online but do not believe they will ever fulfill those promises.
The Price
You have to pay $99 before you can start posting links online. They will also funnel you to high ticket items that cost a lot of money.
Is 
The Computer Geeks 
a Scam?
Sadly, yes, it is nothing more than a scam. For starters, it cannot actually make you the money it promises, no matter how hard you try.
They also need money from you to join and make "progress", and no legitimate job takes money from potential employees.
Only the people behind this site actually stand a chance to make some money from it. This website is just a rebranding or a copycat of other work from home scams that make the same empty promises to unsuspecting victims.
It is important to look for the red flags mentioned in this article to avoid being scammed.
Conclusion
Considering the methods these platforms are using, it is best to avoid this site and the similar sites that are associated with each other.
They do not give value to their visitors except just trying to make money from everyone without giving anything in return.
Recommendation
Affiliate marketing is all about helping people solve their problems. You come to my site with a problem on how to make money online.
It is my best intention to warn you to stay away from those scam sites so you will not lose your time and money. I would also like to recommend the system that I use to build and run this website.
I am doing this business full-time now, and I am never looking back. The training I have is unmatched anywhere plus I also have the support of over 1.2 million online entrepreneurs.
If you are interested, you can join for free without the need for credit cards. You will also have two free websites.
Click here to know more about the business.
At a Glance
The Computer Geeks Review
Summary
Name: The Computer Geeks
Website: Multiple websites
Owner: Karen Williams or whoever
Price: $99
Star Rating: 0.5/5