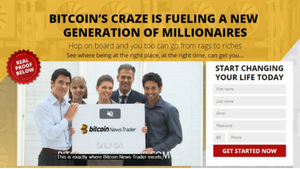 Bitcoin News Trader is a platform that claims you will be a future millionaire through their system of trading Bitcoins using their trading software.
There are a lot of reviews about this platform which we just call BNT to simplify, but I am glad you came to my review to hear what I am to say.
After reading my review, you will have the necessary information about BNT which will hopefully guide you in making a  smart decision.
Bitcoin News Trader Review
Summary
Name: Bitcoin News Trader
Website: bitcoinnewstrader.com
Owner: Unknown
Price: Free then $250 minimum investment to binary brokers.
Start Rating: 0.5/5
Table of Contents
Click or scroll down.
What is Bitcoin News Trader?
Trading cryptocurrency is one of the most popular ways people are making money these days. Among these cryptocurrencies, bitcoin is arguably the most sought after.
There are plenty of platforms out there offering to trade bitcoin for people in exchange for some amount of money. What sets this platform apart is that apparently, it can get news about trading before others do.
They also claim to have some of the top brokers in the world working under them. However, questions still remain.Is this actually legitimate or just another scam trying to take your money away from you?
How Does 
Bitcoin News Trader 
Work?
The way this platform is designed is for it to work for the benefit of the people behind it. In spite of its multitude of promises to make you thousands of dollars for just a couple of hours of work each day, even without much knowledge of cryptocurrency, the only people that will get rich in the long run are the people who designed this site.
You will be told that thanks to this site, you will have access to help from some of the best bitcoin brokers out there today. However, this is simply not the case at all. In fact, the supposed broker you will be working with is actually affiliated to the people behind this platform.
The way these people make money is by forcing potential members to cough up a whopping $250 even before starting to work.
After paying this absurd amount, the unsuspecting victim will then be left on his or her own to find out that the platform really does not work as well as it is advertised.
It is just filled to the brim with empty promises. In reality, instead of making you money through the trades that this program will make for you, it will actually make you lose money in the end.
Even if you manage to figure this all out before the program wastes all of the hard-earned money you have invested into it, the problems will not stop.
Once you ask the "broker" assigned to you if you would be able to retrieve the money you put in, they will give you various unbelievable reasons as to why this will not be possible.
Worse, they will simply refuse to allow you to withdraw your money from their system. This is where you find out that even the broker who was supposed to help you make money is trying to scam you.
There is no way to know about this because unlike other sites, this one does not allow people to try it out first prior to joining.
All it is good for is to take your money away from you. Some people may even be tempted to put even more money other than the initial deposit, in the hopes that they will at least break even.
This is a bad idea. Once you make the deposit, you have already lost. This program is not actually designed to help you no matter what it says.
The Red Flags and Inconsistencies
This work from home platform is just littered with red flags and inconsistencies that point to it being nothing more than simply a scam.
It is important to take note of these, as these are the red flags that are also present in sites similar to this one. This is most likely because there is the same group of people behind them and they simply rebrand the site as they go along to avoid prosecution by the proper authorities.
The first of these red flags and inconsistencies is the ridiculous amount this site is offering for work that is already "done for you" by an "expert broker."
Sure, they market themselves as a program that is accessible even to people with little to no trading experience in the online world, but this is far too much.
If this site really did pay out as much money as it is promising, then everyone will be doing it. The sad reality is they are not, because the numbers attached to this job offer are simply not true.
Another red flag being presented on this site is the lack of identification for its owner. Keeping the owners of these types of sites is a loophole that a lot of them try to exploit.
Withholding the identity of who runs the site means that the authorities will not know who to press charges against once people begin filing their complaints regarding their site.
One of the first things most people do when they are going to sign up to work somewhere is to check the company's "track record." Looking at the company's history will tell you how they treat their employees as well as their reputation in their field.
Not a trading platform or a financial services firm (read the bottom fine print).
There is another glaring red flag on this site: this platform has no license to operate as a financial service firm. A license is a basic requirement of all entities working in the field of investment.
Aside from not having a license to operate, this platform also does not have an address attached to it. This adds much doubt regarding its legitimacy.
This lack of information means that this site can just disappear whenever it chooses to. They can suddenly just be gone when the authorities begin to crack down on them or when their cash flow is beginning to slow down.
They can just rebrand and move on. This site chooses to keep this information hidden because it is nothing more than a scam.
Your broker is based outside the USA.
Binary options trading is not legal in the States so your broker is outside of the USA and unregulated.
Summary Overview
Bitcoin News Trader Review
Summary
Name: Bitcoin News Trader
Website: bitcoinnewstrader.com
Owner: Unknown
Price: Free then $250 minimum investment to binary brokers.
Start Rating: 0.5/5
The Compensation Structure
There is nothing to gain from this platform as you will not see your $250 once you deposited it in the broker's account.
The Price
They always claim that the program is free but in reality, you have to invest a minimum $250 through a binary trading broker.
Is 
Bitcoin News Trader 
a Scam?
Sadly, this cryptocurrency trading platform is just a scam. It is not to be recommended at the very least to anyone. This platform will simply take your hard-earned money and leave you with nothing.
You would be better off investing your money in a system that has already been tried and tested. The fact that a lot of people already have already done these and it may be hard to make thousands, at least you know that you will make money legitimately.
You will learn a couple of useful things here and there from working on these jobs as well.
Conclusion
For me binaries are binaries, and they are all the same whatever commodity you wish to invest. Some brokers are better than others. What I hate about BNT is when they try to lure people to invest in binary trading using a supposedly trading software.
If they really have that software, do you think they will share it with you, let alone for free? They will be very busy making trades using their software until they become unimaginably rich. They will not care about the small change commission they will get from the brokers.
If you really want to invest in bitcoins through binary trading, you can do it on your own through a good broker like IQ Option, although I do not recommend binary trading as I consider it gambling.
Recommendation
I suggest you start your own business learning the skills required. I am doing this business full-time and I learned all the skills from a community of over 1.2 million online entrepreneurs.
This website is the product of what I learned from the community. If you are interested, you can join for free without credit cards and you will have two free websites.
There is no offer that you will become a millionaire once you join but the community doesn't do BS and there is no hype.
Click here to learn more about the community.
At a Glance
Bitcoin News Trader Review
Summary
Name: Bitcoin News Trader
Website: bitcoinnewstrader.com
Owner: Unknown
Price: Free then $250 minimum investment to binary brokers.
Start Rating: 0.5/5