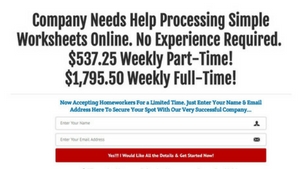 My Cash Flow Secret is a website run by Trevor Harris,  that claims you can make $1,700 in a week for processing worksheets for him.
There are so many negative reviews about this platform, and I am glad you gave me the chance to say what I need to say about the legitimacy of this website.
You will have the necessary details that will guide you to make a smart decision whether to join this platform or not,  once you read my review.
My Cash Flow Secret Review
Summary
Name: My Cash Flow Secret
Website: mycashflowsecret.com
Owner: Trevor Harris
Price: Free to join and you will spend $5 for shipping and handling for every document.
Star Rating: 0.5/5
Table of Contents
Click or scroll down.
What is My Cash Flow Secret?
My Cash Flow Secret allows people to make money by filling out worksheets for people who have supposedly unclaimed property currently in the hands of the government.
In simpler terms, these unclaimed properties – be it material things or money – are owed by the government to certain people.
What a person will be doing while working for this company is filling out information on forms to help these people get what they deserve.
This platform was set up by a man who goes by the name of Trevor Harris.
How Does 
My Cash Flow Secret 
Work?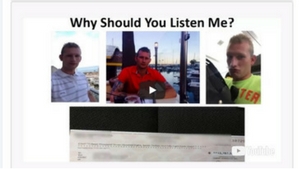 The first tempting claim is he offering this service for absolutely free. What is even more enticing than in being free to join is its promises of being able to make a person over $1,700 in a single week, all the while working from the comfort of their own home.
In the intro video for this website, Mr. Harris quickly denounces that he is running a get rich quick scheme. This is because people will actually be doing some work – filling out said worksheets to reclaim the property.
Harris claims that his workers will work hand in hand with national databases for Canada and the United States to search for people with "unclaimed balances."
The site gets a "finder's fee" of around 30% of the person's unclaimed balance whose sheet was filled up. In this scenario, the worker receives 75% of whatever that finder's fee is.
For example, if the unclaimed balance is worth $1,000, the company is set to make $300. The worker who filed the worksheet then stands to make $225 from this $300, while the rest will go to the company for operating expenses and such.
Once the worksheets are sent in, all that is left for a person to do is to wait for the earnings to roll in. However, this is too good to be true and not how this site works.
It is near impossible to make hundreds of dollars by simply filling up worksheets. If making money was that easy, then everyone should already be doing it.
The catch is that people will have to send in $5 for every worksheet they send as a "shipping and handling fee." Harris recommends sending multiple worksheets at a single time as well as providing this amount through cash or money orders only.
The people behind this site do not accept personal cheques because these could be traced back to them and they may get caught.
This way is done so there will be fewer chances of them being caught by the authorities. This method is how this platform makes its money.
Some people may even be enticed to send in more worksheets while still waiting for the supposed pay off from the last ones they send.
In the end, this is what will cost them more of their hard-earned money.
The Red Flags and Inconsistencies
There are many red flags and inconsistencies present on this site which prove just why it is too good to be true.
One of the biggest red flags is Trevor Harris himself.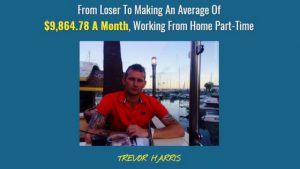 He is also the owner of Legit Flex Job (another scam sitewhich Ihave reviewed), see the screenshot above.
It is also a red flag that the company would be willing to give its workers 75% of the profit for simply filling out and sending in worksheets.
Supposedly, they should get the bigger cut because they are the ones doing a bigger chunk of the work. It would not be prudent for a company to give such a large portion of their potential profits for such a simple job that they can do themselves.
This is all done to entice people to do more and more work as well as to send more money for "shipping and handling."
Another big inconsistency is the addresses where workers are supposed to send in their filled up worksheets.
They are linked to UPS mailboxes. Legitimate companies would have real offices where the work would be sent to, especially since this is a company dealing with thousands upon thousands of dollars worth of lost and unclaimed property.
As mentioned previously, this company only deals in cash and money orders because these could not be traced back to them, unlike personal cheques.
This allows the people behind this platform to spend the money more freely. They could just deduct the supposed shipping and handling fee from pay-offs, as this is a tiny amount compared to what they are promising to pay.
Paying $5 for shipping and handling such a simple document is far too much as well. Once this money has been sent in, it is gone forever. There is no more getting it back.
All that is left for the people who fell for this scam is to wait and wait, but unfortunately get absolutely nothing in return for their services.
This website operates similarly to Legit Flex Job and NorthAmeriCorp. They even share a bogus building as their headquarters. Hundreds of websites have utilized this building image, and it beats me that they are still using it. They think people are so naive not to notice these red flags when it is self-evident.
Lastly, why would a company based in the United States who work for government officials to try and recover unclaimed money from Canada?
This obviously is an inconsistency that a substantial amount of people may not bother to look further into, but is strange nonetheless.
Summary Overview
My Cash Flow Secret Review
Summary
Name: My Cash Flow Secret
Website: mycashflowsecret.com
Owner: Trevor Harris
Price: Free to join and you will spend $5 for shipping and handling for every document.
Star Rating: 0.5/5
The Compensation Structure
The compensation structure mentioned earlier is bogus as it is non-existent on this website. All they want is to make money from you.
The Price
It is free to join this platform, but you will end up spending money on shipping and handling which is, of course, the catch for this system to make money from naive members.
Is 
My Cash Flow Secret 
a Scam?
Sadly, yes, this work from home platform is nothing more than a scam. Making money from working at home is never as easy as these scammers make it out to be.
It is impossible to make the amount of money this website promises simply through answering a couple of pieces of paper and sending them in.
It does nothing more than take advantage of people who are tired of their day jobs looking to make some quick money through other means.
This is why it is extremely important to look for the inconsistencies mentioned in this article to avoid being scammed by this platform and others similar to it.
Conclusion
This platform should be avoided at all cost as it does not provide any value. The only thing they are after is your money through that shipping and handling scheme.
It may sound silly, but people will try to do things just to earn money even if it is through scamming people.
Recommendation
People will always fell prey to sites offering easy money. Earning money online requires some skills thereby training is vital. You also need to have the support of a community for any updates and further training.
I am doing online business full-time using the training and support of the community I joined. It may sound overwhelming, but it is not as I also started from zero.
I suggest that you try it to see for yourself if it is for you. You can join for free, and you do not need credit cards. You will also have two free websites.
Click here to learn more about this business.
At a Glance
My Cash Flow Secret Review
Summary
Name: My Cash Flow Secret
Website: mycashflowsecret.com
Owner: Trevor Harris
Price: Free to join and you will spend $5 for shipping and handling for every document.
Star Rating: 0.5/5