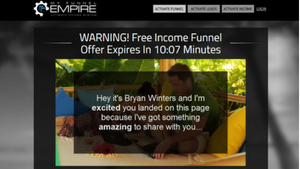 My Funnel Empire is a platform that is creating a stir online and sparked a lot of reviews because of its huge earnings claim per sales funnel visitor.
You came to my website with a pressing question about the legitimacy of this website we are going to review which we will just call MFE for short.
After reading my review, you will have all the necessary information that hopefully will answer your questions about MFE.
My Funnel Empire Review
Summary
Name: My Funnel Empire
Website: myfunnelempire.com
Owner: Bryan Winters
Price: Starting at $77 plus upsells
Star Rating: 0.5/5
Table of Contents
Click or scroll down.
What is My Funnel Empire?
For so many days, we've talked about popular work-from-home jobs and programs that will help you earn more cash as a side hustle.
My Funnel Empire is one of the systems that have attracted many people online for that purpose these days.
The platform was founded by Bryan Winters, and it is considered a marketing system that will help you earn up to $738 per visitor to your page. It is also a done-for-you system with a few things to do on the side as per MFE claims.
How Does My Funnel Empire Work?
So if you want to try it, just take note of the price. The founder claimed that you just need to install your payment links into the system and leave all the other steps to it.
This step really lacks further explanation, so it adds up to the idea that the program is kept simple and easy to understand for potential members.
As mentioned earlier, it is a done-for-you program that will improve your income through online sources. If you think about it, this is even questionable since programs with no step-by-step explanation are a little bit shady.
By checking the website, you can view the video and other reading materials that will help you understand the system.
However, we're going to explain to you in simple terms how it works. After all, many people want to understand the platform very well.
As mentioned by Bryan, he has a complete email subscriber list that will allow you to earn money since there are already people who will probably support your products and services.
Although the explanation isn't done completely, you'll think that this is remarkable on your first time to explore the system.
Basically, the owners of the email addresses will be your future traffic in case you will create a website online. This is our basic knowledge when it comes to email subscription that is needed by online marketing professionals.
In addition, he mentioned that you could set up the system in just two minutes. This promise is really essential in setting up a business in just a matter of minutes.
In other words, that is obviously plain, simple and easy for you. There are no other difficult challenges to face in becoming a member of the website after paying the membership fee mentioned above.
If you have already plugged your payment links in the system, everything else will follow as expected. However, these claims by the owner of the website shouldn't be taken seriously as quickly as possible.
To be sure, there's a need to check if the system really works as promised and not just another illegitimate online money-making system.
The Red Flags and Inconsistencies
We've already discussed how the system works for you and even for beginners in the online marketing world.
However, we really have to dig deeper and understand the red flags and inconsistencies of the program so that we will be guided accordingly.
First, let us talk about the price of the system that you need to pay to take advantage of the opportunities to earn cash every day.
It is very expensive to pay $77 – $197 to have the maximum or full access to the program. Maybe, it is wise to pay an amount that is lower than this fee.
We have no way of knowing that it is really helpful in having opportunities to earn extra cash through the Internet. The payment that was asked by the owner of the platform is too huge, especially for beginners in the work-from-home industry.
Second, the name of the owner is not real. In other words, the name Bryan Winters was just invented by the creator of the platform so that it will look like a real business.
If you check this name, you will not find a real person who will match with the description of the business. After all, we have already discovered that many creators of illegitimate business programs use fake names and stock photos to make it more convincing to prospective members.
Third, the video is also illegitimate. In other words, the person talking in the video is just a voice, and the script is just made to entice potential customers.
There is no person to watch in the video since it's just a voice that you can hear. It's obvious that the person behind the program doesn't want his or her identity to be known in public.
Fourth, the platform is obviously a trap for those who want to try working from home through the Internet. You'll only waste not only your time, but your money, and efforts as well if you join the system. After knowing the truth, it is not the one that you're looking for.
This is just a sales funnel that will make the owner of the program rich and leaving you with no profits at all. The claim that you will earn $738  per visitor is not really true.
If you will rely on the marketing video and the claims mentioned by Bryan, you'll only be deceived by someone whose identity is not even known to the members of the platform.
Summary Overview
My Funnel Empire Review
Summary
Name: My Funnel Empire
Website: myfunnelempire.com
Owner: Bryan Winters
Price: Starting at $77 plus upsells
Star Rating: 0.5/5
The Compensation Structure
Bryan claims you make money up to $738 per visitor to your sales funnel page but this is unbelievable when you are using email list from another person through solo ads.
The Price
The price to join starts from $77, then $97 and $197 plus the amount you will have to pay for paid traffic.
Is My Funnel Empire a Scam?
It is clear that the platform is a scam since you will not make any money out of it. Due to the illegitimacy of the website, this is not recommended for you.
After all, it is not a real program because you will only be tricked to click more details of the platform so that you'll buy more products.
Since it's just hype, beginners shouldn't believe their marketing video right away since you will only hear claims that are not correct and true in the first place.
Lastly, you will not get anything after paying the initial fee.
Conclusion
This is just another copy paste program wherein you copy the funnel system which the founder of this site will present to you. This method is not sustainable, and it clearly runs on a recruiting scheme.
Once the recruiting stops, you are out of business. The one thing I worry about the most is the money you will spend on paid traffic. You will spend a lot of money on paid traffic easily if you are not careful.
Recommendation
I suggest you learn the skills required in doing online business the proper way. I have been doing online marketing full-time for quite some time now as I have quit my job as an aircraft mechanic.
The community that I joined taught me how to build and run this website through an unmatched training program that you can not find elsewhere.
It has over 1.2 million online entrepreneurs willing to help each other, and it has a library of comprehensive training courses and videos plus a weekly webinar.
If this training program peaks your interest, you can join for free without the need of credit cards, and you will also have two free websites.
Click here to check this community.
At a Glance
My Funnel Empire Review
Summary
Name: My Funnel Empire
Website: myfunnelempire.com
Owner: Bryan Winters
Price: Starting at $77 plus upsells
Star Rating: 0.5/5