Online Flex Job is a platform that claims to offer online jobs to its members, and they can also make money if they recruit new members to the platform.
You may have a pressing question about the legitimacy of this website (which we will just call as OFJ to make it short), and the numerous reviews did not satisfy you, so you need more information.
After reading my review, you will have the necessary information you need that will help you in making a smart decision whether to join OFJ or not.
Online Flex Job Review
Summary
Name: Online Flex Job
Website: onlineflexjob.com,onlineflexjob.net
Owner: Unknown
Price: $25
Start Rating:0.5/5
My Reviews of Similar Platforms:
Legit Flex Job
NorthAmeriCorp
Table of Contents
Click or scroll down.
What is Online Flex Job?
It is one of those platforms that claim to offer online jobs to its members at a flexible working hour in their homes. You will be doing the same if you decide to join.
They even go as far as claiming that Fortune 500 companies are in dire need of workers like you. Are these offers real? This review will tell it all.
How Does 
Online Flex Job 
Work?
This site does not offer any online job as it claims and when you fill up an application form, you are filling up a GetResponse email opt-in form and guess what, you are part of their email list now.
Before you get certified which will qualify you for a $25 sign-up bonus, you have to purchase and install anti-virus software on your computer. You will have to spend  $25 for the anti-virus which they claim is for security reasons.
If they care about security why is it that their website is not even secured? That alone could cause suspicions.  There is an inconsistency here that could easily be considered a red flag.
Are you willing to put your sensitive information on an unsecured website? I don't know about you but I will not.
The Red Flags and Inconsistencies
There are a lot of red flags and inconsistencies here, and we will go through them one by one:
Nobody knows who is running this website which clearly shows they are not transparent in their business dealings.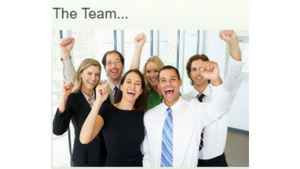 This image looks legit but if you check my proof below this team is as fake as ever. My evidence shows the first page of google image search, and there are at least five pages of the Google Search Engine Results Page that uses this stock image.
Wow! More than FIFTY WEBSITES  are using this stock image. If they cannot post legitimate images of their staff, then how on earth can we accept the legitimacy of the site? Now we can rest assured that this website is a fake and a scam.
Check the Google search result here.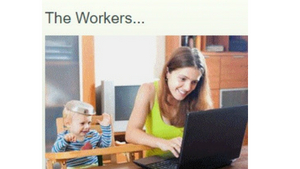 The slide that shows their supposed workers are fake, as well as one of those images, is a stock picture being used by a lot of websites. I did a Google image search, and I found out more than FIFTY  WEBSITES are using this stock picture. What a way to present their supposed workers.
Click here to go to the Google image search result.
You have to purchase and install antivirus software.
It will cost you $25 for the anti-virus software, and they claim you will be reimbursed later which explained the $25 signing bonus once you are certified. This payment illustrates the certification process that they are talking about in the videos.
This process is eerily similar to Legit Flex Job and NorthAmeriCorp which I have previously reviewed.
In the application process, you will have to add a lot of personal information including your telephone address and even your street address. It is very risky to put that personal information on an unsecured website.
Don't bother to apply as an affiliate, their link does not work
How the hell can you make $30 per referral that gets certified when you cannot even apply as an affiliate. Even the link for existing affiliates does not work either.
Summary Overview
Online Flex Job Review
Summary
Name: Online Flex Job
Website: onlineflexjob.com,onlineflexjob.net
Owner: Unknown
Price: $25
Start Rating:0.5/5
My Reviews of Similar Platforms:
Legit Flex Job
NorthAmeriCorp
The Compensation Structure
OFJ claims you can earn between $18.50 to $29.90 per hour doing the online jobs they promise. They will also pay you $30 per referral that get's certified. There is also a $25 signing bonus once you get certified.
The Price
They claimed the program is free, but then you will have to buy antivirus software for $25.
Is 
Online Flex Job 
a Scam?
This website is a scam as they are trying to deceive people That they are legitimate. The red flags say it all, and you do not have to be an expert to see the reasons to avoid this website.
Conclusion
There are legit online job platforms that I have reviewed like FlexJobs, and although I am not an affiliate of that site I have given it a positive review. They deserve a positive review as they are offering something of value to their customers.
Do not confuse it with Legit Flex Job as there is nothing legit about it and it is also a scam website like NorthAmeriCorp.
Recommendation
If your goal is just to make extra money then online jobs is the way to go. However, if you seek to earn money online to replace your salary and get rid of your boss, then I suggest you should stay away from doing online jobs.
Online jobs will not give you that option, so it is better for you to run an online business instead.
Financial freedom is your goal, so why not go for the business model that could give you a full-time income. Do not waste your time doing online jobs that pay pennies.
I have been that route before, but I learned to change my life from an employee to an entrepreneur. I am doing this business full-time now as I have quit my job as an aircraft mechanic.
I build and run this website using the skill I learned from a community of over 1.4 million online entrepreneurs. If you are interested, you can join for free without credit cards, and you will have two free websites as well.
Click here to learn more about this community.
At a Glance
Online Flex Job Review
Summary
Name: Online Flex Job
Website: onlineflexjob.com,onlineflexjob.net
Owner: Unknown
Price: $25
Start Rating:0.5/5
My Reviews of Similar Platforms:
Legit Flex Job
NorthAmeriCorp