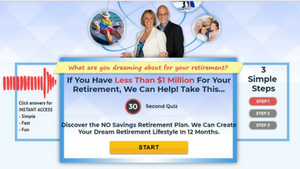 Ultimate Retirement Breakthrough is a platform by Chris and Susan Beesly which claims you can build your retirement using their system.
You may have been through some reviews of this site which we just call URB to make it short because you have pressing questions about the legitimacy of URB.
My review will give you the necessary information that will answer your questions which will hopefully guide you in making an educated decision.
Ultimate Retirement Breakthough Review
Table of Contents
Click or scroll down.
What is Ultimate Retirement Breakthrough?
It is a platform which claims you can make money for your retirement using the most popular online business model called affiliate marketing.
Affiliate marketing is promoting other people's product and once it is sold you make commissions from that sale.
How Does Ultimate Retirement Breakthrough Work?
I hate to say this, but URB is not a program by itself. They cannot teach you affiliate marketing because they do not have their training.
They are just a sales funnel of My Online Business Education. That makes Chris and Susan Beesly an affiliate of MOBE.
That would also mean they will get commissions from your purchase once you decide to join MOBE through them. This type of marketing is called affiliate marketing, and Chris and Susan are doing legit business.
Do not just jump yet because I still have a lot of information to offer you that would change your mind or perhaps think much harder about URB.
The Product
URB is offering their supposed product for $49, but it is actually for the MOBE My Top Tier Business 21 Step Training Program.
What Chris and Susan are not telling us is that it is just the start of the training programs that will be offered to you.
The rest of the training programs includes:
Licensing Kit Package -Includes a 7-day course that will give you knowledge in licensing products to other people
Home Business Summit Event- A good grasp of learning the truth about traffic and a link that separates millionaires from failures online.
Done for you emails
Six-figure Coaching Secret
Diamond Coaching Program
Then there are Inner circle membership
Standard Affiliate
MOBE Licensing Rights
Titanium Membership
Platinum Membership
Diamond Membership
Sounds like a lot, right? Well, read on as there is more information to follow.
Summary Overview
Ultimate Retirement Breakthough Review
The Compensation Structure
Here's where the money comes from.
The Commissions:
MOBE Licensing rights – $1250 per sale
Titanium Membership – $2500 per sale
Platinum Membership – $5500 per sale
Diamond Membership – $20000 per sale
You have to buy all the package to get all the commissions which mean if you need the Diamond membership commission, you have to buy it first.
If you refer a member that bought the Diamond membership and you are only on the Platinum Membership you will only get the $5500 commission.
The Price
MTTB ( My Top Tier Business) – $49 this the only you will get with the URB membership
Licensing Kit – $297 one-time
Home Business Summit Event -VIP ticket $497 or $97 for online streaming only
Done for you emails – $97 per month
Six Figure Coaching Secret – $997
Diamond Coaching Program – $4997
Then there are other costs to pay before you can start earning.
Standard Affiliate – $19.99 per month
MOBE Licensing Rights – $2497 one-time payment plus $99 per month
Titanium Membership – $9997 one-time payment plus $199 per month
Platinum Membership – $16667 one-time payment plus $299 per month
Diamond Membership- $29997 one-time payment plus $299 per month
Pros and Cons
Pros
The training is decent.
Cons
Very expensive program.
Chris and Susan are not transparent in marketing MOBE.
A lot of upsells never mentioned in the product introduction.
Conclusion
I will not consider MOBE as the scam but I cannot recommend it to my readers as it is very expensive and their training is centered on promoting their own products.
URB, on the other hand, is more misleading because they do not mention anything about the staggering upsells when they are presenting URB for $49.
They should be more transparent in presenting their business to their customers or potential members to gain more trust.
They should give their potential customers the freedom to choose if the price of the product is worth the money they had to invest.
If they join the platform because they thought it would only cost of $49 for the total package, then they are misled in something that they should not.
Granted that you can afford MOBE, the big question is can you find potential customers or members who can afford this system? Are you going to market MOBE like Chris and Susan did? Presenting it like it only cost $49?
I bet if you get stuck with MOBE, you will also market it the same way this platform do it. I just hope you will not market it like Optimize Success Portal and My Online Franchise which are scam MOBE sales funnel.
Recommendation
I do not recommend done for you systems especially to newbies because they will not learn the process of doing proper online business. A lot of done for you systems online are very expensive and MOBE is not an exception.
The proper way to do an online business is to build your own website and do the monetization yourself. You have the freedom to enroll in any affiliate programs you may like, and at the same time, you do not have to spend a lot of money.
I learned all the skills in online business through a community of over 1.4 million online entrepreneurs that are willing to help each other. It only cost me $49 month for everything including free hosting after 25 domain name websites with free SSL.
Even the keyword tool (which is very crucial in any online business) is included for free. The training provided is top-notch and is not centered on promoting its own product just like mobe.
It is a no hype, no BS community that you will find out once you tried. If you're interested, it is free to join without credit cards, and you will get two free websites as well.
Click here to learn more about this community.
At a Glance
Ultimate Retirement Breakthough Review