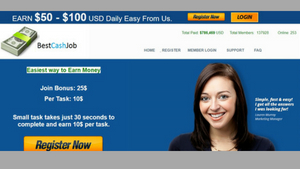 Best Cash Job is a website that claims you can easily make $50 – $100 daily by using their system.
You may have come across other reviews of this website, but I am glad you landed on my site to learn more.
My review will give you the necessary details about Best Cash Job and will hopefully guide you in making a smart decision.
Best Cash Job Review
Summary
Name: Best Cash Job
Website: bestcashjob.com
Owner: Unknown
Price: Free
Star Rating: 0.5/5 Avoid!
Identical Website: Salary daily
Table of Contents
Click or scroll down.
What is Best Cash Job?
It is a platform that claims you will make $50  up to $100 daily which means you will earn up to $3000 a month by using their system and without having to pay anything.
That is a huge claim considering that you only have to do a micro-task for a short period. We will dig up more to learn if these claims are believable or not.
How Does Best Cash Job Work?
Best Cash Job claims it will only take 30 seconds to complete a small task that can earn you $10. According to them they just had to share your referral link, and you will earn $10 each time someone visits BCJ through your link.
That is a lot of money for a simple referral link click, and by all means, it is hard to believe how this website can pay their members that much.
The minimum cash out is $300, and they make payments through PayPal Moneygram, Payza and check.
The Red Flags and Inconsistencies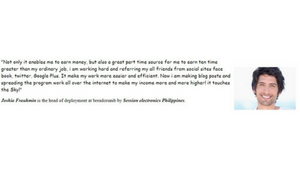 A lot of scam websites has used this testimonial. Joshia Frauhmin is not a real person, and the photo presented as his image is a stock photo used by so many websites.
There are more than two pages of the Google search results that use this image. Most of those sites are scam sites as well.
Check the full Google search results here.
This website is a  clone of Salary Daily and as you can notice it the appearance of the website is identical. This platform is just a rehash of an old site that I have reviewed which has the same content. The only clear intention is to mislead the readers to join the same scam system.
When you click the support link, it will just redirect you to the homepage which means they don't provide any support for you. Again this is another way of misleading the readers. No support means no legitimacy.
This link is also not working as this will also redirect you to the homepage. They have no intention of informing their readers how their business is supposed to work.  As you can see, only the homepage, members login, and register are the only three links working.
That clearly means they are only after your membership and nothing else. They don't want to offer any information, any value or any help at all to its members and the potential members as well.
Like most of the scam websites, they are hiding the owners or operators of this platform. Giving no information about the owners of a website will ultimately shatter its legitimacy.
This platform does not care as they do not even provide an About Us page. They do not have the intention for us to know who runs the show.
It is worrisome because this platform does not even have a contact page, which means you cannot even contact them when you have a problem. This omission is a crucial red flag to consider as no legitimate website will operate without a contact page.
High  per click payment offer
If you notice they are offering a very high payment per click which is $10 when somebody clicked on your link and joined the platform. They claim you just have to post your links on social media platforms like Facebook.
The question is why they would pay you $10 per click when they could just place an ad on Facebook themselves at a much lower price than the $10 they are offering to pay?
It is a clear indication that they do not have an intention to pay at all. They only want your personal details to use it to their advantage.
High Minimum Cash Out
It is designed for potential members to post as many links as they can and to refer more members to the site. That amount seems a like a good incentive for them, but in reality, it is just a promise and nothing else.
Summary Overview
Best Cash Job Review
Summary
Name: Best Cash Job
Website: bestcashjob.com
Owner: Unknown
Price: Free
Star Rating: 0.5/5 Avoid!
Identical Website: Salary daily
The Compensation Structure
Do not believe that they will pay you after you reach the $300 minimum cash out, as nobody gets paid here.
Even the $10 payment per click or per referral is way too much an amount for this website to pay. They do not need you to do this can get it cheaper by paying cheaper ads on social media.
The Price
It is free to join this website but it doesn't mean if it's free is legitimate. A lot of scam websites are operating this way.
They offer it for free, but then you will pay a higher price in the form of your personal details being sold.
Is Best Cash Job a Scam?
Best cash job is this is definitely a scam based on the red flags and inconsistencies that we that we discovered on this website.
How can I website pay its members $10 per referral click and they will not have a method to earn money? The simple answer to this question is because they are not paying their members and they are just after your personal details which they can sell to third parties.
The worst case scenario is that you are at risk of identity theft, and you are at a higher risk of losing your money if you're using the same email address of your online payment system like PayPal.
Conclusion
Websites like these do not offer any value at all, and it is just a waste of time if you join. Not only that, they will just sell your personal details like emails to a third party organization or they might steal your identity that they can use to steal your money from your online payment system like PayPal.
Recommendation
I suggest that you build your website and start an online business by monetizing that site. There are skills that you need to acquire though, but they are not as overwhelming as it sounds. Anybody is capable of learning the skills to run a thriving online business.
I started from the ground up, but I join a community of over 1.4 million online entrepreneurs which provided me the training and the support to run his website and monetize it as well.
I have been doing this business full-time for more than two years now as I have already quit my job in aviation as an aircraft mechanic.
I love doing this business, and I would like to help people quit their jobs as well. The training I have is top-notch, and it is always updated with new strategies needed for a successful online business.
If you're interested, you're free to join without the need of credit cards, and you will have to free websites as well.
Click here to learn more about this community.
At a Glance
Best Cash Job Review
Summary
Name: Best Cash Job
Website: bestcashjob.com
Owner: Unknown
Price: Free
Star Rating: 0.5/5 Avoid!
Identical Website: Salary daily