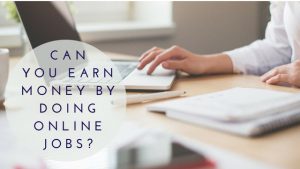 To earn money doing online jobs, the first step to do is to filter the good job offers from the scam.
With so many scam websites offering jobs online, it is overwhelming for somebody searching for a job to find a legitimate job offer.
This article is written to help you filter the good sites from the scam websites offering job offers online which I hope will help you in your online job search.
I have compiled a summary of the online job reviews I have written over time, and I have listed it in categories to make it easier for you to navigate.
You can make money doing online jobs, but you must be vigilant to stay away from the scam websites that are offering online jobs.
Table of Contents
Click or scroll down.
Teaching Online
Teaching online is a new method of making money online. You will go to a teacher portal wherein you will interact and teach your student online.
VIPKID gives you teaching opportunities as an  American instructor to teach English to children from China, with ages 4-12. Once you are hired, your job is to provide education to Chinese students who are seeking to learn the English language.
This teaching is done through a one on one session, just like regular classes, but this time it is done online.
For the application process, there are requirements, you do not need to possess a teaching certification to get accepted, although you need at least a bachelor's degree for your application to be approved.
After you submitted your complete application, they will match your presented qualifications are up to their standards, and then if they are convinced you are capable, they will set up a schedule for an interview.
You will be performing a trial lesson or a 30-minute video of yourself while teaching, and then they will evaluate your performance.
If the initial assessment is okay, they will invite you to get to know more about their business. In this process, you may give you reading materials and videos that will explain in detail their business and program.
Once you are thoroughly familiar with the given guidelines, the standards, and the required teaching materials, you can now proceed to the second leg of the interview process.
Another trial teaching exercise, unlike the first part where your knowledge, skill, and personality is assessed, this time, it is about your ability in following the course guidelines that VIPKID sets.
If you pass their qualifications, then you got the job! You will receive documents that you are required to sign and return, as some agreement and then, you will work on setting up a profile you can use so you can start working with them.
Click here to go to the full review
Writing Content and Freelancing
This online job is one of the most promising and rewarding, but it will all depend on your skill. Numerous websites are needing content writers, so if you are a good writer, this is the way to go. Freelancing is more about selling your skills to whoever needs it. Some platforms act as an intermediary between the freelancer and the client.
Upwork is by far one of the biggest, if not the largest, online freelancing platforms available today. It provides independent contractors with a method to connect with matched employers from all over the world if the job on offer fits their respective skill set.
Resulting from a merger between the platforms Elance and O-Desk, this site is one of the most well developed and sought out there.
Upon signing up to the program, the freelancers are required to input various pieces of information to ensure the potential member's legitimacy.
Unlike other online job platforms, Upwork ensures that the user's information will be protected under their privacy policy and terms of service.
The freelancers are also required to have a solo picture of themselves on their profiles for the same purpose of security as well as for easier identification should an inquiry arise.
Once all of this is done, a user can now begin searching for desired jobs on the site. Jobs are categorized based on topics or the type of work that needs to be done.
This organizational method makes it easier for both freelancers and employers to look for the right job for them as creative and academic writing are separated. It is also nice that the multiple categories for writing are separated from say, coding work.
Once a freelancer has found a job that piqued their interest, it is time they can submit a proposal to their potential employers.
Members have a limited number of proposals that are provided to them every month, but they have an option to purchase more if they run out.
Aside from the proposal, they are also required to submit a cover letter as well as their resume while other employers may ask for their sample work submissions.
All of these previously mentioned procedures are performed to ensure that the freelancer responding to the job posting on offer is a real person.
Upwork claims that on average it takes a person about three days to get hired, but this could take a shorter or longer time, and that is depending on how many people apply for a particular job and the employer's screening process.
Workers on this platform need to be persistent as there are times when they submit proposal after proposal, yet no employer responds to them.
Once a freelancer is hired though, he or she will be given a means of directly communicating the employer through the website's built-in messaging application.
Here, freelancers can see notifications about their payments as well as the details of their latest jobs.
There is also a note function on this application, so it would be easier for the freelancer and his or her employer to throw ideas about the project back and forth.
Once a worker submits the work that they do, it is placed under review by the employer. If the employer approves this work, then the agreed upon payment will be made.
Once the money is in a person's account it is their's for good and neither the site or employer can take it back. Another good thing about this site is their support system.
Aside from having direct customer support wherein users can submit tickets, which will be responded to in due time, they also have an on-site forum.
Click here to go to the full review
It is a website that acts as a trading place for the clients who are purchasing website content or articles and writers who are looking to earn money.
They originated in Germany, but they expanded and now had offices in Las Vegas and New York City. They are already in business since 2008, so assessing their legitimacy is easy.
Joining is free but not easy. You will have to sign up a form, and you will be given few options of topics to write about. You have to be very good in doing this, as you are only given one chance to prove your worth as a writer.
The rating given is one to five stars and if you get one, which is the poorest rating you can get, can either give you very low chances of getting jobs or no chance at all.
Five star is not an easy score to get, very rare actually, 4 and three are average and easy to understand by experienced writers.
The rate is ranging from 0.7 cents/word for a two-star writer to 5.0 cents/ word for a five-star writer. Anyhow, if you get a high rating, you will be given priority access to more jobs coming from different clients.
Getting a low score during initial assessment is not ideal. First, you cannot get as much workload as you want and second, it is very hard to redeem yourself once you start with a very low rating.
Patience is a real virtue here, why? You need to be very patient as the verification process may last up to two weeks, so if you are in a hurry looking for a job, then go somewhere else.
Once you passed, congratulations! You can start working with them.
Click here to go to the full review
Doing Online Surveys
Performing online surveys are one of the most popular and one of the easiest methods to earn money online, but it is also one of the least rewarding. You just have to tell the customers what is your opinion about a certain product or service.
Swagbucks is a platform that claims to pay its users for online shopping and filling out survey forms.  Users can review the daily life products on Swagbucks and become a contender for gift cards, rewards and a whole lot more.
Since online marketing is the modern way of selling, it attracts online buyers who come in the hope of finding discounts and coupons.
This online service was introduced nearly ten years ago in 2008. The company is headquartered in California, and it claims to be one of the leading survey platforms in the country.
The official website and the user interface seem to be attractive enough to capture the attention of new users.
Among several online rewards and gift card services, Swagbucks is a prominent name.  Although it has a dodgy reputation among its customers, it is still a popular site when it comes to rankings and online traffic.
Swagbucks offers its customers a wide variety of services and opportunities to earn points and rewards while shopping from online platforms.  To give you a brief as to what Swagbucks offers, here is what you can do with this website:
Users can earn gift cards which they can use at the most popular shopping platforms such as Amazon, Walmart, etc.

Users can also redeem their earned points to get more discounts and coupons.

Customers can fill online forms and surveys within minutes to become contenders for points and rewards.
Thousands of users have tried services from Swagbucks.  Their experiences may not have been the best, but it surely indicates that Swagbucks has penetrated among the common audience and has strong links with online shopping platforms.
Click here to go to the full review
This is a GPT site or Get Paid To Try offer. So basically, advertisers will pay different sites, like Fusion Cash, to encourage people to sign up for either their products or services.
Websites like this will promote and invite people to sign up for a specific advertiser to try out their products or services.
The best about this promotional method is you are trying a product or service that initially you are genuinely interested in trying, or you might have been using it, and you will get paid doing so.
In this setup, both the website and yourself will get paid, so I do not see any issues here but benefits to all parties involved.
You may be asking why they would pay you by doing so or trying, the simple answer to that is word of mouth advertisement.
You see, advertisers pay thousands to millions of dollars just to put their products or services on commercials and ads, and the money they pay will not assure them at all, whether they are getting enough attention from their target audience or they are just being ignored.
The offers vary, but most of the time, it will all boil down to risk-free trials and free offers, so there is completely nothing to lose here.
Click here to go to the full review.
Transcribing
Transcribing is another rewarding job both online and offline these days. The good thing is that you can learn the skills online.
This is a helpful course that will give aspirants to have a career, both offline and online, in the transcription industry.
Not only courses, but enrollees will also get to know places where they can start their career. It was Janet Shaughnessy, a veteran in the industry and own a company named Zoom Transcription Services, made these courses possible.
She shared her knowledge and experience and made sure to provide her students with the most comprehensive information they need to be successful in this career.
The goal of Janet's courses is to turn newbie to professionals in just 4 to 6 months. The course should be finished one at a time, hence the pace of finishing the course is dependent on the time you are willing to spend.
Transcription is taking a video or audio medium and convert it into readable text. You need not worry, as jobs in this type of field are huge as this kind of work is needed for a lot of reasons.
The audio medium could be everything that cannot be read but only listened to, a court case, an audio recording, a video, a meeting and anything that are not written.
There are many reasons why transcribing audio or video to text is required, and one of these is for people who cannot listen to either the speech or meeting and can only just read them.
Another reason why people turn to transcriptionist is for SEO purposes. When people search for videos, they will key in the video name on the tab on the search engine, hence transcribing the video to text can make their videos visible in the search results.
If it is not transcribed, there is no way it will appear. Hence, many YouTubers turn to this service than do the transcribing themselves.
Needless to say, with the many reasons why this particular service is needed, your career has potential success, but you should be good at what you do.
And that is what this course will turn you to be, a good transcriptionist. There are many available courses for you to choose from, first is the general transcription which discusses theory and practice and second is legal transcription which covers the same only at a different scope.
What is best about Janet's program is that she offers free training or mini-courses so people can assess whether the transcription career is what they really want to pursue or not.
Free courses are always a great idea, especially that you are not putting money until you are completely decided on what you are about to pursue.
Click here to go to the full review
Online Job Scams to Avoid
I hate to say this to you, but there are more scam websites online than legitimate ones. It is important that you spot them before you even think of joining them. I have summarized a list here of some of them. This list will never be complete as every day new scams pop up.
It is a platform that claims they can provide you easy online jobs through their website. In reality, they do not offer any job on the website but they will just finally to different online jobs websites.
When you register to MHJS you will have to enter your ZIP Code first; then you will be asked some questions like choose your desired weekly income when their $1500 plus as the highest option.
Then you will be asked how many hours you can work per week, when can you start working with them, and if you have basic typing skills. To register for free, you need to enter your first name email and phone number.
The thing is you will not get the job from this website, but they will be offered to join a lot of other online job websites.
Their business is not to offer you a job but in fact to get a commission once you join any online job website that they are affiliated with.
There is nothing wrong with this as it is simply affiliate marketing, the problem lies when you're trying to encourage people to join by using deceitful methods.
Fake claims of being featured in the news.
The introduction video about a news clip which is actually a real news footage that mentions the benefits of working from home.
There is nothing wrong here because we all know that even though there are so many scams online, there is still legitimate work from home platforms.
The problem with MJHS is that they put the video on their website to make a claim that their platform is featured on that news footage.
If you watch it closely, you will find that the news footage is irrelevant to MJHS. There was never a mention of MJHS on that news coverage.
There are five testimonials on this website, and all of them are fake. How I discovered it? Simple. I just did a simple image search on Google, and I found out that all of these testimonials are using stock pictures. If you use a stock picture instead of an image of a real person, that makes the testimonial fake.
Here are the two of the fake testimonials and the Google image search result for each testimonial:
Deceitful Email Marketing
Email Marketing is a very effective online marketing method, but if you are capturing emails using a dishonest strategy, then you are just nothing but a scammy operator.
Click here to go to the full review
The platform is very popular among beginners in the field of work-from-home jobs because of its simplicity. Based on its marketing offers, the website can help you earn $50 to $100 every day through completing a simple online task.
Every time you will finish the task which is posting links online, you will earn $10 if somebody clicks on your link. The task mentioned in this program is referring the business to other people so that they will also sign up later on.
Basically, the system encourages you to collect as many many emails as you can and bring people in so that the website owner can make money through your efforts.
Since the real purpose of the owner of the program is for members to invite more people, the idea is to refer the platform to others in exchange of cash.
Essentially, the task is simple as it seems and all you have to do is take time to share it with others through the Internet.
Once you go through offer after offer, you're probably aiming to reach the $300 cash out limit in order for you to finally get paid for your hard work.
However, you will eventually notice that after completing an offer you still need to complete another and it goes on and on.
The idea of completing an offer is fun and simple because the work is so little and you can start accumulating cash in that way.
However, you will also discover that it isn't true that you can withdraw your earnings after reaching the minimum payout of $300 in the process.
You'll also learn that the available mode of payment is only through check and you can't do it through PayPal and other online payment platforms.
After that, you will also discover that you won't be able to receive your check because they won't issue it for you.
In other words, you will get nothing after working on a daily basis and accumulating a lot of emails from the people that you referred to the system.
Obviously, you will think that the solution is to contact their support team so that you can get paid later on. The problem gets even bigger when you can't contact the support team since the link on their homepage isn't even working.
No one will explain to you about the delay of your check and assist you in processing your salary. In that sense, you're only helping them obtain free advertising and reach out to more people to widen their network.
You'll end up leaving the platform after wasting time, money and efforts due to working on a project that isn't legitimate.
Everything that you do as a member of the program will help the owner earn money but you will get nothing in return.
As long as you're completing an offer diligently, they'll get something from you online and you'll never get paid as promised.
Click here to go to the full review
This platform will just funnel you to another platform which is called Postal Jobs Source. That means there is no actual product offered here. The shocking discovery is that they are funneling it to a website that they also own. They claim that they have been this doing business since 1996. This platform is being run by Dennis Price.
This platform will just introduce you to Postal Job Source and they will try their best to convince you that they are a legitimate website.
At first glance, you would think that this website is as legit as what they claim, but the main purpose of this review is to reveal all the information I got which will prove it is otherwise.
On the jobs page, you will see five links which are supposed to direct you to five types of jobs promoted on this platform and it should have been a good idea of having options to choose.
They are:
Clerk- this will redirect you to postaljobssourcerc.com
Mail carrier- this will redirect you to postaljobssourcercr.com
Customer service-  this will redirect you to postaljobssourcercs.com
Mail delivery- this will redirect you to postaljobssourcemd.com
Mail processing- this will redirect you to postaljobssourcemp.com
You may think it is a good idea because you have a lot of options to choose from the list of job offers of different websites.
I hate to say this, but all of those links are going to just one website which is called Postal Jobs Source with five different domain names. What could be the intention here?
The only thing that I could think of is they are just trying to mislead the readers. They want you to think that they can offer you multiple job types through multiple websites but in reality, it is just one plus the fact that it is being operated by the same owner of this website.
Labor services and Postal Jobs Source are one and they are even using the same addresses.
Click here to go to the full review
It is a platform that claims you will make $50  up to $100 daily which means you will earn up to $3000 a month by using their system and without having to pay anything.
That is a huge claim considering that you only have to do a micro-task for a short period. We will dig up more to learn if these claims are believable or not.
Best Cash Job claims it will only take 30 seconds to complete a small task that can earn you $10. According to them they just had to share your referral link, and you will earn $10 each time someone visits BCJ through your link.
That is a lot of money for a simple referral link click, and by all means, it is hard to believe how this website can pay their members that much.
The minimum cash out is $300, and they make payments through PayPal Moneygram, Payza and check.
You have to watch out for this:
A lot of scam websites has used this testimonial. Joshia Frauhmin is not a real person, and the photo presented as his image is a stock photo used by so many websites.
There are more than two pages of the Google search results that use this image. Most of those sites are scam sites as well.
This website is a  clone of Salary Daily and as you can notice it the appearance of the website is identical. This platform is just a rehash of an old site that I have reviewed which has the same content. The only clear intention is to mislead the readers to join the same scam system.
When you click the support link, it will just redirect you to the homepage which means they don't provide any support for you. Again this is another way of misleading the readers. No support means no legitimacy.
This link is also not working as this will also redirect you to the homepage. They have no intention of informing their readers how their business is supposed to work.  As you can see, only the homepage, members login, and register are the only three links working.
That clearly means they are only after your membership and nothing else. They don't want to offer any information, any value or any help at all to its members and the potential members as well.
Like most of the scam websites, they are hiding the owners or operators of this platform. Giving no information about the owners of a website will ultimately shatter its legitimacy.
This platform does not care as they do not even provide an About Us page. They do not have the intention for us to know who runs the show.
It is worrisome because this platform does not even have a contact page, which means you cannot even contact them when you have a problem. This omission is a crucial red flag to consider as no legitimate website will operate without a contact page.
High  per click payment offer
If you notice they are offering a very high payment per click which is $10 when somebody clicked on your link and joined the platform. They claim you just have to post your links on social media platforms like Facebook.
The question is why they would pay you $10 per click when they could just place an ad on Facebook themselves at a much lower price than the $10 they are offering to pay?
It is a clear indication that they do not have an intention to pay at all. They only want your personal details to use it to their advantage.
High Minimum Cash Out
It is designed for potential members to post as many links as they can and to refer more members to the site. That amount seems a like a good incentive for them, but in reality, it is just a promise and nothing else.
Click here to go to the full review
It is a platform which claims that they have special services to offer which will help you in getting a job at United States Parcel Service.
Is the offer true to its claim or is it just promises after all? We will dig deeper to clarify these questions. This site will not claim they are hiring you or have an affiliation with USPS.
The problem is that they are trying to make you believe that they are in the most misleading method.
You have to spend $48 for the registration package that they claim will give you special help to obtain a USPS job.
The package includes:
A priority placement -It includes personal help throughout the application, exam and hiring process.
A complete guide on how to get hired from USPS.
Sample question and answers for the USPS exams that potential employees will undergo as a review.
Access to available USPS jobs in your area.
A list of salary grade is for all positions including potential promotions.
As a bonus, you will be given a complete step-by-step guide in applying for employment  with all other government agencies and full access in your area
You will receive a 200% full refund if you are not hired within 90 days by the Postal Service.
As per PJS you are qualified if:
You are a U.S. Citizen or a Green Card holder
You are a  holder of a High School Diploma holder or GED
You are at least 18 years of age
Experience is not required as per their claim that anybody can apply if they meet those requirements above.
The Red Flags.
"Postal Job Source is a private employment service that offers assistance in gaining employment and is not affiliated with a USPS, the US Government, and its agencies or affiliates. While it is not required to use our assistance to apply, using it may potentially offer an advantage."
It clearly states that they are not part of USPS or the US government at all and the question is it legal for them to charge $48 for their assistance? I doubt so.
Better Business Bureau issued an Alert for Both Labor Services and Postal Jobs Source. Labor Services and Postal Jobs Source are run by the same person and with the same addresses.
Claiming it is rated by BBB.org as A+
It is fraudulent when you claim things that you are not. This website claims that they are BBB accredited with an A+ rating when BBB.org is issuing an alert against them.
Multiple domain names with the same content
This platform is run on a lot of websites which is a clear indication to mislead the readers.
These are the websites:
postaljobssourcerc.com – this is supposed to be the website to go when applying for a clerk
postaljobssourcercr.com- this website is supposed to be the one to go if you apply as a mail carrier
postaljobssourcercs.com- supposed to be the website to go when you are applying for customer service jobs
postaljobssourcemd.com- if you are applying for a mail delivery job, this is supposed to be the website for you
postaljobssourcemp.com- for mail processing jobs, this is the website that you are supposed to go
Well, it sounds cool as there are options as to where to go for the job you want to apply for. Well, I hate to say this, but all of this websites have the same content.
They are just one platform on different websites so that the readers will think that it is broad and offers a lot of options which they are not.
As per the website, only US Citizens or Green Card Holders are qualified, but on the check out page, there is an option for all the countries worldwide. What an inconsistency we have here!
Click here to go to the full review
The presentation is designed for you to believe that it is an online job platform as it will ask you prequalifying questions. The problem is that, for you to proceed to the second step of the supposed application process, you will actually sign up for a survey site. It is misleading but let's proceed for more details.
They will then redirect you to another platform so you can set up your own AOJ page which will have your referrals links on them. It will then be configured so that you will start making money if you bring people to sign up as you did.
AOJ claims you can make up to $1600 per week through your page, but that is an impossible goal to reach using this system. They will also refer you Online Flex Job which is another scam website which I have reviewed.
Now, things are getting clearer, first, they will offer you to join a survey site to make it look like there is actually a job offered here. The reality is that recruiting is the name of the game here. That process is their main business.
The Red Flags and Inconsistencies
The claim of making up to $1600 per week is just to lure you in to join.
AOJ is just a funnel to different online jobs
This platform does not offer any online job at all, but it will just funnel you to different platforms to make commissions.
You have to pay traffic to your page
For you to make money through your affiliate links, you must have traffic to your site. AOJ will not give you training on how to get free traffic, but they will coach you to pay for traffic instead. Paid traffic is very costly.
Click here to go to the full review
Conclusion
With so much complexity and multiplicity, finding a job online can be overwhelming. Then if you add to that the numerous amount of scam websites that are offering online jobs these days, it is almost impossible to find a real online job from home.
My objective is to help you filter the good online job websites from the bad, then it is up to you to choose which one you think is right for you.
This will be updated from time to time so it is a good idea to check for updates. I hope my article will help you in any way and guide you in making an educated decision regarding your online job search.
Recommendation
If you're looking for a full-time income online, I suggest you that you do your own online business through your own website.
An online job is still a job after all, which cannot give you financial freedom. Running an online thriving business is another level and much more rewarding than an online job.
You can monetize your website in whichever business model you may choose and the level to which you can scale up that business is unlimited.
When I started doing online business, I did not have any idea at all on how to build websites and let alone how to monetize. Now I am doing it full-time since I quit my job as an aircraft mechanic.
It may sound overwhelming to new guys like you but the required skills can be learned those who are willing to learn.
I acquired all the skills that I have applied on this website from a community of over 1.4 million online entrepreneurs.
The training they provide is top-level and the best among the online platforms available in the world these days. If you are interested you can join for free without credit cards and you will have two free websites.
Click here to learn more about this business and community.