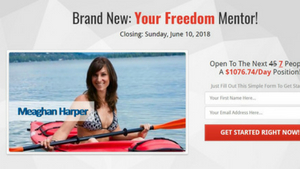 Your Freedom Mentor is a platform by Meaghan Harper that claims you can make $1076.74 daily using her system.
You may have come across some reviews about this website which we will call YFM for short. You are searching for answers to your questions regarding the legitimacy of the sites claim on huge earnings.
My review will answer all those questions and hopefully will guide you in your decision about this platform.
My Freedom Mentor
Summary
Name: My Freedom Mentor
Website: myfreedommentor.com
Owner: Unknown as Meaghan Harper is fake
Price: $37
Star Rating: 0.5/5
Website being cloned: Seven Figure Profit Code
Table of Contents
Click or scroll down.
What is Your Freedom Mentor?
The platform own by a certain Meaghan Harper that claims you can make more than $1000 per day using her system. That is an enormous claim and we shall find out if they are just promises or the claim can hold some water. The next section will provide more information.
How Does Your Freedom Mentor Work?
On the two videos presented nothing is ever mentioned about how the business is supposed to operate. Meaghan or whatever her name is kept saying that everything is done for you and she even opens an account for you which I think is ridiculous.
She kept mentioning that everything is done automatically for you and you do not need to anything on your part.
It is also depressing to know that the owner of this website is fake persona and is testimonials themselves are also fake. How could you trust a website like that?
The Red Flags and Inconsistencies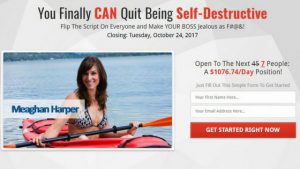 Seven Figure Profit Code Owner
Isn't this identical to YFM owner's image? Another scam website uses the owner's image. This image is from Seven Figure Profit Code That I have reviewed before. It is eerily identical to the one being used on YFM.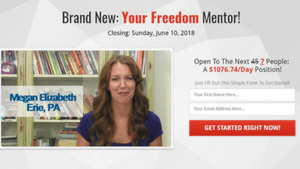 My Freedom Mentor Testimonial. As you can see, this image is identical to the one being used on Seven Figure Profit Code. It is a screenshot of the same video being rehashed.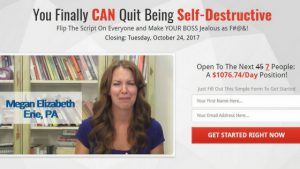 Seven Figure Profit Code Testimonial.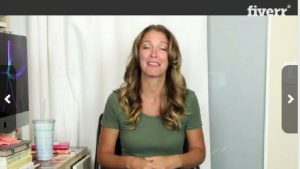 Now, this the actress hired from Fiverr. It is a website where you can hire a lot of people for a variety of online jobs, and that includes actors that can be hired to give fabricated video testimonials at a price.
I couldn't believe they will use the same video testimonials from previous scam websites.
A clone of a scam website
This platform is a clone of the  Seven Figure Profit Code. Expect to have this website renamed again with the same contents.
The real owners of this platform are unknown as the supposed owner is a fake.
Summary Overview
My Freedom Mentor
Summary
Name: My Freedom Mentor
Website: myfreedommentor.com
Owner: Unknown as Meaghan Harper is fake
Price: $37
Star Rating: 0.5/5
Website being cloned: Seven Figure Profit Code
The Compensation Structure
There is no compensation structure here as nobody gets paid as it is a scam website. All they ever want from you is your money, and they do not intend to train you or help you make money at all.
Do not believe that you will make money from this website as their only aim is to take away your money.
They have utilized deceitful tactics to scam people, and they are trying to do it again, so beware of these scams.
The Price
It is supposed to be $67, but if you start to go away from the website, it is discounted to $37.
Is Your  Freedom Mentor a Scam?
It is a scam considering all the red flags and inconsistencies plus the fact that it is just a rehash of Seven Figure Profit Code. In my review of  Seven Figure Profit Code, I have also labeled it as a scam.
Conclusion
A website copying a scam website does not make it a legitimate at any point. Interestingly a lot of things are pointing to the fact that the same person or entities own both of these websites.
They have scammed people using the previous website, and then they will scam some more using YFM.
It is very much possible that they will use the same contents on another website in the future.
Recommendation
You should stay away from websites offering a huge amount of money for almost doing nothing. That is an undeniable indication of a scam website, and even though it is easy to spot, a lot of people still fall prey to those schemes.
It is because it is human nature to go for easy money and not having to do anything. I cannot blame them as I was a victim too.  I learned my lessons, and it is about time you also learn to avoid these scams.
If you to make real money online, you need to have a set of skills. You also need a website. Then monetizing the website is the most effective method of making money online.
There are a lot of other methods to monetize a website, but affiliate marketing is the easiest and the most passive of all the other online business models.
Affiliate marketing may sound overwhelming at first for a beginner, but with the right training and support of a community, it is much easier than you thought.
When I started this online business, I did not know anything about building websites and let alone running an online business.
I joined a community of 1.4 million online entrepreneurs, and that's where I acquired the skills needed to do this business full-time.
I often for early retirement from my job as an aircraft mechanic because I love doing this kind of business and also would love to help people quit their day jobs.
The training I got from the community is the best online, and I have the full support of the whole community class the fact that all the resources are updated as soon as it is required.
If you're interested, you can join for free, so you can check it out if it's for you. You do not need credit cards, and you will have two free websites as well.
Click here to learn more about this community and this business.
At a Glance
My Freedom Mentor
Summary
Name: My Freedom Mentor
Website: myfreedommentor.com
Owner: Unknown as Meaghan Harper is fake
Price: $37
Star Rating: 0.5/5
Website being cloned: Seven Figure Profit Code