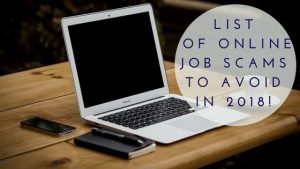 The list of online job scams in this article will never be final as new job scams are popping up online every day.
You may have read some of my job scams review, but you need more information about this type of scams online.
This article will give you the necessary information you need that will make you vigilant when presented with this offers in the future.
Table of Contents
Click or scroll down.
My Home Job Search
It is a platform that claims they can provide you easy online jobs through their website. In reality, they do not offer any job on the website but they will just finally to different online jobs websites.
When you register to MHJS you will have to enter your ZIP Code first; then you will be asked some questions like choose your desired weekly income when their $1500 plus as the highest option.
Then you will be asked how many hours you can work per week, when can you start working with them, and if you have basic typing skills. To register for free, you need to enter your first name email and phone number.
The thing is you will not get the job from this website, but they will be offered to join a lot of other online job websites.
Their business is not to offer you a job but in fact to get a commission once you join any online job website that they are affiliated with.
There is nothing amiss with this as it is affiliate marketing, the problem lies when you're trying to encourage people to join by using deceitful methods.
On the next topic, I will reveal the details why I consider these methods deceitful.
The Red Flags and Inconsistencies
Fake claims of being featured in the news.
The introduction video about a news clip which is a real news footage that mentions the benefits of working from home.
There is nothing wrong here because we all know that even though there are so many scams online, there is still legitimate work from home platforms.
The problem with MJHS is that they put the video on their website to make a claim that their platform is featured on that news footage.
If you watch it closely, you will find that the news footage is irrelevant to MJHS. There was never a mention of MJHS on that news coverage.
There are five testimonials on this website, and all of them are fake. How I discovered it? Simple. I just did a simple image search on Google, and I found out that all of these testimonials are using stock pictures. If you use a stock picture instead of an image of a real person, that makes the testimonial fake.
Here are the two of the fake testimonials and the Google image search result for each testimonial:
Deceitful Email Marketing
Email Marketing is a very effective online marketing method, but if you are capturing emails using a dishonest strategy, then you are just nothing but a scammy operator.
Click here for the full review.
Labor Services
This platform will just funnel you to another platform which is called Postal Jobs Source. That means there is no actual product offered here. The shocking discovery is that they are funneling it to a website that they also own. They claim that they have been this doing business since 1996. This platform is being run by Dennis Price.
This platform will just introduce you to Postal Job Source, and they will try their best to convince you that they are a legitimate website.
At first glance, you would think that this website is as legit as what they claim, but the sole purpose of this review is to reveal all the information I got which will prove it is otherwise.
On the jobs page, you will see five links which are supposed to direct you to five types of jobs promoted on this platform and it should have been a good idea of having options to choose.
They are:
Clerk- this will redirect you to postaljobssourcerc.com
Mail carrier- this will redirect you to postaljobssourcercr.com
Customer service-  this will redirect you to postaljobssourcercs.com
Mail delivery- this will redirect you to postaljobssourcemd.com
Mail processing- this will redirect you to postaljobssourcemp.com
You may think it is a good idea because you have a lot of options to choose from the list of job offers of different websites.
I hate to say this, but all of those links are going to just one website which is called Postal Jobs Source with five different domain names. What could be the intention here?
The only thing that I could think of is they are just trying to mislead the readers. They want you to think that they can offer you multiple job types through multiple websites but in reality, it is just one plus the fact that it is being operated by the same owner of this website.
Labor services and Postal Jobs Source are one, and they are even using the same addresses.
The Red Flags and Inconsistencies
Three images are stock pictures, and it is being used by a lot of websites. You cannot expect a platform to be legitimate when they are using fake fixture pictures of their organization.
This image o the homepage is a stock photo and has been used by a lot of websites. I did a Google Image search, and this is what I have found. More than a hundred websites are using this image.
This job seekers image is also fake. This image is used by a lot of websites.
This image is also fake. The Google image search yielded a lot of websites using this image.
Usage of multiple domain names
I do not get the benefit of having multiple domains with the same website content as it will not rank in Google for duplicate content.
The only thing I can think of is they are trying to mislead the readers of the idea that they have an option to choose from multiple types of job which are just actually one and only one.
BBB.org has an alert notice for both Labor Services and Postal Jobs Source. No legit website will go as far as claiming to be a BBB accredited website when they are not. I do not see the BBB accreditation mark on Labor Services, but there is a big BBB A+ on Postal Jobs Source.
Click here to read the full review.
Best Cash Job
It is a platform that claims you will make $50  up to $100 daily which means you will earn up to $3000 a month by using their system and without having to pay anything.
That is a huge claim considering that you only have to do a micro-task for a short period. We will dig up more to learn if these claims are believable or not.
Best Cash Job claims it will only take 30 seconds to complete a small task that can earn you $10. According to them they just had to share your referral link, and you will earn $10 each time someone visits BCJ through your link.
That is a huge sum of money for a simple referral link click, and by all means, it is hard to believe how this website can pay their members that much.
The minimum cash out is $300, and they make payments through PayPal Moneygram, Payza and check.
The Red Flags and Inconsistencies
A lot of scam websites has used this testimonial. Joshia Frauhmin is not a real person, and the photo presented as his image is a stock photo used by so many websites.
There are more than two pages of the Google search results that use this image. Most of those sites are scam sites as well.
This website is a  clone of Salary Daily and as you can notice it the appearance of the website is identical. This platform is just a rehash of an old site that I have reviewed which has the same content. The only clear intention is to mislead the readers to join the same scam system.
When you click the support link, it will just redirect you to the homepage which means they don't provide any support for you. Again this is another way of misleading the readers. No support means no legitimacy.
This link is also not working as this will also redirect you to the homepage. They have no intention of informing their readers how their business is supposed to work.  As you can see, only the homepage, members login, and register are the only three links working.
That clearly means they are only after your membership and nothing else. They don't want to offer any information, any value or any help at all to its members and the potential members as well.
Like most of the scam websites, they are hiding the owners or operators of this platform. Giving no information about the owners of a website will ultimately shatter its legitimacy.
This platform does not care as they do not even provide an About Us page. They do not have the intention for us to know who runs the show.
It is worrisome because this platform does not even have a contact page, which means you cannot even contact them when you have a problem. This omission is a crucial red flag to consider as no legitimate website will operate without a contact page.
High  per click payment offer
If you notice they are offering a very high payment per click which is $10 when somebody clicked on your link and joined the platform. They claim you just have to post your links on social media platforms like Facebook.
The question is why they would pay you $10 per click when they could just place an ad on Facebook themselves at a much lower price than the $10 they are offering to pay?
It is a clear indication that they do not have an intention to pay at all. They only want your personal details to use it to their advantage.
High Minimum Cash Out
It is designed for potential members to post as many links as they can and to refer more members to the site. That amount seems a like a good incentive for them, but in reality, it is just a promise and nothing else.
Click here to go to the full review.
Postal Jobs Source
It is a platform which claims that they have special services to offer which will help you in getting a job at United States Parcel Service.
Is the offer true to its claim or is it just promises after all? We will dig deeper to clarify these questions. This site will not claim they are hiring you or have an affiliation with USPS.
The problem is that they are trying to make you believe that they are in the most misleading method.
You have to spend $48 for the registration package that they claim will give you special help to obtain a USPS job.
The package includes:
A priority placement -It includes personal help throughout the application, exam and hiring process.
A complete guide on how to get hired from USPS.
Sample question and answers for the USPS exams that potential employees will undergo as a review.
Access to available USPS jobs in your area.
A list of salary grade is for all positions including potential promotions.
As an addeded bonus, you will be given a complete step-by-step guide in applying for employment  with all other government agencies and full access in your area
You will receive a 200% full refund if you are not hired within 90 days by the Postal Service.
As per PJS, you are qualified if:
You are a U.S. Citizen or a Green Card holder
You are a  holder of a High School Diploma holder or GED
You are at least 18 years of age
Experience is not required as per their claim that anybody can apply if they meet those requirements above.
The Red Flags and Inconsistencies
"Postal Job Source is a private employment service that offers assistance in gaining employment and is not affiliated with a USPS, the US Government, and its agencies or affiliates. While it is not required to use, our assistance to apply, using it may potentially offer an advantage."
It clearly states that they are not part of USPS or the US government at all and the question is it legal for them to charge $48 for their assistance? I doubt so.
Better Business Bureau issued an Alert for Both Labor Services and Postal Jobs Source. Labor Services and Postal Jobs Source are run by the same person and with the same addresses.
Claiming it is rated by BBB.org as A+
It is fraudulent when you claim things that you are not. This website claims that they are BBB accredited with an A+ rating when BBB.org is issuing an alert against them.
Multiple domain names with the same content
This platform is run on a lot of websites which is a clear indication to mislead the readers.
These are the websites:
postaljobssourcerc.com – this is supposed to be the website to go when applying for a clerk
postaljobssourcercr.com- this website is supposed to be the one to go if you apply as a mail carrier
postaljobssourcercs.com- supposed to be the website to go when you are applying for customer service jobs
postaljobssourcemd.com- if you are applying for a mail delivery job, this is supposed to be the website for you
postaljobssourcemp.com- for mail processing jobs, this is the website that you are supposed to go
Well, it sounds cool as there are options as to where to go for the job you want to apply for. Well, I hate to say this, but all of this websites have the same content.
They are just one platform on different websites so that the readers will think that it  offers a lot of options which they are not.
As per the website, only US Citizens or Green Card Holders are qualified, but on the check out page, there is an option for all the countries worldwide. What an inconsistency we have here!
Click here to go to the full review.
Online Flex Job
It is one of those platforms that claim to offer online jobs to its members at a flexible working hour in their homes. You will be doing the same if you decide to join.
They even go as far as claiming that Fortune 500 companies are in dire need of workers like you. Are these offers real? This review will tell it all.
This site does not offer any online job as it claims and when you fill up an application form, you are filling up a GetResponse email opt-in form and guess what, you are part of their email list now.
Before you get certified which will qualify you for a $25 sign-up bonus, you have to purchase and install anti-virus software on your computer. You will have to spend  $25 for the anti-virus which they claim is for security reasons.
If they care about security why is it that their website is not even secured? That alone could cause suspicions.  There is an inconsistency here that could easily be considered a red flag.
Are you willing to put your sensitive information on an unsecured website? I don't know about you but I will not.
The Red Flags and Inconsistencies
There are numerous red flags and inconsistencies here, and we will go through them one by one:
Nobody knows who is running this website which clearly shows they are not transparent in their business dealings.
This image looks legit but if you check my proof below this team is as fake as ever. My evidence shows the first page of google image search, and there are at least five pages of the Google Search Engine Results Page that uses this stock image.
Wow! More than FIFTY WEBSITES  are using this stock image. If they cannot post legitimate images of their staff, then how on earth can we accept the legitimacy of the site? Now we can rest assured that this website is a fake and a scam.
The slide that shows their supposed workers are fake, as well as one of those images, is a stock picture being used by a lot of websites. I did a Google image search, and I found out more than FIFTY  WEBSITES are using this stock picture. What a way to present their supposed workers.
You have to purchase and install antivirus software.
It will cost you $25 for the anti-virus software, and they claim you will be reimbursed later which explained the $25 signing bonus once you are certified. This payment illustrates the certification process that they are talking about in the videos.
This process is eerily similar to Legit Flex Job and NorthAmeriCorp which I have previously reviewed.
In the application process, you will have to add a lot of personal information including your telephone address and even your street address. It is very risky to put that personal information on an unsecured website.
Don't bother to apply as an affiliate, their link does not work.
How the hell can you make $30 per referral that gets certified when you cannot even apply as an affiliate. Even the link for existing affiliates does not work either.
Click here to go to the full review
American Online Jobs
The presentation is designed for you to believe that it is an online job platform as it will ask you prequalifying questions. The problem is that, for you to proceed to the second step of the supposed application process, you will actually sign up for a survey site. It is misleading but let's proceed for more details.
They will then redirect you to another platform so you can set up your own AOJ page which will have your referrals links on them. It will then be configured so that you will start making money if you bring people to sign up as you did.
AOJ claims you can make up to $1600 per week through your page, but that is an impossible goal to reach using this system. They will also refer you Online Flex Job which is another scam website which I have reviewed.
Now, things are getting clearer, first, they will offer you to join a survey site to make it look like there is actually a job offered here. The reality is that recruiting is the name of the game here. That process is their main business.
The Red Flags and Inconsistencies
The claim of making up to $1600 per week is just to lure you in to join.
AOJ is just a funnel to different online jobs
This platform does not offer any online job at all, but it will just funnel you to different platforms to make commissions.
Click here to go to the full review
Conclusion
There will be job scams websites as long as people allow themselves to be scammed by the operators of these sites.
People need to educate themselves so they will not fall prey to schemes like this. I have been a victim myself, so I know how it feels, and it is my objective to help people avoid these scams in any way I can.
My Recommendation
After chasing a lot of shiny objects online which offers a huge amount of money just to mislead me to join, I finally find the right method to make money online.
It made me decide to quit my job as an aircraft mechanic, and I am doing this online business full-time now. Most online jobs do not offer a full-time income and after all an online job still a job.
In my opinion, it is not the right path for your financial freedom, and I consider running your own online business is a much better option.
The first step in running an online business is to have your own website, and you make money by monetizing that website using whatever online business model you may choose.
It could be e-commerce, drop shipping, affiliate marketing, email marketing or you may even sell your own product and services on your website.
I have chosen affiliate marketing and email marketing because it is the most passive and it allows me more free time to do the things I love to do in my life.
It may sound overwhelming when you are just starting, but it is not as I started from zero. I did not know a thing about building websites let alone running an online business.
I learn all the skills required from a community of over 1.4 million online entrepreneurs. They offered me the best training I can get anywhere in the world.
I also have the direct support of the whole community whenever I run into problems or get stuck with something in my online business. There is nothing like this community anywhere online.
If you want to change your life for the better and quit that day job, I suggest you join the community for free and see for yourself if it is for you.
You do not need credit cards to join, and you will have two free websites.
Click here to learn more about this community.