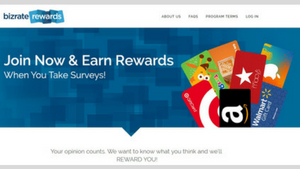 Bizrate Rewards is a platform that pays you after collecting your opinion about a certain product or service.
You are seeking more information about the legitimacy of this website which we will call BR to make it short. You may have been through other reviews, and  I appreciate you landed on my page to hear what I am to say about BR.
Reading my review until the end will give you the necessary details you needed to make an educated decision whether to join BR or not.
Bizrate Rewards Review
Summary
Name: Bizrate Rewards
Website: bizraterewards.com
Owner: Bizrate Insights, Inc.
Price: Free
Star Rating: 2/5
Table of Contents
Click or scroll down.
What is Bizrate Rewards?
BR is a website owned by Bizrate Insights which is headquartered at Bizrate Insights, Inc. 225 High Ridge Rd., East Building 3rd Floor Stamford, CT 06905.
Their business is about collecting opinions from members regarding certain products and services. They will serve their clients by providing those data they require through surveys completed by BR members.
The members, on the other hand, will be rewarded points on the surveys they have accomplished.
How Does Bizrate Rewards Work?
BR claimed they are the best in the industry but of course, all of them will claim to be anyways. They have been serving clients and rewarding members for more than 15 years and still operating as of this writing.
It works with major brands, and they will gather information about your opinion on those brands and like what is good and what requires improvements through question and answer surveys. These data will then be forwarded to the client brands for marketing purposes.
It is only available for those who live in the United States. Once you sign up for a member account, you will immediately take your first survey which will collect basic information about who you are, your age, and where you live. The surveys they will assign to you will be based on the information you have provided.
Surveys are paid by points, and one point is equivalent to $.001 which means you need 1000 points per dollar. You need 5000 points to reach the minimum withdrawal limit which amounts to five dollars which you can withdraw through an eGift card.
Sadly, it is the only method you can acquire points as they do not offer other services. You can redeem your five dollars eGift card through online stores like Target and Starbucks as well as more than one hundred thirty online stores.
They do not have a referral program which is both good and bad. On the good side, it shows that this is not a scammy recruiting site disguised as a survey platform.
On the other hand, it limits its members the capacity to acquire additional points. You have one year before your account gets terminated if it is inactive and if that happens you will lose all your accumulated points.
The Product
Surveys are the only product which pays $.001 per point which requires you to accumulate 1000 points to make a dollar. They will send you about two emails per week, and you may get up to three surveys from those emails.
You may earn between one hundred to three thousand points per survey, and you will be lucky to get 9000 points per week.
Summary Overview
Bizrate Rewards Review
Summary
Name: Bizrate Rewards
Website: bizraterewards.com
Owner: Bizrate Insights, Inc.
Price: Free
Star Rating: 2/5
The Compensation Structure
You will be paid thru eGift Cards once you reach the minimum $5 withdrawal level.  You might be able to get 9000 points a week which will amount to $36 per month.
The Price
It is free to join BR and it is one of the good points of this platform.
Pros and Cons?
Pros
Free to join
It is a paying platform
Cons
You will not earn a significant amount of money here.
You will never learn any skill doing this type of online job
It is a waste of time in my opinion
Conclusion
Even if we do not consider the cons of BR, I still cannot recommend it to my readers. Do you think it is worth your time doing surveys and get paid $10 per week?  I do not know what you think about it, but for me, it is not.
There are better survey platforms that I have reviewed like Swagbucks and Fusion Cash, but I am not an affiliate as I am not a fan of online surveys.
The other problem is that you not going to learn anything by doing surveys.  You should spend your time doing something that will get you paid and learn something new at the same time that you can use in the future.
We flocked to the internet so we can escape our 9 to 5 and be our boss. You cannot achieve that by doing surveys.  You need a full-time online business to make a full-time income.
My online business made me quit my job as an aircraft mechanic, and I love my freedom very much.
Recommendation
I have tried everything online I did surveys, PTC,  Microtasks you name it,  I have done it. I  also had my share of scams, but instead of giving up it gives me more motivation to seek the platform that can show me the path towards my success in all my online endeavor.
I found it in a community of over 1.4 million online entrepreneurs. It provided me with the best training in the world and the support of the whole community during those times that I need answers to my questions and when I get stuck in my online business.
It may sound overwhelming to you but it is simpler than that when you have the right training and support. Building websites these days is much easier and running a full-time online business can be learned by anybody who is willing to learn.
I started at zero, but I built this website and ran this business using the skills I learned from the community. Online business is not rocket science although there are some seats of skills that you need to learn.
If you're interested and would like to start a real online business, you can join for free. You do not need credit cards, and you will have two free websites. It is for your benefit so you can see for yourself if it is for you without spending a dime upfront.
You will not lose anything if you join, but believe me, it is an eye-opener when you try it, and it is a life changer if you get serious with this business.
Click here to learn more about this community and this business.
At a Glance
Bizrate Rewards Review
Summary
Name: Bizrate Rewards
Website: bizraterewards.com
Owner: Bizrate Insights, Inc.
Price: Free
Star Rating: 2/5