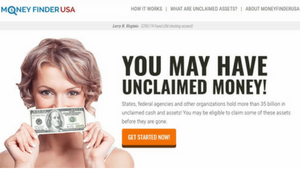 Money Finder USA is a platform that claims they can assist you in retrieving unclaimed cash and assets online.
There are other reviews about this platform which we will just call MFUSA make it short. I am glad you still landed on my page to seek an answer to your pressing question about the legitimacy of MFUSA.
My review will answer your questions and hopefully will guide you to make an educated decision about this platform.
Money Finder USA Review
Summary
Name: Money Finder USA
Website: moneyfinderusacentral.com
Owner: Unknown
Price: Free to join but have to pay it with your personal details.
Star Rating: 0.5/5 Avoid!
My review of similar website: Freedom Checks
Table of Contents
Click or scroll down.
What is Money Finder USA?
It is a website with a bold claim that they can assist you in claiming unclaimed assets or cash in your name. It is an excellent offer if they can hold on to their promise, but before jumping in, we have to dig in deeper to know more about this platform.
How Does Money Finder Work?
According to MFUSA, there are more than 35 billion in unclaimed cash and assets from state federal agencies and other organizations, and you could be eligible to claim those assets before they are forever gone.
They stated on their website that the average claim is $892 which is a significant amount which could have been gone without their assistance.
Before you jump in and join this platform, there is a lot of formation you have to consider. If you want to join Europe to enter your first name and phone number, last name,  address, ZIP Code. They will also ask you if you have an active checking account.
You will have to confirm you are a US resident and over 18 years old and you agree to receive daily emails from Monday Finder USA, Fortifynance and Card Results Guide.
Once you registered to the site, you gave consent for this third-party entities to call you. These are the companies that you have permitted to call you:
CreditFix
Lexington Law
Brace Doctor
Omni Research
Pharma Management, LLC
Vita Attiva
Chatmantics, Pub Club Leads
Advertising inc, Settlement Marketing Group LLC
That list is a lot, and I do not understand why a list pharmaceutical company called Pharma Management, LLC is included in the list.
You will also have to confirm that all the information you entered is accurate and you give them permissions to call you and send you text messages.
They mentioned three steps to complete the claiming process.
Step one- complete basic information ( it is not basic when you have to enter your full name and telephone number)
Step two-review special offers (Why on Earth do we have to review special offers on this step?)
Step three- view unclaimed money resources
According to MFUSA the unclaimed assets that have been unclaimed includes:
Safe-deposit boxes
Bank accounts and escrow accounts
Stocks and bonds
Insurance policies
Trust funds and dividends
CDs and mutual funds
Uncashed checks
Utility bills and tax refunds
Wages
It looks like this platform has covered everything but again before you dive in and register, there is a whole lot of information that you need to know.
The Red Flags and Inconsistencies
This platform is no support page which means you will have nobody to help you we needed.
It is surprising that there is no privacy policy page for this platform. It means they do not care to inform you how they are going to use your personal details.
The owners of this platform are hidden which does not add to the legitimacy of this website. Scam websites are usually hiding the people behind the operation to prevent the prosecution from the authorities.
No legitimate business will take the risk of being branded as a scam due to a missing contact page.
The platform is just a huge opt-in form
MFUSA website is just a huge opt-in form to capture email addresses as well as other personal details on the unsuspecting members.
The unclaimed assets are used as a lead magnet
All affiliate marketers who are into email marketing knows what a lead magnet is and how powerful it is to use in capturing emails. However, a lead magnet should offer value to the subscribers so that they will be encouraged to subscribe.
Using the offer to retrieve unclaimed assets as a lead magnet is fraudulent as it is bogus and fake.
Summary Overview
Money Finder USA Review
Summary
Name: Money Finder USA
Website: moneyfinderusacentral.com
Owner: Unknown
Price: Free to join but have to pay it with your personal details.
Star Rating: 0.5/5 Avoid!
My review of similar website: Freedom Checks
The Compensation Structure
This platform is mentioning that the average claim is $892 by using their system. That claim is bogus as there are so many red flags about MFUSA that are indicated in this review. Do not believe you will make any money when you register this platform.
The Price
Money Finder USA Central claim it is free to join, but you're actually paying it with your personal details that they will use or sell to third-party entities listed above.
Is Money Finder USA a Scam?
It is definitely a scam, and they will not help you to retrieve those unclaimed assets online. They are just employing a business model called email marketing which is a legitimate online marketing method.
The problem with MFUSA is they are using the unclaimed assets as their lead magnet. In email marketing, a lead magnet is used to offer value to the readers so they will subscribe to the email list.
It is very clear on the steps required for the whole process, why would you be required to view special offers on step number two before you can proceed to step three which is to view unclaimed money resources?
A simple answer to that is that is their business is actually encouraging you to try those special offers and step three is nothing but fake resources.
Their offer of retrieving those unclaimed assets has no value as it is not true, and they use it in a deceitful manner the capture emails and other personal details.
Conclusion
Platforms like this do not offer any value is they are just after your personal details. They will also bombard you with offers on step number two of the whole process. Do not believe that there are unclaimed assets you can retrieve using this system.
There is another website that I have reviewed that also claims to retrieve unclaimed assets, it is called Freedom Checks.
Recommendation
There are other proven methods of making money online, but you cannot do it using the method  MFUSA is using. Their moneymaking method is fake. The only way to make significant money online is to build a website and monetize it using the various online business methods.
Affiliate marketing is undoubtedly one of the most popular and the most passive of all online business methods. It may require some skills back with the proper training anybody can acquire those skills.
When I started my online business, I did not know anything about building websites in affiliate marketing or the whole online business itself.
Now I am doing this full time for some time now as I have quit my job as an aircraft mechanic. I acquired the necessary skills by joining a community of over 1.4 million online entrepreneurs.
The training I have is the best anywhere online, and I have the full support of the whole community. I built and ran this website using the skills and support I got from the community.
If you're interested, it is free to join, no credit cards required and you will have two free websites.
Click here to learn more about this business and this community.
At a Glance
Money Finder USA Review
Summary
Name: Money Finder USA
Website: moneyfinderusacentral.com
Owner: Unknown
Price: Free to join but have to pay it with your personal details.
Star Rating: 0.5/5 Avoid!
My review of similar website: Freedom Checks