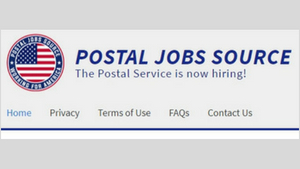 Postal Job Source is a platform that claims they could help you land a job in the United States Parcel Service.
There are several reviews about this website, but you landed my page due to a pressing question regarding the legitimacy of this site which we will call as PJS to make it short.
This review will give you the detailed information that will answer your question and hopefully will guide you to make an educated decision.
Postal Jobs Source Review
Summary
Name: Postal Jobs Source
Websites: postaljobssourcerc.com plus 4 other websites
Owner: Dennis Price
Price: $48
Star Rating: 0.5/5
Table of Contents
Click or scroll down.
What is Postal Job Source?
It is a platform which claims that they have special services to offer which will help you in getting a job at United States Parcel Service.
Is the offer true to its claim or is it just promises after all? We will dig deeper to clarify these questions.
How Does Postal Job Source Work?
This site will not claim they are hiring you or have an affiliation with USPS.
The problem is that they are trying to make you believe that they are in the most misleading method.
You have to spend $48 for the registration package that they claim will give you special help to obtain a USPS job.
The package includes:
A priority placement -It includes personal help throughout the application, exam and hiring process.
A complete guide on how to get hired from USPS.
Sample question and answers for the USPS exams that potential employees will undergo as a review.
Access to available USPS jobs in your area.
A list of salary grade is for all positions including potential promotions.
As a bonus, you will be given a complete step-by-step guide in applying for employment  with all other government agencies and full access in your area
You will receive a 200% full refund if you are not hired within 90 days by the Postal Service.
As per PJS you are qualified if:
You are a U.S. Citizen or a Green Card holder
You are a  holder of a High School Diploma holder or GED
You are at least 18 years of age
Experience is not required as per their claim that anybody can apply if they meet those requirements above..
The Red Flags and Inconsistencies
"Postal Job Source is a private employment service that offers assistance in gaining employment and is not affiliated with a USPS, the US Government, and its agencies or affiliates. While it is not required to use our assistance to apply, using it may potentially offer an advantage."
It clearly states that they are not part of USPS or the US government at all and the question is it legal for them to charge $48 for their assistance? I doubt so.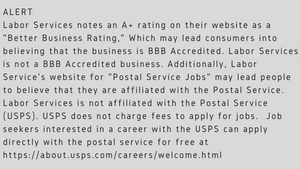 Better Business Bureau issued an Alert for Both Labor Services and Postal Jobs Source. Labor Services and Postal Jobs Source are run by the same person and with the same addresses.
Claiming it is rated by BBB.org as A+
It is fraudulent when you claim things that you are not. This website claims that they are BBB accredited with an A+ rating when BBB.org is issuing an alert against them.
Multiple domain names with the same content
This platform is run on a lot of websites which is a clear indication to mislead the readers.
These are the websites:
postaljobssourcerc.com – this is supposed to be the website to go when applying for a clerk
postaljobssourcercr.com- this website is supposed to be the one to go if you apply as a mail carrier
postaljobssourcercs.com- supposed to be the website to go when you are applying for customer service jobs
postaljobssourcemd.com- if you are applying for a mail delivery job, this is supposed to be the website for you
postaljobssourcemp.com- for mail processing jobs, this is the website that you are supposed to go
Well, it sounds cool as there are options as to where to go for the job you want to apply for. Well, I hate to say this, but all of this websites have the same content.
They are just one platform on different websites so that the readers will think that it is broad and offers a lot of options which they are not.
As per the website, only US Citizens or Green Card Holders are qualified, but on the check out page, there is an option for all the countries worldwide. What an inconsistency we have here!
Summary Overview
Postal Jobs Source Review
Summary
Name: Postal Jobs Source
Websites: postaljobssourcerc.com plus 4 other websites
Owner: Dennis Price
Price: $48
Star Rating: 0.5/5
The Compensation Structure
This website does not offer compensation as it is just giving an assistance service for you to get the hired by USPS. They claim you will get paid between $14.92 up to $33.10 per hour with an average of  $56700 annual salary.
The Price
It will cost you $48 to purchase the registration package.
Is Postal Job Source a Scam?
I would say PJS  is a scam.  There are numerous red flags and inconsistencies about this platform that can confirm that it as a scam website.
You should avoid this platform as it doesn't offer any value and the supposed assistance is just a promise that they will never fulfill.
Conclusion
You do not need any assistance to apply to USPS as all information are available online. You also do not need to spend any amount for the process.
Even the US government is warning the public that nobody should pay any money to apply for any US Government job position.
PJS is just trying to some money out of you and not to help you.
Recommendation
You should be wary of any platform that offers any assistance in securing any US Government work in exchange for money.
If you are already tired of seeking a job, I suggest you start an online business. There are a lot of benefits with running an online business as you can do it anywhere.
No alarm clocks, no traffic and you are your own boss. Some skills are required though, but anybody can learn that as long as they are willing to learn.
When I started, I did not have an idea how to build a website, let alone run and monetize it.  I am now doing this full-time as I have quit my job in aviation as an aircraft mechanic.
I learned everything I needed to build and run this website from a community of more than 1.4 million online entrepreneurs.
I got the best training online from this community, and it did not cost me an arm and a leg.  If you are interested, it is free to join without credit cards, and you will have two free websites as well.
Click here to learn about this business and community.
At a Glance 
Postal Jobs Source Review
Summary
Name: Postal Jobs Source
Websites: postaljobssourcerc.com plus 4 other websites
Owner: Dennis Price
Price: $48
Star Rating: 0.5/5