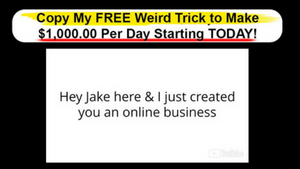 Profit With Our Sites is a platform by a guy named Jake which claims you can make $1000 per day.
Even though you there are so many negative reviews about this website which we will just call as PWOS to make it short I am glad that you landed on my page to seek more answers to your questions about the legitimacy of PWOS claims of huge earnings.
My review will give them you more information and will answer all those questions you have regarding PWOS.
Profit With Our Sites Review
Summary
Name: Profit With Our Sites
Website: profitwithoursites.biz
Owner: Unknown (Jake is fictional)
Price: $37
Star Rating: 0.5/5 Avoid!
Table of Contents
Click or scroll down.
What is Profit With Our Sites?
When you land on their page, Jake as the supposed owner of this website, claimed that you could copy his free weird trick to make $1000 daily without doing anything.
Jake open up on the sales video that he is going to build you an online business while you're watching the video. On the sales video Jake supposedly open an account for you while you're watching the video and in five minutes you will earn $135.
He will not say how it is done as according to him it is of a public video but promised that you would get the details of the business once you join.
He also just said that you are free to copy his websites to make money online which according to him have made him $10 million in four years.
How Does Profit With Our Sites Work?
This platform is hyping up the readers to encourage them to join and spend their money. You might be surprised how people get away with hyping up their sales pitch just to make people sign up.
They use earnings claims are too good to be true and for sure they cannot they cannot fulfill those claims. Now they have a way to get away from the authorities for promising full claims on their sales pitch.
They have a disclaimer on the bottom of the page that says the typical purchaser does not make money using the system.
That's very convenient for them to cover up their tracks to avoid brushing with the law. Smart readers will catch this, as who would like to invest their money on a platform that is promising huge amount of money but at the same time has a disclaimer on their website that you will not make any money from their system? I will not.
Jake claims that he will take care of everything including Web Design, PPC advertising,  List Building and HTML for a one time fee of $37 and no other fees are to be asked from you in the future. Can you believe that? It is plain BS.
Ask any experienced affiliate marketer, and right away they will tell you it is pure BS as your $37 will not cover all of those on the list. Do you think Jake will cover the rest expenses for you? I don't think so.
Okay PWOS website is just a landing page and not a full website. A real website will contain a lot of pages to get rank on search engines like Google.
The websites Jake claims that he will build for you are just landing pages and for sure you will have to pay for the landing page builders like ClickFunnels which are expensive.
Then we will talk about PPC advertising that Jake said he would cover for you. Do you think $37 is enough to purchase paid traffic? I don't think so.
PPC is a very expensive method to get traffic to your site or your landing page. Even Bing Ads which is much cheaper than Google AdWords will cost you on average $0.50 per click to your landing page.
Expect to really shell out hundreds of dollars per month on PPC advertising. Why PPC and not rely on free SEO organic Traffic? It is because as I have said earlier landing pages won't rank in search engines like Google.
It is true especially if your niche is the make money online which is very competitive and the cost per click is higher than most niche.
I've been there and done that, and it is very risky for beginners to venture into PPC as it will easily burn a hole in your pocket. He also mentioned about list building which is email marketing.
Email marketing is a proven method of Internet marketing, but it is also expensive. You need autoresponders like GetResponse or Aweber to send email sequences in automation.
This tools will also cost you money, and I don't think that $37 one-time payment will cover it as the autoresponders has recurring monthly payments.
At this point, I am sure you already realize that PWOS is just trying to sucker you to join they are hoping you will not realize it has no value at all.
The Red Flags and Inconsistencies
Claiming that a $37 one-time payment will cover everything, which includes;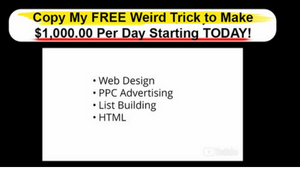 Web design- as I have already pointed out earlier what Jake refer to as a website is a landing page and landing page builders are expensive.
Paid traffic through PPC advertising- again this method of driving traffic to your landing page cost a lot of money
List building for email marketing- the capture emails and send automated email sequences you need autoresponders, and again it will cost money.
All of the mentioned services cost hundreds way more than the $37  one-time payment he is asking. As you can see these claims are plain BS and it is a clear indication that he just need your $37 without offering those services.
ClickBetter will offer no questions asked 60 days refund, but they have a policy that once an account from the vendor which is PWOS is canceled, they cannot honor the refund. PWOS could use this loophole against you.
They could use your email for whatever purpose they would like, they can even sell it to third-party entities and expect a lot of spam emails from a lot of advertisers.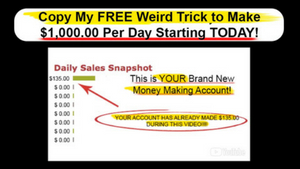 Do you believe it's that easy to make money online? I don't think so. Scammers use this to entice people to join them.
I've been doing this business full-time for some time, and online business does not work that way. You are bound to be scammed if you believe that you can make $1000 per day or $135 in just five minutes by doing nothing and investing only $37 one-time payment.
The owner or operator of this platform is not listed on the website, and Jake is just a fictional character.
Summary Overview
Profit With Our Sites Review
Summary
Name: Profit With Our Sites
Website: profitwithoursites.biz
Owner: Unknown (Jake is fictional)
Price: $37
Star Rating: 0.5/5 Avoid!
The Compensation Structure
The claim of $1000 per day or the $135 earnings in 5 minutes while watching the video is hyped up and BS. Nobody gets paid here.
The Price
It will cost you $37 one-time payment and nothing else whatsoever as per Jake's claim.
Is Profit With Our Sites a Scam?
The lack of transparency and the red flags are enough for me to label this platform as a scam. It offers no value all to the potential members, and there is a clear indication that they are just after the $37 joining fee.
Conclusion
There is no need for me to join the platform and dig deeper to confirm it is a scam. The sales video itself implicates them as without any doubt that they are just trying to mislead the potential members.
They are hiding the details of their business. They are offering a very low joining fee compared to the cost of the services they offer. It is impossible that they will cover the additional expenses and that indicates that those services are just promises.
Recommendation
I have been scammed before that gives me a lesson to be vigilant when presented with such schemes online. I learned to stop seeking those shiny objects online and those done for you systems.
I found out that making money online requires some set of skills. It may sound overwhelming but anybody who is willing to learn can acquire those skills with the proper training.
I started this online business without knowing anything about building websites and running an online business. Now I am doing this full time as I already quit my job as an aircraft mechanic.
I acquired the skills by joining a community of over 1.4 million online entrepreneurs. The training they provide is the best anywhere online. I also have the support of the whole community whenever I have questions and when I am stuck with my business.
I also offer my free services to the other members who need help. It is the pay it forward system which is the main objective of this community.
The system has produced so many successful members as well as helped a lot of beginners start their online business.  There is no other community online like this.
If you're interested you can join for free without credit cards and you will have two free websites.
Click here to learn more about this community and this business.
At a Glance
Profit With Our Sites Review
Summary
Name: Profit With Our Sites
Website: profitwithoursites.biz
Owner: Unknown (Jake is fictional)
Price: $37
Star Rating: 0.5/5 Avoid!