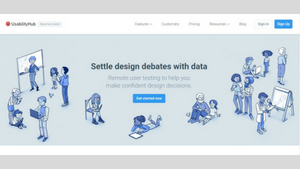 Usability Hub is a platform that offers its members to earn money by doing simple and short tests.
There are previous reviews of this platform, but I am glad that you landed on my site to hear what I am about to say.
My review will give you more detailed information which will guide you in making an educated decision whether to join usability or not.
Usability Hub Review
Summary
Name: Usability Hub
Website: usabilityhub.com
Business Type: Opinion Surveys
Price: Free
Star Rating: 2.5/5
Table of Contents
Click or scroll down.
What is Usability Hub?
It is a platform that offers testing services for developers, so they will know if their software campaign is on the right track or not. The members who will perform the test will be paid for their efforts as well.
The developers will benefit a lot from this platform but let's find out if this platform offers value to the members who are trying to make money online by performing the tests.
How Does Usability Hub Work?
My review will not touch about the things that the developers can benefit from this platform. It will be more centered on people who are looking for income online.
This platform is transparent with their business processes, and it is legitimate. The main task it will ask you to do is to give your opinion about apps, websites, and designs. You can all do all of these for free, but you will get paid as for your efforts.
So we have here a legitimate website that pays you some money. So the review here is not focused on the legitimacy of this website as I have mentioned earlier because this is definitively legit.
Let's focus on the compensation structure, so we will know if it's worth your effort or not. Before we jump to that, let's get the details first.
The Product
The test that you have to perform is short and easy, and some don't even last a minute. There are others that last longer but not that much. Then you will have to provide your opinion on five tests that will gather your opinion about certain apps or website.
There are five tests you have to perform to get paid
Five-second test- it is the webpage or a design test. The test got its name from the fact that the design stays on the screen for just five seconds. Then you have to tell them what is it that you remember about that webpage or design.
Click test-This test includes the questions asking about the positioning of the call to action buttons. The page design and clarity of instructions as well as the positioning of the icons and buttons are the main objectives of this test.
Question test- It is a test wherein you will be presented with a website software or an application, and then they will ask you some questions on how to improve the design.
Navigation test-We all know that navigation is the most important factor for a successful website design. On this test, they will ask you questions about switching from one point to the other part of the website, as well as searching for different options and using the tabs.
Preference test- This is the main test that will ask about your opinion. In this test, they will ask questions about if there are things you would like to see more or is there anything you want to add to the existing setup.
Summary Overview
Usability Hub Review
Summary
Name: Usability Hub
Website: usabilityhub.com
Business Type: Opinion Surveys
Price: Free
Star Rating: 2.5/5
The Compensation Structure
When you do the test, you will be paid $0.10 per test which is equivalent to one credit. You need 100 tests which are 100 credits to make $10.
As one test will take an average one minute to perform, your average pay would be about five dollars an hour. The minimum withdrawal is $10, and this platform is only paying through PayPal.
As you can see, the payment is not enough to make a full-time income. As legit as it is, but you still have to consider your time. Are you worth only five dollars an hour? Mine is not, but I do not know about you.
The Price
It is free to join Usability Hub, and it is not like the other websites that start for free, and then you will be offered a lot of upsells later on.
Pros and Cons
Pros
It is free to join
It is a legitimate website
They are paying their members.
Cons
The pay is not enough to make a full-time income
Conclusion
As I have mentioned previously, Usability Hub is transparent and is not a scam. This platform is good for people who are looking to earn a few bucks online, but this is not good for those who are seeking full-time income in online business.
Even though there are a lot of positives on this website, I cannot recommend it because of the low payment structure.
Recommendation
I recommend that you should build your website and monetize it into a successful online business. That is the only way to make a full-time income.
There are a lot of ways you can monetize a website and one of the most popular is affiliate marketing. It is a method of online business where you will just promote other people's products and when you make a sale you earn commissions.
There are sets of skills required though, but anybody can learn those skills provided that they are willing to learn. I learned all the skills that I use in building and running this website from a community of over 1.4 million online entrepreneurs.
I got an unmatched training from anywhere else plus I get the support of the whole unit community. When I started, I did not know a thing about building a website and online marketing, but now I am doing this full time as I already quit my job in aviation.
If you're interested is free to join, and you will get two free websites as well.
Click here to learn more about this community.
At a Glance
Usability Hub Review
Summary
Name: Usability Hub
Website: usabilityhub.com
Business Type: Opinion Surveys
Price: Free
Star Rating: 2.5/5