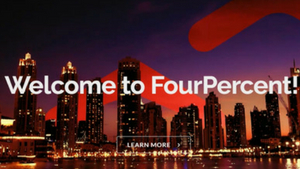 Four Percent or Four percent Group is a platform founded by Vick Strizheus which is offering training about online affiliate marketing to its members.
There are several reviews about this platform online, but I am glad you landed on my page to hear what I am about to say regarding the legitimacy of this website.
In my review, we will talk about this platform which claims to offer entrepreneurs with a chance to take giant strides in online business.
The Four Percent Review
Summary
Name: Four Percent Group
Website: fourpercent.com
Founder: Vick Strizheus
Price: $49 per month plus a lot of other costs.
Star Rating: 2/5
Table of Contents
Click or scroll down.
What is Four Percent Group?
Four Percent is an online service which provides entrepreneurs with training and educational videos that feature important recommendations about driving better online traffic. This service is based on the concept of a systematic approach to online marketing. It comes from Vick Strizheus who is a renowned expert on web traffic.
The name Four Percent has an interesting analogy behind it. According to Vick, only four percent of the people are willing to do things differently and want to reach the next levels. Hence the product is designed for such thoughtful entrepreneurs who prefer to stand out from the audience.
How Does 
Four Percent Group 
Work?
For entrepreneurs and online business owners who are looking for a bulk generation of traffic on their social media platforms and website, Four Percent can be an appealing tool. The products available at Four Percent can allow you to:
Access video training programs designed by Vick Strizheus.
Avail one to one coaching so that your business problems can be more accurately solved.
Make use of the latest sales funnel designs that will last for long.
Make use of the ever-ready customer support to ensure that there is no lean patch in your online business.
A Quick Look at the Features
We will now take a quick look at some of the top features which users can avail at Four Percent. Although the features are a little hard to find as the product details are available to the website members only.
It may not be a bad idea, but it can put off potential customers as people normally prefer getting a complete product overview without having to sign up at the website just for the sake of a product description.
However, we have compiled some features here for you just to give you an idea of the services you might be in for:
Four Percent is all about training programs. These educational and training programs are mainly designed for entrepreneurs to give them the edge over their counterparts.
Since experienced professionals develop these training, one can assume that they will provide some advantage to business owners on digital platforms.
This program is one of the major attractions at Four Percent. It's an interesting method to engage the followers. In this program, Vick acts as a beginner and aims to make 100,000 USD in three months time.
You can view the entire progress and learn from the experiences that he goes through. You can also take notes on tactics and timings of certain decisions and see which ones will pay off and which ones won't.
There are live course products where the users can learn directly from the internet. These programs basically discuss ways to generate higher traffic on your homepage as well as the social media pages.
Each of these courses is available as separate products and come for a heavy price. Here is a list of courses or products available at Four Percent.
Mobile Traffic Mastery
Systems Traffic Mastery
YouTube Traffic Mastery
Twitter Traffic Mastery
PPC Traffic Mastery
Retargeting Traffic Mastery
Content Traffic Mastery
Facebook Traffic Mastery
Display Traffic Mastery
Email Traffic Mastery
Influencer Traffic Mastery
Insta Traffic Mastery
Other than these traffic mastery products, there are several other products available too. One of the downsides of the official four percent website is that you cannot look into the details of these products as mentioned earlier.
There is a requirement of membership which is why it is not that straightforward to predict the course content and features.
Running a business website is all about making clever decisions. The training programs allow you to learn little hacks and tricks of the trade which can be quite impactful in the longer run.
Other than that, there are several modules in each course where you can learn about advanced strategies for online marketing. Also, there is bonus material available for prospective users and learners.
The most important work you have to do is at step 2 and 3. Basically, that's when you need to purchase the eight tools recommended by Vick:
Tecademics (Internet Marketing College)
ClickFunnels (Sales Funnel Builder)
LeadPages (Page Builder)
Click Magick (Tracking Tool)
GetResponse (Autoresponder)
AWeber (Autoresponder)
Udimi (Solo Ads)
NameCheap (Website hosting)
The Inconsistencies
The official website has a review section where you can find a lot of videos where entrepreneurs have used different Four percent products and have seen fruitful results for their online business.
Generally, the users seem quite satisfied with Four Percent Group. If you take a look at the internet and the social media pages, you will find a lot of support for Vick Strizheus, and there is nothing too negative to speak of.
The only bothering bit is that these reviews and feedbacks are available on websites which are being run by the Four Percent group. Therefore, the authenticity and fairness can always be a bit questionable.
Vick has a few bad patches in his history so new users may not trust him straight away
Vick has had a few criminal cases filed against him for fraud and law violation. It is said that he swapped some of his team members while working with a product earlier just to make more commission. A dodgy reputation can keep the customers from going for the services.
The discount rate for a monthly plan
It is so huge that it causes doubts in the minds of a potential customer.
You have to pay for paid traffic by using solo ads.
Summary Overview
The Four Percent Review
Summary
Name: Four Percent Group
Website: fourpercent.com
Founder: Vick Strizheus
Price: $49 per month plus a lot of other costs.
Star Rating: 2/5
The Compensation Structure
This platform is a sales funnel of a lot of websites.  Your compensation will come from commissions of third party websites when you make a sale of their products.
The Price
Four Percent claims to provide competitive pricing plans. Payments can be made through PayPal, MasterCard, VISA, Discover and American Express Credit Cards.
There are basically two pricing plans which are based on your business requirements. Here is a brief discussion of these three plans:
Limited features for those who are starting out.
The monthly pricing plan is available for $49 per month. This offer is available for limited time. The original price of this plan is $247. Payment mode is recurring. However, a discount of 83% is not easily absorbable, and one is forced to think whether the service is legit or scam.
Pro Elite- $5,000 per year:
For more experienced marketers who are already making money online and want to scale up their business (Private Coaching included)
The additional costs.
and
This will be the most costly as you have to pay for paid traffic through Solo Ads.  You could run hundreds to thousands of dollars a month on paid traffic.
Is 
Four Percent Group 
a Scam?
I do not consider this platform a scam as it provides some training, but I still cannot recommend it as it is expensive and there are a lot of alternatives out there.
Vick is using affiliate marketing which is a legit form of online business. I just don't get it when he recommends you purchase both ClickFunnels and LeadPages when they are both landing page builders. It also happens on Aweber and GetResponse, both autoresponders.
The reason being is he is an affiliate of all those tools, and he gets a commission from your purchase. Then he will encourage you to do promote all of them. I think your potential customers will find it redundant.
Conclusion
Although Four Percent seems to be loaded with bundles of features and offers, the web service is impressive, but its own traffic ranking is questionable.
As a new customer or visitor, it doesn't send positive vibes as this is what they promise to deliver, but if they can't improve their own traffic rankings, how can they teach others?
There are some good online courses for a fair price, and online feedback is also mostly positive. It boils down to the fact that Four Percent has a dodgy reputation and it has to do more to impress its visitors.
Although Vick Strizheus has a profound stature in digital marketing and is loved by most, it is still better to look right and left and compare before investing in Four Percent Group.
Recommendation
I am using a platform that at $49 a month, there is no upsells, no hype and no BS. You can even host 25 domain name websites for free, and that comes with free SSL. The keyword research tool is even included for free.
You don't have to worry about paid traffic as the training is focused on organic traffic through Search Engine Optimization.
It has a community of over 1.2 million online entrepreneurs willing to help each other. You will never run out of answers to your questions as every member is willing to reach a hand when somebody needs help.
This website is the product of the skills I learned from the community. On top of that, it is also free to try without credit cards, and you will have two free websites as well.
Click here to learn more about this community.
At a Glance
The Four Percent Review
Summary
Name: Four Percent Group
Website: fourpercent.com
Founder: Vick Strizheus
Price: $49 per month plus a lot of other costs.
Star Rating: 2/5