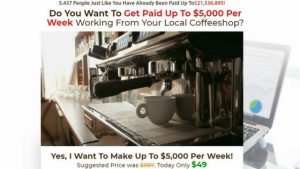 Coffee Shop Lifestyle Secret which is founded by Jeff Lerner is a sales funnel to Ultimate Laptop Lifestyle that promises earnings of $5000 per week with an initial investment of $49.
You came to this review because you need answers to your questions regarding this website's legitimacy.
After reading my review you will have all the information you will need to make a smart decision regarding this website.
Coffee Shop Lifestyle Secret
Table of Contents
Click the topic for quick navigation or scroll down.
What is  Coffee Shop Lifestyle Secret?
Knowing Jeff Lerner is the founder of this website, it is weird as he is also the owner of Ultimate Laptop Lifestyle which will make him the owner and the affiliate of his own website.
Yes, he is the one on the videos on the landing page of this intriguing income-generating website.
The price to pay to become a member is $49, but that is not the end of the story as there is more to pay as you move on.
This website shares the "opportunity" to "earn thousands of dollars, without doing almost anything and just staying the entire day in a coffee shop with their laptops.
How Does Coffee Shop Lifestyle System Work?
So, how does the promise of thousands of dollars without too much work exerted work? As per Jeff, he earned all the millions he had on his bank account from the magic system.
This money-making system will make sales needed on your behalf, hence you will start to earn thousands without dealing or closing just one sale.
He said, that the system does everything for him and he also added, that you do not need to create any products, marketing materials, and promotion, and technical experience is definitely not a requirement.
What you will only do is send people or leads on his system, and you do not need to do anything after as they will take charge from there and will do everything for you.
Unfortunately, one of the hardest things to do is sending leads. Mind you, the $49 is just the start of all the spending you would do here.
Actually, it is a little questionable, as you are joining not the system that this website claims but actually Jeff's 6 figure business system or the 16 Steps to 6 Figures.
So, once you are in, you will receive tons of marketing materials, however before you can start earning commissions from their products or making any sales, you have to purchase them first.
This is a high ticket program in which you need to purchase all their products to get a commission.
Your first sale commission will go to the person who recruited you who will get the commission.
Same on your end, the people you invited will not get a commission on their first sale, as it will go to your account instead.
Basically, you have to bring people in, let them buy available products and get a commission from it.
Then the cycle continues, as long as you are bringing people in and do the same things you do, you will earn.
You will also be assigned a "coach" who will guide you to be successful with this program.
But instead of a "coach", what will be assigned to you is just a sales representative that will encourage you to buy higher available tickets.
You will be asked to use different marketing techniques, hence the "do it all for you" or providing you "everything" is not true.
You will be taught on how to use different paid advertising and will not inform you much about the available ways to attract organic traffic free of charge.
So everything here is to pay first before you can start playing and earning.
This website is similar to Global Dream Builders which is also a funnel of Ultimate Laptop Lifestyle.
The Inconsistencies
If you will ask me whether this program is a scam or not, I would rather answer that question by giving you the inconsistencies I noticed with this program.
First, the claim is that you will be earning thousands of dollars just by doing nothing. Nothing? I do not think so, as you will be working on the hardest part of the program to earn. And also, it is evident that you need to do a lot before earning since you will be given pieces of training to enhance your capability to sell their program.
Second, the deceptive name is intriguing, why would they change the name and not label their program as is?  If they are running a legitimate business, using their original name should be used. Jeff would make you feel you are on a new program, but actually, it is just the same as the old program only with a different name.
Third, this is not your easiest way to earn, actually, it is the other way. This is not an easy task and even not an assurance that you will be successful, just like what Jeff was trying to imply. There is no easy money or assured income here, Jeff story could be true but that would never be applicable to all.
And finally, he said that you will get a coach, but is it really a coach you are getting or someone who will just convince you to buy their more expensive products.
Price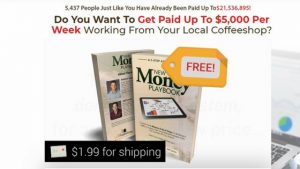 As per Jeff, the price is reduced to $49. The thing is, it will only get you as far as the joining phase.
Once you're inside there will be a lot of upsells to the program.
The problem is they will not tell you at the start and it is not a proper way of running a business.
Summary Overview
Coffee Shop Lifestyle Secret
Compensation Structure
The compensation structure for this website is just the usual income generating websites, there were differences yet very minimal.
So, you have to buy their products in order for you to start earning. You have to pay twice the amount you are planning to get from this program.
For instance, if you want to get the $10k dollars that Jeff was claiming, you have to spend $20k dollars or a lot more than that.
If you are not willing to shell out money, then you will not earn as much here, but actually, even if you have paid and shell out money, there is still no assurance you will earn.
You will get a commission from every person or individual you invited to join their website and purchase their products.
On your first successful recruit, you will not get any from it, instead, it will go to the person who recruited you to join.
The cycle will be the same on your succeeding referrals, their first supposedly referral commission will not go to their bank accounts but yours.
So, this fact will give you an idea that if you successfully recruit people and they are as hardworking as you are in inviting people, you will really earn.
But, you should not depend on your success to your hard work and time you spent, as even how long you stay in a coffee shop and send emails to a lot of people, there is still no guarantee you will earn money here.
Their claim that you will be earning $5000 per week is not that easy to achieve if you can achieve it at all.
Is Coffee Shop Lifestyle Secret a Scam?
I will not label this a scam but I cannot recommend this platform. The marketing strategy they use is deceiving and not transparent.
People are smarter these days and will not easily take those bait that easy.
Conclusion
There are a lot of other sites to make money online.  Do not go for those "Done For You" systems as most of the time it does not work.
You should build your website and start from there.
It is where people would come looking for solutions to their problems and once you solve their problem it is the time that real money is made.
That is how real affiliate marketing is supposed to be done, not trying to get a sale by deceitful means.
Recommendation
Are you tired of looking for legitimate sites online? If your answer is yes I have a solution for you.
You should start investing in yourself by learning the skills needed to run an online business.
I  highly recommend that you start building y0ur website and start an online business.
You have to start educating yourself so you will not fall to online scams. You will also find out that it doesn't cost much to run a thriving online business.
It is even free to start without the need of credit cards and you will have two free websites.
There is no upsell whatsoever and there is a community of over 1.2 million online entrepreneurs willing to help each other.
Click here to learn more about how I manage to quit my high paying job in aviation.
At a Glance
Coffee Shop Lifestyle Secret