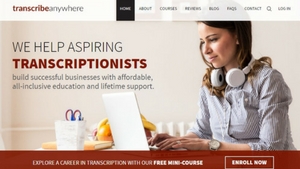 Transcribe Anywhere is a website created by Janet Shaughnessy that offers both General and Legal Transcription Training for aspiring transcriptionists.
Of all the reviews online, I am glad you selected my website, and I will try my best to answer your pressing questions whether this site is legit or not.
After reading my review, you will have the detailed information that will guide you in making an educated decision to join this platform or seek alternatives.
Transcribe Anywhere Review
Summary
Name: Transcribe Anywhere
Website: transcribeanywhere.com
Owner: Janet Shaughnessy
Price: Free to try then courses up to $697
Star Rating: 3/5 Good!
Table of Contents
Click or scroll down.
What is Transcribe Anywhere?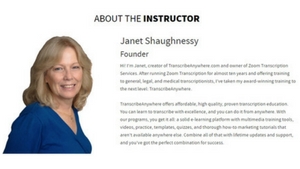 This is a helpful course that will give aspirants to have a career, both offline and online, in the transcription industry.
Not only courses, but enrollees will also get to know places where they can start their career. It was Janet Shaughnessy, a veteran in the industry and own a company named Zoom Transcription Services, made these courses possible.
She shared her knowledge and experience and made sure to provide her students with the most comprehensive information they need to be successful in this career.
How Does Transcribe Anywhere Work?
The goal of Janet's courses is to turn newbie to professionals in just 4 to 6 months. Yet, the course should be finished one at a time, hence the pace of finishing the course is dependent on the time you are willing to spend.
Transcription is taking a video or audio medium and convert it into readable text. You need not worry, as jobs in this type of field are huge as this kind of work is needed for a lot of reasons.
The audio medium could be everything that cannot be read but only listened to, a court case, an audio recording, a video, a meeting and anything that are not written.
There are many reasons why transcribing audio or video to text is required, and one of these is for people who cannot listen to either the speech or meeting and can only just read them.
Another reason why people turn to transcriptionist is for SEO purposes. When people search for videos, they will key in the video name on the tab on the search engine, hence transcribing the video to text can make their videos visible in the search results.
If it is not transcribed, there is no way it will appear. Hence, many YouTubers turn to this service than do the transcribing themselves.
Needless to say, with the many reasons why this particular service is needed, your career has potential success but you should be good at what you do.
And that is what this course will turn you to be, a good transcriptionist. There are many available courses for you to choose from, first is the general transcription which discusses theory and practice and second is legal transcription which covers the same only at a different scope.
What is best about Janet's program is that she offers free training or mini-courses so people can assess whether the transcription career is what they really want to pursue or not.
Free courses are always a great idea, especially that you are not putting money until you are completely decided on what you are about to pursue.
The Training Courses
So, as I stated previously, there are two courses available, one is general transcription and the other is legal transcription.
The General Transcription Course – is learning to transcribe video or audio file to text, not including legal as it is part of the other course.
This course comprises of 6 modules,
The first module is learning the foundation of being a transcriptionist, things you need to know to start, explanation of different styles of the job, available jobs for transcriptionist and the right way to format a given transcript.
The second module covers the skill to become excellent with the job, including right punctuation usage, spelling, and skills necessary to become successful in this career.
The third module, is learning the tools you need to become efficient with the task, using transcriptionist's notes and templates, video time coding and shortcut keys are all part of the module.
The fourth module is actual practice of dictations. The practice has seven levels, starting from easy then to more difficult.
The fifth module is letting you know how to start the business of being a transcriptionist, finding contracts, marketing and learning how to set rates.
Then the last module is the final examination and if you pass you will get the certificate of completion. Here you will be given a test and a person will assess your exam, and you will be given valuable feedback. Once you pass, you will be given a certificate, which you can then show as proof of course completion to your target clients.
The Legal Transcription Course – which is actually more intense option as it has a total of 16 modules.
This course is for those who are aspiring to transcribe legal transcripts.
Modules 1 to 2- is an intro to this field, including the tools you need.
Modules 3to 5- is focusing on learning different legal terminologies, skills you need to have and the software that you will be using.
Modules 6 to 8- focus on legal process and correspondence, court procedures, also in these modules you will know the types of templates and forms you will need.
Modules 9 to 13 – will let you know how to transcribe different situations, specific to depositions, court proceedings, meetings and law enforcement, through actual practice.
Module 14 – you will get a lot of resources and tools you can use in this field.
Module 15 – is taking the final exam and passing it to get a certificate.
Module 16 – you will be given planning tips and ideas to turn this field of work into a full-time business.
Summary Overview
Transcribe Anywhere Review
Summary
Name: Transcribe Anywhere
Website: transcribeanywhere.com
Owner: Janet Shaughnessy
Price: Free to try then courses up to $697
Star Rating: 3/5 Good!
The Price
General transcription course costs $597, this includes Facebook group support, lifetime membership email support and lifetime updates.
If you cannot afford to pay the entire amount, you can consider, the paying as you go option, paying the difference when upgrading levels, say the money you pay for level 1 or level 2 will be deducted when you pay for the higher level.
If you decide to continue, $127 will be deducted if you want to continue level two or three, while $362 is deducted if you continue from level two to level three.
Level one is for $127 you will receive modules one and two  for 30 days,
Level two is for $362 for modules one to four for a 60-day span and
Level three is for $597 to get all the general transcription modules.
Same with the general transcription course, there is also a pay as you go option and the mechanics are the same wherein the amount you paid for level 1 or level 2 is deducted when you pay for the higher level.
If you want to continue level two or level three, $197 will be deducted from the price while $497 will be deducted f you want to continue from level two to level three.
Level one is for $197, modules one to four for 30 days,
Level two is $497, for modules one to nine for a span of 90 days
Level three is $697 to get all the modules.
At first glance, they may seem pricey but considering the benefits it can provide, every cent is paid off once you start doing transcription services.
Is Transcribe Anywhere a Scam?
Transcribe Anywhere is a not a scam at all as this platform is legit as it provides valuable training and the support you need to be successful in this field.
Conclusion
Transcription may not be for everybody and it is good that this platform provides mini-courses so you can try it for free and see for yourself if it is for you, before you start spending money.
The pay as you go offer is also a good idea in the essence that you do not have to pay the whole course when you join but pay by level as you go.
Recommendation
Offering transcription services is a lucrative business once you become good at what you are doing. However, building a website and starting an online business is what I recommend as it provides more ways to have passive income.
It is the business model I use in running this website which I am doing full-time. If you really want to offer transcription services, having your own website is an advantage so you can offer your services online.
The community I joined taught me everything from building a website to running a thriving online business. This website is the product of the training I have with this community.
They provided me all the resources I needed to start from the ground up to where my website is today. You will be amazed by the community of over 1.2 million online entrepreneurs willing to help each other.
It also offers free hosting with free SSL which you can never find elsewhere. It is also free to join without credit cards and you will have two free websites as well so you can start right away.
Click here to learn more about this business.
At a Glance
Transcribe Anywhere Review
Summary
Name: Transcribe Anywhere
Website: transcribeanywhere.com
Owner: Janet Shaughnessy
Price: Free to try then courses up to $697
Star Rating: 3/5 Good!