Is eToro a Scam? Let me explain. eToro is one of the biggest social trading platforms when it comes to trading online which is why it has come under a lot of criticism regarding its overall legitimacy. Over 5 million people worldwide take to eToro to invest in stocks and try to make a profit. Unfortunately, though, not a lot are successful and sometimes lose a lot of money which they don't think is fair. Those people often take to the internet to write negative reviews of the eToro platform, and some of them do feel cheated.
Regardless of if eToro website is a scam or not, the only way you can really tell is if you set up your own account and start trading with your own money. The problem is, who is going to do that when it has the markings of being on the negative side. This honest review is solely based on personal experiences on this trading platform that I personally think is not worth trying.
Why Do Members Think eToro is a Scam?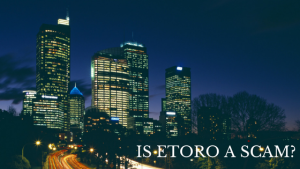 As stated above, a lot of the negative reviews come to light because people do not like losing money on trades. This review is not to encourage people to try and tell that eToro is a good platform in the trading world, as again, people better stay away from this investment scheme. This review is more of a way to warn people against this social trading platform, and not to invest on it.
One other reason why members are suspicious of the platform is that the previous history of investments is not so transparent. You can only view trades that go back a year, and you will not be able to download a longer history of any other investments. This is a good reason to be suspicious and a very valid one.
eToro operates with OpenBook capabilities which again makes potential new members suspicious of depositing money. The social trading feature wouldn't be anything without the OpenBook feature as you will then not be able to follow any of the popular traders or their information on investments. This makes new users wary in the sense these popular traders might not be real people as there are no means to tell if they are real and not just made up by eToro themselves.
What Reasons are there to Prove eToro is Legit?
With the thousands of negative reviews that members have brought to the internet, you should remember that millions of users try to take advantage of the eToro platform. While you can find many negative reviews relating to their operation, the platform has few positive reviews from so called successful traders that use the platform. All businesses will have negative reviews regarding their practices no matter what industry they are serving, so sometimes you must take both negative and positive reviews with a pinch of salt.
Some reasons below could give you the opinion that eToro might be legit:
eToro was founded in 2006 which means they have been established for more than ten years.

eToro is a fully licensed company in Cyprus where the business is based. It is fully regulated by the Cyprus Securities Exchange

Commission.

The social trading platform has many negative reviews but has a few positive reviews.

eToro claimed it has real members that can be followed socially both on and off the eToro platform. This means that prices aren't necessarily inflated because the so-called real members are truly making money from the platform. So they claim.
While none of the above guarantees that eToro is legit, and there's a lot more convincing needed to give you peace of mind to try the system.  Remember that thousands of users slate eToro just because they have lost their own money and are not happy about the platform.
What Evidence is There That eToro is a Scam?
While eToro does have many negative reviews from members that have used the social trading platform, there has been substantial evidence presented to suggest the system has a flaw. Of course, eToro is in the business to make money, but they are making more than enough money from commission, so they have no reason to operate illegally.
There have been many members of the platform that have come up with their own conspiracies that suggest eToro is a complete scam. Seeing the unconfirmed claims hundreds of thousands of so-called legit traders that are supposed to be earning thousands from the platform because of their social trading knowledge – would suggest that eToro could not be  as legit as any social trading platform comes.
Questions to Answer that Might Makeup Somebody's Mind.
If you really want to know if eToro is a scam or not, you will need to answer the following questions:
Have you tried out the eToro platform with your own money?

What evidence have you found to suggest the platform is a scam?
The above questions are applicable only to those that have tried out the system and learned something from their experience. Those that haven't tried it are better off not trying at all as it might give you the result that you do not want in the first place.
Conclusion
If you look at eToro reviews online, it's easy enough to be put off from using their social trading services. In conclusion, it's easy to be suspicious of any business operating in the social trading industry, let alone from some platform that has so many negative reviews.
There are so many reasons to avoid it, which is understandable, so I think it is safe for you just to research and try my recommendation which is online affiliate marketing. Get the necessary training to get the skill required, build your website and be an affiliate with large companies like Amazon. You can never go wrong. You just have to work for it to be successful. 
Feel free to ask questions, post comments or subscribe to my email list to be the first to get the updates and offers. You may also visit me so I can answer your questions directly at Wealthy Affiliate (link to my profile page)