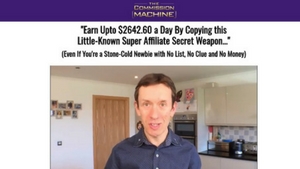 The Commission Machine which is owned by Michael Cheney who claims you can make $2642.60 per day by copying his little known Super Affiliate Secret Weapon.
There are several reviews online, and I am glad you came to my website with pressing questions about the legitimacy of the claims presented on this website.
After reading my review, you will have the detailed information about this website, which will guide you in making a better decision whether to join or not.
The Commission Machine Review
Summary
Name: The Commission Machine
Website: commissionmachine.net
Owner: Michael Cheney
Price: $47 plus upsells
Star Rating: 2.5/5
Table of Contents
Click or scroll down.
What is The Commission Machine?
The program's owner is Michael Cheney, a veteran internet marketer. Hence this thought will make you think, is the secret he is sharing effective or what, or is there a secret?
As per his claim, this system can be used even without experience, without money and without owning an email list.
The training in this program will teach you to put the system together and will make you believe that you will start earning in a minimal time duration.
The biggest question is, Is it true? Let's find out.
How Does The Commission Machine Work?
This program is no different with affiliate marketing, you will sell products of other people's goods and products, and in return, you will get commissions from that.
To start selling you need to buy the training first but unfortunately, that is not the only thing you need to buy, as you have to by other tools you need to pursue this system.
So, in short, Michael will earn commissions from all the products that you will buy using his platform, and that is what you will do exactly using your email list later on.
At first, you will start with a one or two landing pages, same as with Michael's landing page, to collect valid email addresses of people.
Landing pages most of the time talk about lies on different forms, like letting people know that they will earn huge money out of this system and all other tactics to make people interested about this system and sign up using their email address.
Once a person gets into the bait and sends their email address, they will be forwarded immediately to a "thank you" page, then after to the product you are planning to promote and sell them.
If your target person buys the product you sell immediately, then viola, you will get a commission out of their purchase.
The commission you will get is dependent on factors such as the products you are promoting, and the terms set by the affiliate program you are using.
So, it is highly encouraged that you decide wisely which amongst the products will let you get the most commission without having a hard time selling it.
Of course, you do not expect that all of them will buy right away, expect that most of the time they would not be interested at all.
The other chance you have, since you already have their email address, is to spam them with emails about products you are selling.
Once they opt-in, they will automatically receive series of follow up emails every other day or for others every day, to discuss to them one product after the other and how to make huge money out of it.
Unfortunately for me, sending too many emails will lead people to unsubscribe. So, here for an additional fee, you will be taught of how to use paid traffic.
Paid traffic is not for newbies as optimizing and testing your ad campaigns may be too expensive, and unless you have information where to buy good sources, this would be a waste of money.
You can be successful in affiliate marketing if one, you will get enough training you need, two, you will learn to use paid traffic, three, you will get good sources and finally if you are a very lucky person.
Unfortunately, Michael's program will only train you using about seven videos with a total of more or less two hours of training, which I believe is not sufficient at all as to learn programs as such it takes weeks, or even months.
The Inconsistencies
Talking about inconsistencies, I see a lot of this program but will discuss these significant inconsistencies.
Michael said that you do not need money and experience to make this work.
You obviously need money, as you have to buy the training before you can start and the money you have to shell out will blow up as the program progresses.
And experience is a requirement if you want to be successful here as you have to go through some programs that are only applicable and best to use by veterans like the paid traffic.
The system they use is centered on email marketing and building an email list, cost some money as well.
This is not a secret system just like what he was claiming that it is a secret program.
I do not think it is, as there are platforms before that promote the same products.
I cannot say that you cannot earn here, there is a possibility of course, but not the $2642.60 a day in a short time.
I do not need to expound on this further, as it is obvious. They are still using this method of marketing as it is still working even though people are already warned that if it is too good to be true, it certainly is.
The marketing method and the training is centered on email marketing and not based on your website.
There is no training about traffic generation, so expect to spend on paid traffic.
Summary Overview
The Commission Machine Review
Summary
Name: The Commission Machine
Website: commissionmachine.net
Owner: Michael Cheney
Price: $47 plus upsells
Star Rating: 2.5/5
The Compensation Structure
As discussed previously, this is an affiliate marketing type of program, hence the only time you will get money is if you were able to sell programs of other people.
You will get a certain commission out of selling. The commission you will get is based on factors like the product you are selling and the terms set by your chosen affiliate.
One of the most effective ways to earn in affiliate marketing is using paid traffic, but unless you know how to use it, you may end up wasting money as paid traffic is not cheap.
Affiliate marketing can definitely give you earnings, only if you are lucky enough and you completed comprehensive training.
As for me, the compensation will go more to the pocket of Michael, as he is the beneficiary of the commission of whatever product you buy.
As for you, you have to work hard and keep on pushing people on your email list to buy products you are selling.
The Price
You will have to pay $47 to join this platform. It will not end there though as there will be a lot of upsells like Commissionology which is $27 per month, the Done for You Service which is $97 and the 7 Figure Franchise for $1997.
There will be more costs to consider and of course paid traffic will hurt you the most. Newbies should stay away from paid traffic, as I made the same mistake when I was starting my online business.
Is The Commission Machine a Scam?
I will not consider The Commission Machine a scam as it provided some training on online marketing. As I have mentioned earlier, they are more focused on email marketing.
Conclusion
Even though this platform is legit, I will not recommend it to newbies. Experienced online marketers could use the email marketing part of the training.
Recommendation
The method I use to make money online is tried and tested without the hype. I build my website, and I use free traffic using Search Engine Optimization.
I don't like to use done for you systems, as it tends to cost a lot of money. I do my email marketing by creating landing pages, opt-in forms and use  Aweber as my autoresponder.
The training I use is a lot cheaper than the others I found online, and it covers a lot of online business models. This website is the product of my training, and I did this all by myself. I am doing this business full-time now as I already quit my job in aviation.
My #1 recommendation will teach you everything from building a website and how to run a thriving online business. You will have free hosting with free SSL, and you will have the support of over 1.2 million online entrepreneurs willing to help each other.
It is also free to join without the need of credit cards and you will have two free websites.
Click to learn more about the business.
At a Glance
The Commission Machine Review
Summary
Name: The Commission Machine
Website: commissionmachine.net
Owner: Michael Cheney
Price: $47 plus upsells
Star Rating: 2.5/5