Wake Up To Cash is a unique platform as it is a sales funnel to Automated Daily Income, which is also a funnel of My Online Business Education or MOBE.
You came to my website to know if this website is legitimate or not, so thru this review, I will try my best to give you all the necessary information you need to make an educated decision.
Wake Up To Cash Review
Summary
Name: Wake Up To Cash
Website: wakeuptocash.com
Owner: James Wendell
Price: Starting at $49 and up to $29,9997 upsells
Star Rating: 0.5/5
Table of Contents
Click or scroll down.
What is Wake Up To Cash?
This is a website by James Wendell, which commits to giving you huge earnings daily. The video on the website starts with his rags to riches story and encouraging you to be like him.
So, as per James, all you need is just 30 minutes of your time to earn from this website, and you can spend the rest of the day to wherever you want.
How Does Wake Up To Cash  Work?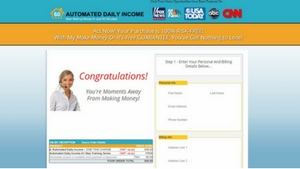 Let us go deep into this 'money generating' website. There is no product on this platform, as this is just like the rest, which is a sales funnel to direct you to a  website called Automated Daily Income which in turn will funnel you again to MOBE.
There is no sign that you are joining MOBE, even at checkout only you will be on ADI checkout page. So until that time, you thought that you are pursuing Jame's system.
Moving on, how this system works? Let me correct, how does MOBE work? MOBE is an extremely high priced program that requires you to invest a huge amount of money.
It is also being shut down by the Federal Trade Commission of the United States.
But, even after investing all your hard-earned money, you are not guaranteed an income. The promise of high returns made people interested and encouraged to invest their money without further consideration, but unfortunately, there is no sure money here.
The marketing used by this website, James in particular, is nothing but misleading and unethical. After joining and paying $49, you will undergo 'training' which will not lead you far, hence it will end you up calling their 'coach.'
So the 30 minutes you have to spend here, as per James, is talking to your 'coach' that will help you be 'successful' in the business.
In reality, what the coach will train you is how to give away your money to their programs. The initial payment is just the beginning of more expenses to come.
They use the licensing strategy where one cannot earn commissions and promote the product unless you purchase them first yourself.
If you decline to buy the highly expensive products MOBE has, you have nothing to promote. For this business to work, you need to buy their high ticket programs.
When I say work, I mean you can promote the products and earn commissions, but they cannot guarantee that you will become successful. Even how much you spend, there is no guarantee that you will get millions.
If you want to keep commissions coming every month, you have to pay additional $299 a month plus the expensive packages, or else, you will not get even a cent.
You also have to prepare yourself for staggering amounts of their products. Others are smart enough now, hence when they find out that the business is one of the high ticket programs like MOBE, they will not think twice and immediately run.
This could be the reason why people try to deceive and dress up their business as something else. I am not supporting their ways, but maybe the reason why they are misleading people and use unethical marketing techniques is that they have invested a lot already.
They might be thinking that this is their only way to at least get their money back, but it is completely wrong and putting the burden on others is still not right.
The Red Flags and Inconsistencies
The above should be enough to make you understand that you will not get anything good here. But, I want to stress out obvious red flags that should make you eradicate this website from your possible earning options.
The testimonials are fake. The people sharing their earnings on this website are just actors hired on Fiverr.com.
Meaning, they never tried using the website and what they are doing is pretending they do just to get paid, that's it.
It offers huge earnings in a short time.
Another inconsistency is getting a huge amount of money in a very short period. Here is a cue, anything that seems too good to be true is fake.
The promise that you will earn five figures in as little as three months, for just thirty minutes a day is nothing but bogus.
A scammy website funneling another scammy website
I do not consider MOBE a scam, but there are a lot of scam sales funnel promoting MOBE. The changing check out page should make you think that you are on a fake website.
Come to think of it, if the website is legitimate, you should see consistencies and completely no false or misleading representation.
There is no reason to introduce themselves as someone else if their intentions are clean, valid and right. Instead of claiming they are a different website, why not introduce the exact program they are selling and be straightforward with their intentions.
Like, claiming they are just affiliates and all they want is to make people understand what the program, in this case, MOBE, is all about.
This website or Jame's website as he is claiming has no product but will funnel you to Automated Daily Income then MOBE.
Summary Overview
Wake Up To Cash Review
Summary
Name: Wake Up To Cash
Website: wakeuptocash.com
Owner: James Wendell
Price: Starting at $49 and up to $29,9997 upsells
Star Rating: 0.5/5
The Compensation Structure
Mobe commission plan
Licensing rights- $1250 per sale
Titanium-$2500 per sale
Platinum-$5500 per sale
Diamond-$20000 per sale
The commission plan is very tempting, but do not take it at face value. There is a lot involved to be able to get those commissions.
The means and ways of recruiting may be deceiving and misleading, hence making it look fraud, but actually, MOBE it is not a scam website.
If, only if, you get successful with this program, expect that money will truly pour. As previously discussed, if you want success, what you need to do first is buy their expensive products.
You cannot promote nor sell them unless you purchase them. Once purchased, you can start selling them to others however you want it, but I am hoping it is cleaner and more straightforward than this site.
The hardest part of this program, that what you need to do to earn is recruiting. You have to recruit people, make them pay and let them do what you do.
This platform is almost the same as pyramiding scheme, and the reason that MOBE do not qualify as such because it is offering a training program and they have a product to sell.
MLM or multilevel marketing is the better or the right term to use about this program. You will only get paid if you were able to sell their products (same products you purchase) to others and you will also get commissions from the people you directly recruit if they were able to recruit people.
It seems easy, but, if you will come to think of it, the rampant MLM companies around the internet made people aware of this process hence making the recruitment process harder.
The Price
As you can see the commission is enormous but to earn it, you have to shell out thousands of dollars as well.
MTTB- $49
licensing kit-$297
Home Business Summit Event- $97 online streaming and $497 for VIP ticket.
Done for you emails-$97 per month
Six-figure coaching secret-$997
Diamond coaching program-$4997
Inner Circle Membership- Training from Elite earners
Standard Affiliate-$19.99 per month
Mobe Licensing Rights-$2497 0n-time plus $99/month
Titanium-$9997 one-time plus $199/ month
Platinum- $16667 one-time plus $299/month
Diamond- $29997 one-time plus $299 per month
Are you prepared to invest these amounts to be able to get the commissions? Remember you have to purchase the diamond package to be able to get the highest commission which is $20000 per sale.
Do you know somebody who can invest this amount or do you think you can recruit somebody who has this amount ready for disposal? These are tough questions to ask yourself.
Is Wake Up To Cash a Scam?
Considering the red flags of this website, it is obviously a scam. The way they market MOBE is misleading, and it did not help in creating legitimacy of this website. The fact that it is also a sales funnel to another scam website did not help them.
Conclusion
MOBE, in my opinion, is a scam as it is already being shut down by the FTC of the USA. Both Wake Up To Cash and Automated Daily Income are scam sites and should be avoided at all cost.
Recommendation
If you want to have a real online business try my #1 recommendation for free. No credit cards required. You will also have two free websites. It will teach you from building a website to run a thriving online business. It is the platform where I learned everything to run this website.
At a Glance
Wake Up To Cash Review
Summary
Name: Wake Up To Cash
Website: wakeuptocash.com
Owner: James Wendell
Price: Starting at $49 and up to $29,9997 upsells
Star Rating: 0.5/5