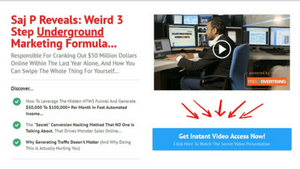 High Ticket Wealth System is a platform founded by Saj Purkayastha that claims you can make $50,000 to $100000 per month using his fast, automated system.
Numerous reviews have been written about this site which we will just call HTWS to make it short. I am glad you that you landed on my site to gather more information about the legitimacy of HTWS.
Once you finish reading my full review, you will have the details which hopefully will guide you to make a smart decision whether to join HTWS or not.
High Ticket Wealth System Review
Table of Contents
Click or scroll down.
What is High Ticket Wealth System?
Saj is a seasoned online entrepreneur, and he claims you can make $50000 up to $100000 per month using a secret automated system. It includes three steps which we will dig up more in the succeeding topics.
How Does High Ticket Wealth System Work?
This platform is actually a sales funnel of My Online Business Education. Saj is an affiliate of MOBE and will get commissions when you join through his affiliate links.
When you join, you will also do the same thing, promote MOBE and hope to gain commissions as well like Saj. Nothing wrong with that, as it is plain affiliate marketing.
What we will focus on is if Saj claim of such a huge earning is really achievable. We will also tackle the point if the program is affordable especially to those who are just starting an online business and for those who are in dire need of income online.
All of these will be discussed in this review as detailed as possible.
The Products
MTTB (My Top Tier Business)- 21 step training program
Licensing Kit- a seven-day course that will give you expertise in licensing products to other potential members.
Home Business Summit Event- will give you a good grasp of learning the link that separates the millionaires and the failures online.
Done For You Emails
Six Figure Coaching Secret
Diamond Coaching Program
Summary Overview
High Ticket Wealth System Review
The Compensation Structure
My Online Business Education offers one of the highest commission per sale:
MOBE licensing rights – $1250 per sale
Titanium membership – $2500 per sale
Platinum membership – $5500 per sale
Diamond membership – $20000 per sale
The Price
After what we have read previously, we come to the hottest topic in this review. So hold on to your seats as I will unveil to you the price of MOBE and HTWS:
The $49 joining fee will just give you the MOBE 21 step My Top Tier Business (MTTB) which includes some training but it is actually centered on promoting MOBE products which is:
Licensing kit – $297
Home business summit event – $497 for a VIP ticket and $97 for online streaming
Six-figure coaching secret-$997
Diamond coaching program – $4997
Inner Circle Membership
Standard Affiliate fee -$19.99 per month
Licensing rights – $99 per month plus a one-time fee of $2497
Titanium – $199 per month plus a one-time fee of $9997
Platinum – $299 per month plus a one-time fee of $16667
Diamond – $299 per month plus a one-time fee of $29997
Pros and Cons
The Good
There is actual training offered.
They are offering a high commission for each sale.
The coaches will close the deal for you
Their email marketing is a  done for you process
The Bad
The training is centered on promoting MOBE products which means you cannot use the skills you learn here for other online business.
Very expensive membership fees
The way Saj is marketing is misleading and it is lacking transparency.
Conclusion
I do not consider MOBE and HTWS a scam but I do not like how Saj is marketing MOBE. He should be transparent in his presentation of MOBE.
I can not blame him either as I am sure a lot of potential customers will run away when presented with the idea up front, that they will pay this huge sum of money in order to have the opportunity to make a lot of money.
As an affiliate marketer myself, I know it is very hard to sell high ticket items when you present it in a transparent process, so Saj is trying to use a strategy to make you join first then present the upsells later, otherwise, nobody will join that $49 HTWS membership aka MOBE MTTB.
This program is very hard to sell because there are so many scam sales funnel online which is promoting MOBE. You will have to do something to set yourself apart from the rest of the affiliates to be able to get referrals.
You also have to consider that even if you can afford the highest level of membership to get the highest commissions, you have to think hard how you can find potential customers that are willing to pay that kind of money.
It is up to if you want to market MOBE like Saj and the owners of the other sales funnels, but if you ask me, no I don't think I am willing to do that.
You have to do some shady marketing tactics to be able to get referrals. I am sure you will not be able to convince your readers to become members if you tell them they have to spend thousands of dollars to make money in MOBE.
Recommendation
Using done for you systems like MOBE costs a lot of money, and it is not recommended for newbies. I recommend you learn the skills required and do the things yourself so you will know how it is done.
I build and run this website using the skills I learned from the community I joined. It cost me $49 a month but there are no upsells.
Everything is included, and you can even host up to 25 domain name websites for free with free SSL as well. Even the keyword research tool is free.
We have countless training courses which are applicable to any online business and we are free to join any affiliate program we want ( like, Amazon). We also have support from a community of over 1.3 million online entrepreneurs.
It is also free to join without credit cards and you will have two free websites as well.
Click here to learn more about this business.
At a Glance
High Ticket Wealth System Review