Internet Funnel System is a platform that claims you can make money using a "done for you"  system is designed for you as members will do little work.
There has been a lot of reviews regarding this website, but I am glad that you landed on the best page to get the detailed information.
After reading my review, you will have the necessary information you will need to make an educated decision whether to join or not.
Internet Funnel System Review
Table of Contents
Click or scroll down.
What is Internet Funnel System?
Perhaps one of the most farfetched claims that this site can give gets thrown right when you visit it. The founder of this site was exposed to some poisonous, toxic fumes some time ago and this gave him brain damage.
Because of this, he lost his more traditional job, so he had to look for something else. He researched for days on end about jobs that he could do from the comfort of his own home.
Luckily enough, he found one, and at the very start, he made over a thousand dollars for just two days' worth of work.
A couple of years later, this person has now made millions and wants to share his learnings with the public for a small fee.
How Does 
Internet Funnel System 
Work?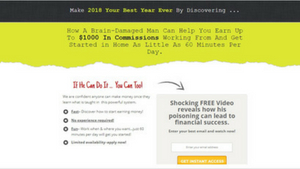 The Internet Funnel System is one of many work from home platforms available online, which constantly tries to separate itself from its contemporaries with a variety of gimmicks.
While some sites chuck in a few features here and there to try and entice a potential customer, this one wants to go all in.
When a person signs on for this platforms service, they will supposedly receive templates for landing pages, support from coaches, and a whole lot more.
They basically want to offer you everything you need to start up your own online business. Aside from this, they claim that their members do minimal to no work.
Because the landing pages come in a template, as mentioned before, all a person needs to do is make a few tweaks to the wording and design.
Afterward, they should have a landing page that is supposedly tailor-made for their online marketing needs. However, the only problem is that this business is actually promoting something else behind the scenes.
This is how this work from home job platform actually makes a substantial part of their income. It is promoting something known as MOBE or My Online Business Education.
While this may seem fancy and legitimate, it is actually a high ticket program, wherein people have to "pay (lots) to play."
For those unfamiliar with high ticket programs, with these one has to pay a ridiculous amount of their hard-earned money just to see some returns.
In the long run, this will only lead to losses. This platform uses what is known as a licensing rights business model, which means that employees will first need to buy everything they want to sell.
Make no mistake, these products come with quite a hefty price tag.  So for instance, if you want to make a commission of $1,000, you should be prepared to spend around $2,500.
This is a substantial loss, which will only grow if people get frustrated and invest more money in the hopes of even breaking even.
Unfortunately, these systems are only designed to benefit certain people: those behind the scheme itself. Another way this scheme makes money is through the "coaching" that they offer.
All these "coaches" teach is how to push the product of the company, and nearly zero skills that will be useful for other online business.
These people also get commissions from you purchasing the product, so expect them to try to sucker you into another purchase.
The Inconsistencies
There are plenty of red flags and inconsistencies present in this work from home job platform. For starters, no job should cost a person this much money.
It should have definitely already raised suspicions when the people who are supposedly helping you keep trying to force you to pump more money into products that are not making you money.
A $49 joining fee is not that bad, but the hidden costs definitely make this whole experience more daunting. This platform offers different program tiers that each cost thousands upon thousands of dollars.
Shouldn't a company be offering these programs for only a small fee, if not for free, as these would also benefit them if their employees participated?
Another red flag that is raised when checking out this platform is their quite frankly impossible promises. It is near impossible for people to make thousands of dollars day after day using ready-made materials.
These inflated numbers are probably just there to attract unsuspecting people looking to make a quick buck from online work.
A person will actually have to put in a whole lot more work to see even a fraction of the money this site is blindly promising to them.
In fact, their claims of helping people make thousands of dollars on a regular basis are disproven on their very own disclaimer.
This states that an average consultant of theirs only makes around $700 every year. This accounts for nearly a third of their employees.
Only a very small, and I mean minuscule, a percentage can actually make enough to live a comfortable life from solely doing this as work.
However, you probably would not have found this out because they hide it in the very fine print of their documents. Despite being hidden, the mere presence of this would help the people behind this site avoid prosecution by the proper authorities.
This platform also looks quite similar to other sites because it is probably a rebranding of a website that was taken down.
It was reported that just recently, a direct competitor of this online job platform was brought to a stop because of their malpractice.
This is a very high-risk opportunity to get into. While the payoffs maybe high if you are lucky, more often than not, money will be lost by joining this.
However, this site makes this risky job up as something that is 100% safe to do.
Summary Overview
Internet Funnel System Review
The Compensation Structure
The commission structure is one of the highest. The is a $1250, $2500, $5500 and a whopping $20000  per sale but check the price you first before you rejoice.
The Price
The $49 will just let you inside MOBE, but the reality you will have to spend thousands of dollars to make money. Don't faint, the most expensive package cost $29,997, and you need to purchase that to get the highest commission.
Is 
Internet Funnel System 
a Scam?
This work from home job opportunity is not a  scam. I will still recommend that you avoid it. It claims it is an easy money-making system, when in fact, it is an extremely high-risk program.
This alone should be enough to deter you from putting your hard-earned money into this platform. Make sure to check other sites for similar inconsistencies to the ones listed here.
There are a lot of other better options out there where you will actually learn valuable lessons about online marketing and related topics.
Conclusion
There are still other means to make money online without spending so much money, unlike this platform. Although it requires some skills, it is sustainable without additional expenses.
Recommendation
I have been doing affiliate marketing full-time no for two years, and I am not looking back. I learned everything from a community of over 1.2 million online entrepreneurs.
It taught me how to build a website and how to monetize my site. You will be surprised that it cost pennies only compared to MOBE. It is also free to join without the need of credit cards. You will also have two free websites.
Click here to learn more about this business.
At a Glance
Internet Funnel System Review