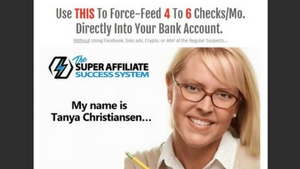 The Super Affiliate Success System is a website owned by a certain Tanya Christiansen, claims you can earn a lot of money using their system.
There are plenty of negative reviews about this platform, and I am glad you gave me the chance to provide more information about this site.
Just read my review until the end, and I promise that you will have the necessary information you need that will help in your decision.
The Super Affiliate Success System Review
Summary
Name: The Super Affiliate Success System
Website: www.superaffiliatesuccesssystem.com
Owner: Tanya Christiansen
Price: $37per month plus upsells.
Star Rating: 0.5/5
Table of Contents
Click or scroll down.
What is The Super Affiliate Success System?
According to its owners and developers, The SASS ( for simplicity) is a state of the art system that not a lot of people know about.
It is being sold over and over again as a super exclusive system that could potentially help a person make thousands upon thousands of dollar every week.
All of this supposedly comes from just a few hours of work in a single day. Better yet, all of this could be done from one's own home according to the people behind this platform.
At least that is what this website wants people to believe. It is also good to note that this website is just a sales funnel to another website which is Super Affiliate Network which we will just call as SAN for simplicity. My Super Affiliate Mentor is another website funneling to the same website, and guess what, it is also run by Tanya.
How Does 
The Super Affiliate Success System 
Work?
It is not a coincidence that this work from home platform works in a similar manner to a lot of others already available out there today because it is also based on the principle of affiliate marketing.
This means that it simply requires a person to post links that redirect to various products for sale on a variety of forums and social media platforms.
However, merely posting links will not make a person as much money as this website is promising. Income from affiliate marketing comes from a percentage of the sales link posters will receive when other people click on these links and purchase products.
However, there is a glaring difference between this platform and regular affiliate marketing. The difference is that it promises that the work has already been done.
If this seems to good to be true, that is because it is exactly that. This job that this platform is not related affiliate marketing at the very least. It is simply a scheme to get people to spend their hard-earned money to join  SAN.
While this network promises many learnings, it does not actually deliver. They reel people in with promises of legitimate training from experts who have tons of experience making money online.
However, the "network" is just a multi-level marketing program that is designed to make the people who sign up losing more money than they are set to make.
It would be hard to even break even on this platform. The way people actually make money on it is through selling memberships to the network to other people.
In simpler terms, a person who buys into the network cannot make any money if they cannot convince their customers to buy into it as well.
Some people will spend more and more money in an attempt to get "perks" that would help them sell the program to others, only to end up in the red in the long run.
This means that the system is not at all automated and the work is not done for you. A lot of work is actually needed to even make a cent on this platform.
Many programs work using the same premise as this one. Some familiar platforms that worked the same way include MOBE, AWOL Academy and the Digital Altitude ( which was shut down by FTC), to name just a few.
The Red Flags and Inconsistencies
There are many red flags and inconsistencies present on this site.
The first red flag is they are trying to hide what product they are really trying to push.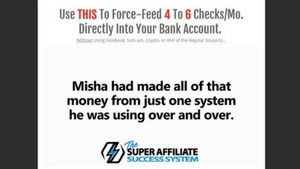 The early part of the video just mentioned Misha and would not even mention the family name to make it a secret. Then the latter part of the video the testimonials claimed they are using the SAN and thanking the founder which of course is Misha Wilson.
As an online marketer myself, it beats me why they use this method as I think it is far from being effective.
The poorly written disclaimer.
Perhaps one of the biggest red flags on this platform is its lengthy and poorly-worded disclaimer. A lot of similar sites use long-winded disclaimers to create many loopholes to cover for themselves in the event that people file complaints that they lost their money working for them.
Because of this, they will not be held liable if the authorities get involved because supposedly, the person who signed up for the program knew what they were getting themselves into.
The wording on these disclaimers was also specifically designed to be confusing to ensure these multiple loopholes. Another inconsistency with this platform is how much you have to spend to see even a single cent of your money back.
A program like this one makes itself out to be cheap, with maximum returns expected from a rather small investment. However, this is not the case, especially for this untrustworthy platform.
The people behind this site claim that people who buy into the program will get personal coaches to help them succeed in making money online.
While this sounds like a worthwhile investment of some amount of money, it is not. These "coaches" are merely salespeople who are also trying to sell the program to make some quick cash for themselves.
After some time though, this site will require you to pay more and more money for "training" that is worthless and that you do not need.
Sure, there is a chance to learn a few things here and there, but in reality, you can learn these things and a whole lot more from legitimate sources for a lot less money.
The dizzying upsells worth thousands of dollars.
On this platform, a person will only earn commissions based on the tier they belong to. For instance, if they belong to the "silver" tier, they can only make money if the people they refer to sign up for the same tier.
However, if these people sign up for a higher tier, the money will go to someone who has decided to spend more money to join that level of the program, which is simply unfair.
No work from home platform that is supposedly in the best interest of its workers should force them into spending their money in order to get ahead. In fact, no job at all should do this, whether online or traditional.
Rehash of My Super Affiliate Mentor
If you check the footer area of this website you will find the evidence.
Summary Overview
The Super Affiliate Success System Review
Summary
Name: The Super Affiliate Success System
Website: www.superaffiliatesuccesssystem.com
Owner: Tanya Christiansen
Price: $37per month plus upsells.
Star Rating: 0.5/5
The Compensation Structure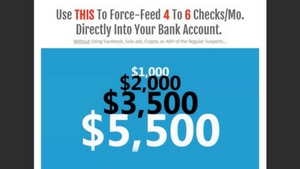 SAN has a good compensation structure to lure people to join, but it comes with a price.
The Price
You have to pay $37 to join but be prepared to spend thousands of dollars in upsells.
Is 
The Super Affiliate Success System 
a Scam?
This work from home platform is nothing more than a scam. Making money from working at home is never as easy as these scams make it out to be.
Although, this may not be unusual to some people, seeing as how the platform resembles a pyramid scheme. No one should have to pay hundreds or even thousands of dollars just to "learn" how to make money online.
If it were really this easy to make money online, then a lot more people would be doing it. This is why it is essential to look for the inconsistencies mentioned in this article to avoid being scammed by this platform and others similar to it.
Conclusion
I do not consider Super Affiliate Network a scam as it provides training and Misha Wilson is a known online entrepreneur. I consider The Super Affiliate Success System a scam because the way they are selling SAN is misleading people.
I will also not recommend SAN as it is too expensive and I would definitely say you should avoid The SASS as it does not offer any value to its customers.
Recommendation
I do proper affiliate marketing, and it did not cost me thousands of dollars. I am doing this full-time as I already quit my job.
I build my own website, do the monetization myself and do my own email marketing.  I avoid those DFY or done for you offers as most of the time they are too expensive or just a plain scam.
Online business is just like any business which requires time and some skills, and that is the reason why proper training and support is crucial to be successful.
I joined a community of over 1.2 million online entrepreneurs and got the training and the resources to run my website. I could not have done this otherwise. It may sound overwhelming, but it is not as I also started from zero.
If you are interested, you can join for free without the need for credit cards, and you will get two websites as well. It is great, so you can try it for yourself if it is for you.
Click here to learn more about his business.
At a Glance
The Super Affiliate Success System Review
Summary
Name: The Super Affiliate Success System
Website: www.superaffiliatesuccesssystem.com
Owner: Tanya Christiansen
Price: $37per month plus upsells.
Star Rating: 0.5/5