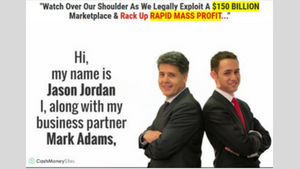 Cash Money Sites is a site by Jason Jordan and Mark Adams which claims you can make a rapid mass profit.
You have a pressing question about the legitimacy of this site which we will call CMS to make it short, and that is the reason why you landed on my page.
My review will give you the necessary information you need and will hopefully guide you to make a smart decision regarding CMS.
Cash Money Sites Review
Summary
Name: Cash Money Sites
Website: cashmoneysites.com
Owner: Jake Jasons and Harold Coleman or Jason Jordan and Mark Adams?
Price: $47
Star Rating: 0.5/5 AVOID!
Table of Contents
Click or scroll down.
What is Cash Money Sites?
The CMS  claims you can have rapid mass profits using this software that can curate quality content to be used on your affiliate marketing website that can generate traffic and affiliate commissions in no time.
They make it sound so easy that all you have to do is choose the templates you want and after a few clicks you get yourself an affiliate marketing website.
They are offering a done for you system that according to them will generate huge commissions for you on autopilot.
How Does Cash Money Sites Work?
Quality content is what makes a website rank in Google search engine and once you get that rank traffic to your website will come in naturally.
Those content should be original and not copied or spun from other websites as Google's algorithm can detect contents not originally written.
CMS claims they have the software to create these contents that will drive a lot of traffic to your site. You will catch this thus will not give your website ranking in the search engine.
They also claim that makes sharing your site across the social media networks will give you higher ranking in the search engines, but it is wrong. It may give you some traffic but creating good quality content and using proper keywords is the best method to get ranked Google search engines.
There is also what we call as a sandbox. Wherein your sites will not be rank in Google for at least five months, but they failed to mention that in their sales pitch.
Your website will be hosted in their domain, and you will be having a website on a subdomain or a shared domain. It is a free website anyways and not owning the domain is acceptable.
The Red Flags and Inconsistencies
The absurd earnings claim
They claim that their websites can make so much money in the thousands of dollars in commissions shut such a short time. It is unbelievable as it takes time to make real money in affiliate marketing.
It used to be run by Jake Jasons and Harold Coleman, but then, later on, they stated in their website that it is run by Jason Jordan with Mike Adams but they are fictional characters. If their software is as good as they claim, they could have been famous by now. The only thing that I  have found is that they have changed their names.
Using the scarcity sales tactic
Shady and scam websites are using this strategy to lure people to sign up to their platform. The limited slots availability will undermine the potential members capacity to make a prudent decision whether to join or not. The urgency to make a quick decision can be crucial to them and the result usually ends up not in a favorable way.
They said they are only taking a hundred people today and today only, whereas they have been saying that and if you check the website again on a later date the one hundred slot is still available.
There is no detailed step by step training on how to make money online. The only steps they provide is how to setup your done for you system.
Summary Overview
Cash Money Sites Review
Summary
Name: Cash Money Sites
Website: cashmoneysites.com
Owner: Jake Jasons and Harold Coleman or Jason Jordan and Mark Adams?
Price: $47
Star Rating: 0.5/5 AVOID!
The Compensation Structure
The claim of making more than $30,000 per month using a replicated landing page on a subdomain is unbelievable. Don't believe there is a compensation structure on CMS.
The Price
It will cost you $47 to join this platform.
Is Cash Money Sites a Scam?
Scam or not, I still have to warn my readers to stay away from this platform. They offer no value to their potential members. The red flags say it all.
Conclusion
I have been doing affiliate marketing for more than two years, and I know their methods will not work. As a newbie, you may think it is convenient, fast and a sure way to make money online.
In reality, it will not by considering the facts  I mentioned earlier. A real online business runs on a registered domain, not on a shared subdomain.
How would people react to apple.ibuddyhost.com or perhaps amazon.ibuddyhost.com? That does not look professional let alone commercial.
You should run your business on a domain name website like quitthatdayjob.com or yourname.com. Then you are talking business.
A real website should also have a good amount of content to gather authority. I have hundreds of posts on my website, and I am receiving good free organic traffic from Google and the other search engines.
Then monetizing that website is easier and sustainable and that is why I quit my job as an aircraft mechanic to do online business full-time.
Recommendation
When I started, I did not know anything about building websites and running an online business. I acquired all the skills required from a community of over 1.4 million online entrepreneurs willing to help each other.
The training is the best in the world, and it is proven to be legitimate unlike MOBE and Digital Altitude that has been shut down by FTC.
It is free to join without credit cards, and you will have two free websites as well.
Click here to learn more about this community
At a Glance
Cash Money Sites Review
Summary
Name: Cash Money Sites
Website: cashmoneysites.com
Owner: Jake Jasons and Harold Coleman or Jason Jordan and Mark Adams?
Price: $47
Star Rating: 0.5/5 AVOID!