What is Millionaire Profit Club? A scam or legit? You landed on the best page to get the information about this website.
Today let me share with you an interesting way to try using online techniques to have additional income by sharing a review about this platform.
After reading my review, you will have more information about this website and you will also learn about the best way to make money online which is my #1 recommendation.
MILLIONAIRE PROFIT CLUB REVIEW
Summary
Name: Millionaire Profit Club
Website: https://millionaireprofitclub.com
Owner: Bob Becket
Price: Free to join ( then you have to join four sites that costs money )
Star Rating: 1/5
What is millionaireprofitclub.com?
The background image of a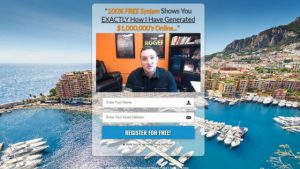 n amazing beach view is enticing, and you'll never get bored looking at it.
Before registering online, you can see a very simple homepage of the website with very little information displayed for first-time visitors.
There's something interesting about it, though.
Just watch the short video by Bob about what to expect in joining the site.
If you have decided to join, you can enter your name and email address in the box placed below the video.
You'll see that you can register for free and you just have to visit your email address and verify that you have registered online.
How It Works
I'm also very curious about Millionaire Profit Club aside from doing the review so I signed up by entering my name and email address in the box provided below the video.
After that, I can see a new page which requires me to verify my registration through my email address.
It is a way to gain access to the website before anything else.
So I signed in to my email address, the one that I entered in the box, and clicked the link provided as a way of verifying my participation.
This process is easy and it is even made easier since a screenshot to complete this process is shown below another video that I received upon registration.
If you will listen to the second video, you will receive a congratulation greeting and a request to confirm your registration.
The next step is clicking the link placed in the email that I received upon registration that is required for confirmation.
After doing this process, I can see a new page that has a request for me to check my email to find the login information.
I've also read a remarkable message telling me that I don't have to worry about paying my bills in the future if I'll claim my place to participate in this online program.
I checked my email address and found a new message from Bob giving away a link to access the website and asking me to perfectly follow the three steps so I can profit in the program.
Then, I clicked the link provided so that I can have access to the file.
Once I clicked the link to the membership page, I followed the steps to create an account.
I placed my email address, my password and typing again my password for confirmation before clicking Create My Account.
The account creation is actually fast and easy.
Once you have created your account, you will be directed to a page that provides 6 steps to follow as a new member of the platform.
Summary Overview
MILLIONAIRE PROFIT CLUB REVIEW
Summary
Name: Millionaire Profit Club
Website: https://millionaireprofitclub.com
Owner: Bob Becket
Price: Free to join ( then you have to join four sites that costs money )
Star Rating: 1/5
The Program Consists of Six Steps.
STEP 1  Free Mentorship
You need to join  Millionaire Profit Club Facebook Group so you can communicate with Bob and other individuals running this program.
It is interesting to know why on Facebook, why not have a forum on the site.
The only reason I could think of is it is free to have it on Facebook and it is simpler.
STEP 2 Overview
It is considered very important as it involves the overview of the activity as explained in the video.
Bob explained that he started earning online at the age of 14, and learned a lot of ways to do it including affiliate marketing and other related ways to take advantage online opportunities.
Aside from that, he gave an example of being a power seller on eBay and earning cash in a form of residual income.
Bob even mentioned about building an email list to increase website visitors and offer online marketing previews to the subscribers.
Simply put, you just have to build an audience to have people to try the products and services you offered through affiliate marketing.
STEP 3  Set up Your Websites
Have a free website set-up that Bob called gaining access to your free sites that are seven in total.
There are Email Options, which are remarkably customizable, and you can create any of this for people subscribe to your website that will allow you to create an email list that you can leverage higher to earn more money.
This is the part that you have to sign up to  ClickFunnels and by the way, this cost $97 a month.
Interesting to note why he recommends ClickFunnels over Leadpages which I think the latter is better than the former.
It could be just a matter of affiliate commission difference as myself, being an affiliate marketer would select what is best for me.
STEP4  Set up your Email System
Here you will build your email system to prepare for the program.
It is the stage wherein you start collecting emails so you can share products and services through an email subscription program.
If you aren't familiar with it, the example that Bob mentioned is the Now Lifestyle that is actually an  MLM Health site who has a built-in autoresponder system and it cost $97 per year.
It could be the reason he did not opt for Aweber as it starts at $19.95 a month.
I think Bob has a good reasoning for this one,  as he and the new recruit could benefit the good compensation plan for this website.
STEP 5 Icing on the Cake
The money-making training program where you sign up to  Email Coalition.
The software is basically part of an autoresponder program where you would pay 52 cents per email with a bonus if you order right away.
They claim this is the perfect method to leverage your online business through email marketing and have multiple income streams to make it more beneficial to you.
You can also participate in the affiliate program through the platform so you can earn money when you bring anyone as a new member of  Email Coalition.
By the way, don't forget to be wary of any instances where you need to pay money to use a system.
Step 6 Learning How to Get Website Visitors.
Bob reminded new visitors to delay doing this part if you haven't done the five steps as mentioned earlier.
You will see a website for you to participate in gathering people to visit your website, otherwise known as buying traffic online.
Aside from that, you can see in the video a screenshot of the site with the links to information that you will need to know about this technique such as the meaning of traffic, kinds of traffic and more.
Now this is the most expensive step of the program as Bob will ask you to sign up Traffic For Me which I know is a good place to buy Solo Ads but this is costly.
You will be paying money every time a visitor visits your page and this kind of traffic generation works only for those websites that are already converting, not new ones.
What I like
I've noticed that the site is easy to use with no difficult steps to follow.
The steps are easy to understand and you'll see all the things you need to know without imagining it.
After all, you will need basic information to know if the program is beneficial to you.
The techniques are actually for everyone especially those who are familiar with email marketing.
In addition, you will be given examples on how to do it so you will not waste your time and money.
Based on my observation, the testimonials given are too short for me.
However, I still feel the need to listen to them so I can have ideas how it works for everyone.
As I've mentioned earlier, there are steps that you will need to spend money so you better take advantage of the trial periods.
In other words, you will need to spend more time in studying the portal to increase your chances of maximizing the benefits of using it.
What I Don't Like
It is not good to be promised to earn money without spending any money but after registering you have to sign up to four programs that cost some money.
His claims of making millions of money for free is preposterous.
Conclusion
Millionaire Profit Club is just a sales funnel for ClickFunnels, Now Lifestyle, Email Coalition, and Traffic For me.
Bob will make money for every person that signs up for any or all of these platforms.
It is a legitimate way of making money as it is affiliate marketing and all of the products he is promoting are legitimate, but it should have been done more transparently.
The only problem is, he is trying to mislead people especially those that are new to affiliate marketing, that it is that easy.
You cannot just jump in doing both affiliate marketing and email marketing when you are new as you need proper training and to be able to do that as it is not that easy.
Recommendation
I suggest that you learn how to build your own website,  how to do email marketing and of course affiliate marketing.
If you have a website this is not the only business you can do as there are a lot of other business models you can have on your website, but it needs skills.
This website is running both affiliate marketing and email marketing but I do things differently because I know what works, because I have the skills I gained from the training.
I am using SumoMe and Aweber for my email marketing and Thrive Landing Page Builder for my lead pages and that is why I don't need ClickFunnels, Now Lifestyle and Email Coalition.
My system works and it has been proven by a lot of internet marketers and it is already giving me passive income.
I have tried Solo Ads when I was new and it was a costly mistake as this traffic generation system should be used only when your website is already converting.
One more thing, why would you buy traffic from somebody's email list when you can build your own list?
Everything is just a matter of learning and the best platform to learn online business is Wealthy Affiliate and it is where I learned everything that I applied on this website.
You can try it for free without credit cards and will you have two free websites, then see for yourself if it is for you.
It worked for me as well as for a lot of very successful members.
Feel free to post comments, ask questions or subscribe to my email list to be the first to get the updates and offers.
You may visit me so I can answer you questions directly at Wealthy Affiliate.com as it is where I hang out most of the time with my buddies ( link to my profile page ).
At a Glance
MILLIONAIRE PROFIT CLUB REVIEW
Summary
Name: Millionaire Profit Club
Website: https://millionaireprofitclub.com
Owner: Bob Becket
Price: Free to join ( then you have to join four sites that costs money )
Star Rating: 1/5